Professor Richard Harrison wins Governor General's Literary Award
Recognition among highest honours for Canadian writers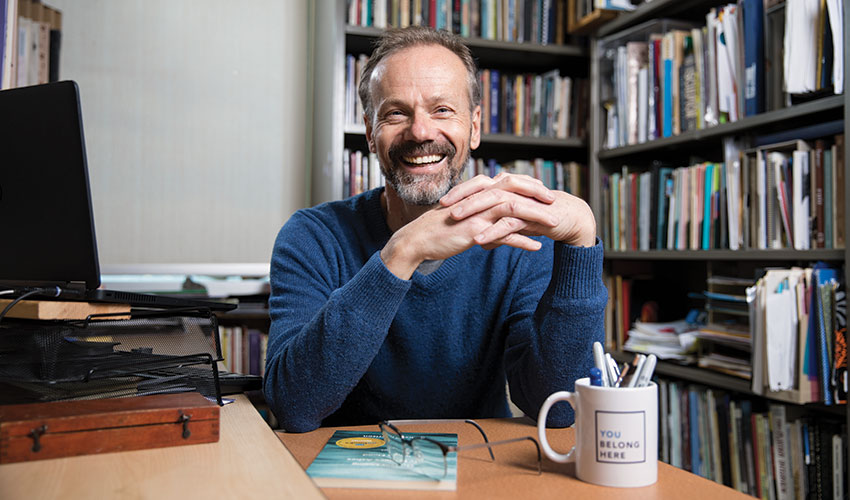 On Nov. 1, Mount Royal English Professor Richard Harrison was announced as the winner of the 2017 Governor General's Literary Award in the English language poetry category for his collection, On Not Losing My Father's Ashes in the Flood.
This is not the first Governor General's nomination for Harrison, whose book Big Breath of a Wish was shortlisted in 1999; however, the 2017 win firmly places him among Canada's highest echelon of writers. It is one of the most prestigious writing awards in the country ― having been presented since 1936 ― and previous poetry winners include Margaret Atwood, Robert Kroetsch, Leonard Cohen and Michael Ondaatje.
Publisher Wolsak & Wynn describes On Not Losing My Father's Ashes in the Flood as, "a generous and enchanting book, one that leaves you, like the poet, thinking about the way 'characters in a novel can escape anything / except their story.'"
Harrison describes his collection as "three strings in a braid." He had initially decided to write a book of poems about poems, so there are poems titled "Haiku", "Epic" and "Found Poem", and so on in the book. This initial "framing" idea followed the essential format of his book Hero of the Play, which is poetry in the language of hockey. This, instead, would be poems in the language of poetry.
As he put together his collection, Harrison was dealing with his father falling ill with vascular dementia, a man who, through his upbringing in the British educational system, had a repertoire of poems in his mind and and who recited many to his sons while they were growing up.
"The dementia ate away at him slowly, but he knew who he was and he remembered his poetry. He died with still a lot of himself intact. We were able to talk and take that 10 years and clear up things with each other that made me understand him more," says Harrison.
"My dad has always been both emotionally rich for me and provided a language to describe that richness that I wanted to write a lot about."
Here are the 2017 Governor General's Literary Award winners. #ggbooks https://t.co/QfQimnH27V pic.twitter.com/e4VYG3kRHR

- CBC Books (@cbcbooks) November 1, 2017
The autobiographical approach in On Not Losing My Father's Ashes in the Flood is common for Harrison's writing, which often includes his family story in his work. "I look to my relationships, to what I have seen and lived through within them," Harrison says, and Big Breath of a Wish, Fathers Never Leave You, and Worthy of His Fall were all books in which Harrison similarly drew on his interactions and connections with others.
The flood of 2013 became the final strand in the braid. Harrison and his family were evacuated from their Calgary home, which sustained significant water damage, and in the subsequent days his father's urn went missing. That experience helped bring everything together. Water is a metaphor in several of the poems. The flood was hugely impactful when it happened, but the water did eventually recede. Left behind was destruction and sorrow, much the same situation as a son who loses his father, but must live on with only memories invisible to most.
The poem "With the Dying of the Light" is a moving recollection of the last conversation Harrison had with his father before he passed, and takes in the last things that Harrison's father had to teach him about poetry.
"That poetry - or all art - is the answer to death, and the great disorder of all life. The flood, death, the violence we do to each other. This is it. This is the best I've got to answer that.
"I've signed this book to dead men, to dead fathers, whose ashes are being held in their children's homes, still," Harrison says with emotion. "Because the poems have articulated, have spoken and have let the children reestablish relationships with their father's remains. Some of these poems have become vessels of meaning for other people to take away, and go somewhere new."
On Not Losing My Father's Ashes in the Flood took Harrison 11 years to write, and he credits many people with assisting in its completion. "I have a close circle of people ―my wife, the first among them ― who I always ask, 'what do you think?'" says Harrison. Also within that close circle are his Mount Royal colleagues and his editor at Wolsak & Wynn, Paul Vermeersch. But he also stresses that the circle widens as the poems go out into the world - to journals and readings, where the reactions of readers or audience become part of the creative dialogue out of which art comes.
"All of the poems went through several different versions so I could develop them in dialogue with them being heard and responded to. I let all the right people come in and help me make these things," says Harrison.
Wolsak and Wynn congratulates poet Richard Harrison on winning the Governor General's Award for poetry! #GGbooks https://t.co/nfzJJopZf6 pic.twitter.com/UPIBSEePlZ

- Wolsak & Wynn (@wolsakandwynn) November 1, 2017
Professor David Hyttenrauch, chair of Mount Royal's Department of English, Languages and Cultures, says Harrison is himself an "essential member and an energetic builder" of the Mount Royal creative writing community.
"Richard's great gift is his palpable integrity, the wholeness of his thought, his voice, his writing and his connection to people," says Hyttenrauch. "This engagement extends to students, colleagues, other writers and the external community. He has an inspiring belief that everyone has something to write and can learn how to do that better, and more incisively. His poetry isn't a performance of something as much as it's an extension of his care for people, and language, and substance.
"Even his emails to students about their work and progress are pieces of art."
Harrison says that with all of his writing, he wants the final result to be "happy." A successful book is one its author raised to have its own life.
"This book has gone out and made relationships on its own. It's made its own friends. There are stories that people have come up and told me about the poems in the book, how they became a part of the decisions in their own lives, how they saw something they've never seen before, or words for things they've never felt before."
Harrison's Governor General's Award is being seen as a shared feather in the cap for the entire writing community at Mount Royal, and Hyttenrauch expects there will be more good things to come as a result.
"We're gratified and very fortunate to have a writer of Richard's calibre in our mix, one of several award-winning and widely-respected authors in our Creative Writing program. His own exceptional writer's craft in poetry and non-fiction, and his extraordinary skills and generosity as a teacher, mentor and editor have shaped a writing community and advanced the aspirations and careers of many Mount Royal and Calgary writers.
"The Canadian literary world is surprisingly small, and having Richard reading (and being read) nationally and internationally gives us opportunities not only to raise our profile, but to increase our ability to bring writers to our own campus and our students through the Writer in Residence program," he says.
Additional awards for On Not Losing My Father's Ashes in the Flood include:
Winner of the Stephan G. Stephansson Award for Poetry from the Writers' Guild of Alberta

Winner of the 3rd Prize in the 2017 Alcuin Society's Book Design Awards

Shortlisted for the City of Calgary 2016 W.O. Mitchell Book Prize

Finalist in the Poetry category of the High Plains Book Awards

Number one on the Calgary Herald's bestseller list for non-fiction

Alberta Magazine Publisher's Association Silver Medal (2013) for "Poem for a Crescent Moon"

Alberta Magazine Publisher's Association Gold Medal (2016) for "Confessional Poem"
More on the writer's life with Richard Harrison - a Q&A
What is the place of creative writing in a post-secondary institution? Is it a profession that can be taught?
"The world is different from when I started when it comes to creative writing. There is a lot more professionalization. It's become something the educational world has expanded itself to offer credentials in. In the days before the term 'creative writing' was invented, writing with a capital 'W' was romantically seen as something that a few talented people were 'called' to do. It was that notion that literary writing was subjectively driven by forces that could never be explained or taught. So that kept it at arm's length of the universities. But as more and more of life has become document driven ― the creation of texts all over the place ― I think that the 100-year or so move from the very first creative writing courses in the States to now has been to increasingly see the object of creative writing, to see books, novels, poems and the like, as something we both culturally produce and culturally need.
There are still huge tensions between the role of individual talent, the role of individual passions and the idea of writing being a profession. You see them still in the claim that you can never teach creative writing. Is that true? Or is that clinging to the romantic version of the 'muse' existing outside of the writer, urging them forward and inspiring them?"
What is your opinion on the matter?
"I do think that art can be taught. Even the 'lonely artist struggling away,' well, that person was still learning from previous artists. They were still learning from them piecemeal, or they were communicating with their peers, or studying their work on their own. They just weren't seen as getting an education in the same way as other people were getting an education.
We are teaching creatures. It's an inherent thing in human beings, to teach other human beings. We acknowledge that need most regarding children, but we teach each other all the time.
So, can we teach creative writing? Absolutely. On one level, we can teach people the craft, that is, the skills that are required to make something that's worth other people's attention. And we can teach people how to get out of the way of themselves in the creation of their own art."
What is your process for writing?
"Well, the short, short answer is, I write until I've written something.
Yeates has on his tombstone, 'Cast a cold Eye/on Life, on Death./Horseman, pass by!' I see it as a writer's injunction. In Yeats's terms, the tiny arms of the Tyrannosaurus Rex and my father on his deathbed are moments of life and death that, as the poet, as the 'Horseman,' I need to look at the same way if I'm going to find art in them. I need to cast that cold eye (the eye of poetry, not my own personal eye) if I'm going to go through the process of writing about these things until I find out what it is that needed to be written. Poetry doesn't seem to me to come from what you want to say, it comes from what wanted to be written, and the work of poetry is finding that.
When I find that, then I can say it over and over and over again. The best of my poems do that for me. Some of my poems I've returned to for 30 years. The language that springs from it has to be interesting to me. You have to live with your poems for a long time, so the making of them has to be a pleasurable immersion.
A good poem or piece of writing ceases to be something that you, the writer, are saying, or that you have even made. It gains an existence within the cultural language for things."
What has Mount Royal meant for you in your teaching and writing career?
"It's been hugely contributing to what has happened to me. Next year, I will have lived in Calgary longer than I have lived in any other city. Mount Royal has been the longest single job I have ever had. That is hugely formative. In one of my earliest readings here, alongside Beth Everest who was, I think, launching There will be Blood, and I will Tell You, Put Your Hand Down Here, her first book, at the old McNally Robinson downtown, the entire English department came. People said that was unbelievable, that kind of collegial support, that kind of 'fellow feeling;' it was unheard of. And I've participated in that community the whole time I've been here.
I've worked with virtually all of the other professors in this Department on their projects in one way or another. Sometimes in very small ways, other times in large ones - and they have worked with me on the things that were important to my growth as a teacher and a writer. We are all so very different in terms of the way we write and those differences often divide people. But here? No. Here we learn from our differences; they are ways to see the familiar anew. It's not the way the communities I've been in have always worked, but it's the way the communities that I've been in worked when they worked best. If I can venture something here from that experience, I'd say that that's what collegiality is: wanting the best for each other through loving the same thing together. That's what I feel here, and it helped get my writing to this place."
Learn more about Mount Royal's minor in Creative Writing.
Poetry to the People
Calgary - and Mount Royal, for that matter - is home to a number of highly acclaimed poets, and the city has an exceptionally strong poetry community. The Fall 2016 issue of Summit magazine featured Harrison and other Mount Royal poets exploring why poetry has received a bit of a bad rep and how they are working to change that.
Nov. 9, 2017 ― Michelle Bodnar
Media request contact information.
Have a story idea? Please fill out this form.