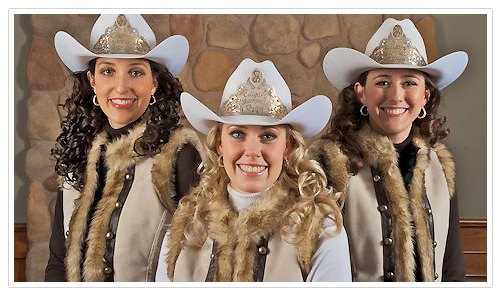 Mount Royal students are living up to the Royal in our name.
Two members of the Calgary Stampede Royalty trio are Mount Royal students - Kerri Williamson (above centre) is the 2009 Stampede Queen and Tara Sergerie (above left) is a Stampede Princess.
"The education that we are getting at Mount Royal really prepares you for everything outside of the post-secondary world," says Sergerie, a first-year Bachelor of Nursing student. "I even took a few speech courses at Mount Royal which really helped."
Unlike most beauty pageants, the Stampede Royalty criteria includes: public speaking, horsemanship and people skills.
Williamson, a second-year Bachelor of Nursing student, adds: "There is no modeling involved."
Mount Royal advantage
The new Royal pair believe being nursing students did help them win their crowns in October.
"Nursing has taught us strong communication skills - learning different ways to communicate with people has helped bring us here," says Williamson, who hopes to go on to have a nursing career with the elderly.
"We had the opportunity to meet Jean Charest, Premier of Quebec, and we were confident. We learned that through our program here at Mount Royal."
Sergerie agrees: "The caring qualities that you bring from nursing carry over to the Stampede."
As Stampede Royalty, Sergerie and Williamson have already travelled to Las Vegas, Montreal and Edmonton. They also have a steady schedule of appearances in Calgary.
Instructor support
So far, juggling Royal duties and Mount Royal studies has been manageable.
"Time management is one of the skills the Stampede looked for during the competition," says Williamson, who is proud both she and Sergerie are keeping their grades up.
The support they've received from Mount Royal has also made a big difference.
"The teachers are very understanding," says Sergerie, who plans to go on to become a doctor. "They go above and beyond the call of duty to help us succeed. And it is not just for Kerri and I, but they do it for all of the students."
Williamson adds: "I love Mount Royal and the smaller class sizes. The time we get with instructors really helps us. And our instructors are so approachable.
"Sonya (Jakubec), my health instructor, had a party for me right after I was crowned. It was really nice."
Example set
Both Williamson and Sergerie have been involved in 4H for years and entering the Royalty competition seemed natural.
They could also follow in the footsteps of other MR students. Last year, three MR students were members of the Stampede Royalty - Stampede Queen Amanda Kochan, Princess Amanda Byrne and Indian Princess Livia Joy Manywounds.
Williamson says the outgoing Royalty members were helpful. "It was nice to talk to the girls and get advice."
But Williamson wasn't just following her fellow students' example - she had a role model closer to home.
"My mom was the 1976 Stampede Queen. I grew up amongst alumni and I saw the confidence they all had after being a Queen or a Princess. And I saw the good they did for the city and the Stampede."
When their reign is over this fall, Williamson and Sergerie hope to encourage others to try out to become Stampede Royalty, especially their fellow MR students.
"We're proud to be Mount Royal students and we tell everyone," says Williamson.
- Anika Van Wyk
March 25, 2009
Link
The Calgary Stampede official website