Decolonial thinking inspires student entrepreneur
Loose leaf tea sales are helping families in need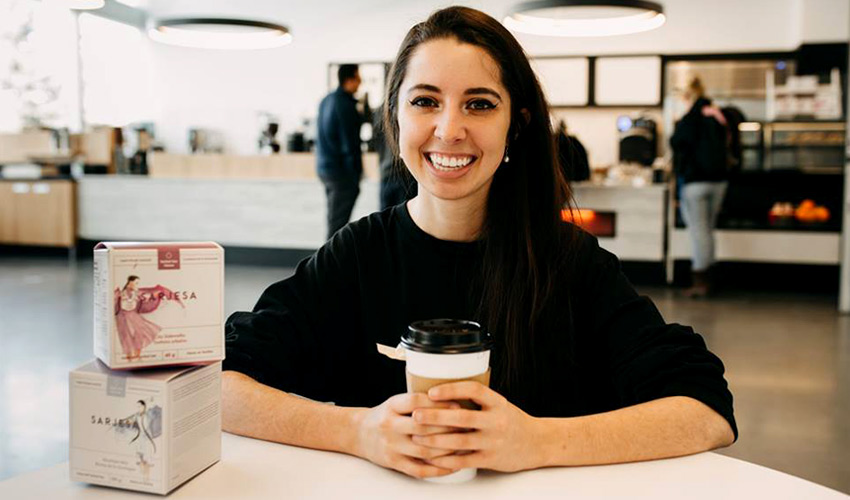 Alexandra Daignault is a mover and shaker at Mount Royal University. In 2017, she was a JMH LaunchPad finalist, with the company she co-founded, which sells high-quality loose leaf tea, being awarded over $17,000 worth of cash and services to grow.
The business, now named Sarjesa, allows Daignault to earn a modest income and give back to the same cause that inspired her to launch the company. A portion of Daignault's sales go towards the Awo Taan Healing Lodge. Awo Taan provides community services guided by Indigenous teachings to anyone impacted by family violence and abuse.
Daignault explains that the inspiration to create a socially responsible tea company became a reality as a class project where she was challenged to demonstrate an understanding of everyday activism and resistance. The class was taught by department of English and Indigenous Studies professor Renae Watchman, PhD.
"Alexandra surpassed my expectations and employed creative risk-taking as well as independent learning, community engagement and entrepreneurship for her multi-layered final project," says Watchman.
Watchman describes Daignault as vocal, saying she offered critical insight that challenged her peers. "Alexandra repeatedly demonstrated thoughtful and reflective scholarly engagement with the material she has presented," says Watchman.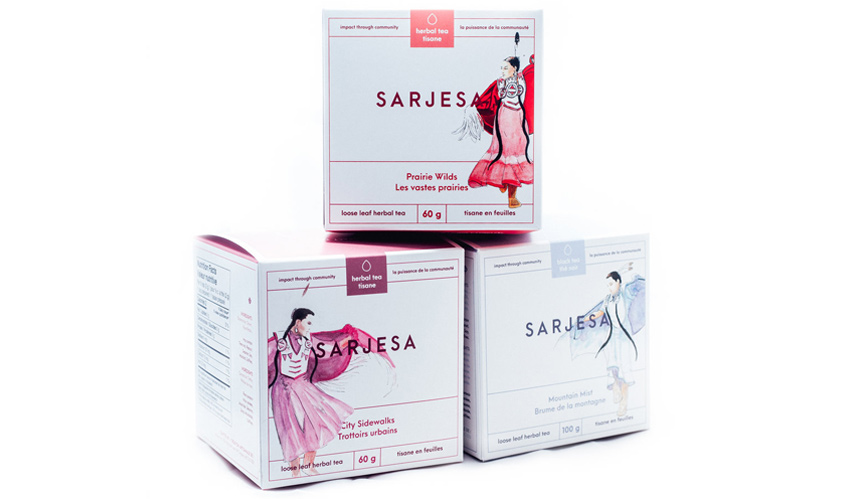 Daignault credits her Mount Royal education for launching Sarjesa.
"I don't think I would have started a decolonial tea business without first having taken many critical theory courses in the department of English, as well as many Indigenous studies courses through MRU," says Daignault. "These courses helped me better articulate my own worldview, and after I decided I wanted to pursue the tea company I started taking entrepreneurship courses, which really helped guide me."
Daignault's tea is available for sale online and at select locations in Calgary, including Barrow Espresso, which is located in the Riddell Library and Learning Centre and the Bissett School of Business. The founder of Barrow Espresso, Ryan Wenger, also won big at JMH LaunchPad, allowing him to expand his micro-café concept to three locations, with the third at Calgary's cSPACE.
Daignault is appreciative of the partnership.
"Ryan and I both pitched at LaunchPad, and he has been a huge supporter of myself and the tea. It's nice when students can work together on intersecting projects," says Daignault.
Daignault is in her final semester of studies at MRU. She will graduate with an honours degree in English, with minors in Indigenous Studies and Innovation and Entrepreneurship, and a citation in Community Service Learning. She has also been selected to the be the Fall 2018 Convocation valedictorian. 
Sept. 12, 2018 ― Rob Petrollini