Leveraging knowledge to make the world a safer place
New security research group studying prevention and response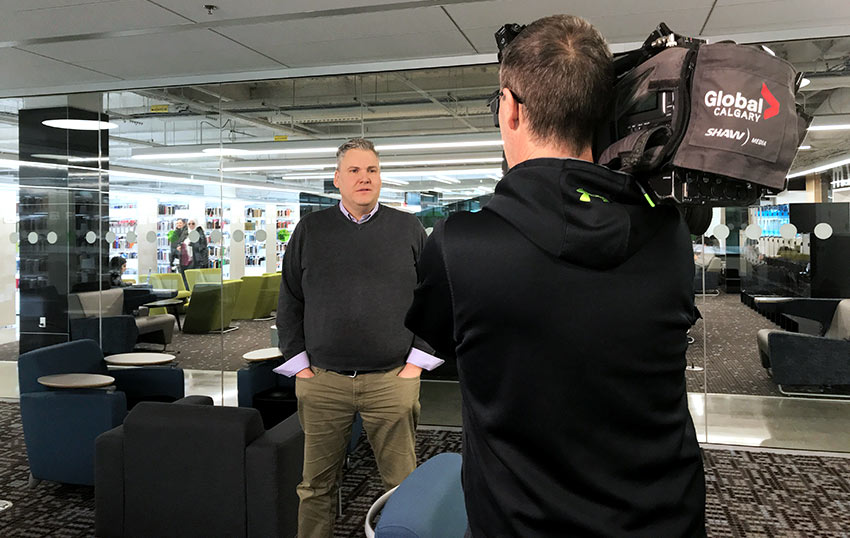 They may not be clad in capes and tights and wield mythical hammers or answer distress signals flashed across the night sky, but the trio behind a new project at Mount Royal University is undertaking the work of superheroes.
A collaboration between the Faculty of Arts and the Faculty of Continuing Education, the Public Safety and Security Research Group (PSSRG) is primarily focused on community and public safety.
"Not to sound too altruistic, but we want to make the world a safer place," says co-founder Michele Braun, PhD. "As a society, we haven't always been that good at leveraging the knowledge that we have in universities. We can do more to engage with the community and to address needs that are out there through the very specific skill set we have as academics. The goal is to have the work be useful."
And they'll have help in their battle: the PSSRG serves as a gathering point for a global community of academics, corporations, security and law enforcement agencies, and the public at large. One of the things that distinguishes the PSSRG from other security research groups is that it's not as concerned with the "why" behind the acts so much as the "how" of prevention and response.
Areas of study in community and public safety include:
Property security

Building design

Grievance-based violence

Cybersecurity
In grievance-based violence, the perpetrators are focused on punishing or making a statement with their acts, says PSSRG co-founder Kelly Sundberg, PhD. The instigator is less concerned with their own welfare, which changes their behaviour, and in turn changes how agencies and individuals need to respond to that behaviour.
"We are interested in how can we plan spaces, how can we have procedures for law enforcement, how can we educate members of the public who might be the first on scene or in the middle of the scene. How can we educate them in order to mitigate or prevent these kinds of actions?" says Sundberg, an Associate Professor in MRU's Department of Economics, Justice, and Policy Studies.
They plan to achieve that through a three-pronged approach made up of research, education/training and community outreach. Consider the evolution of CPR, an analogy often used by security specialist Dan Levinson, the third co-founder of the PSSRG. The life-saving procedure has gone from being the sole purview of trained medical professionals to a skill anyone can acquire at a weekend seminar. Defibrillators placed in shopping malls and community centres save lives. The PSSRG would like to find, create and share that same level of knowledge in order to make a difference.
"We will do research on a global level, then those findings are disseminated, which informs educational programs that we are currently delivering," Sundberg says. "We want to not only draw from existing literature, but also encourage research here at MRU that informs the educational programming that, once created, will focus on practitioners and members of the public."
To that end, the PSSRG has been in contact with post-secondary institutes around the globe, from Australia to Tel Aviv. Sundberg is developing a course around what is violence and the many forms it takes. The course will be delivered through the Centre for Extension Credit unit of Mount Royal's Faculty of Continuing Education and Extension, of which Braun is Program Director.
"The educational and/or training piece is why we are housed in Continuing Education. We can offer Diplomas and post-baccalaureate certificates, but also customized workshops as the research and need develops," Braun says. "We want to create an educational platform or program that can be accessed by all members of society, so not only do they gain new knowledge, but they actually gain awareness and perhaps even a new skill set."
It all ties back to that goal of making the world a safer place and serving as a resource to the global community.
"We are really looking at building how can Mount Royal can serve as a central landing point, or facilitator, of new knowledge in a relatively understudied area at a global level," Sundberg says.
For more information on the Public Safety and Security Research Group, visit mru.ca/PSSRG.
Feb. 27, 2018 — Ruth Myles
Media request contact information.
Have a story idea? Please fill out this form.