Student leader and rodeo ambassador
Shayla Breen represents both SAMRU and the Stampede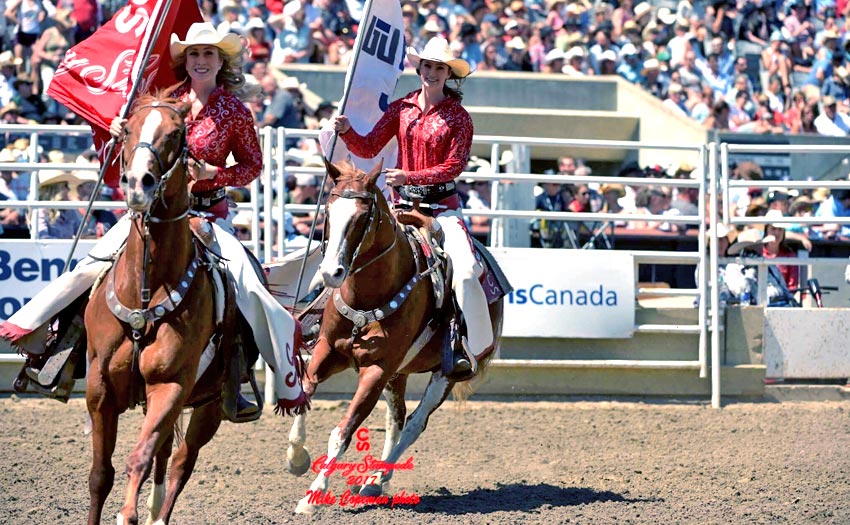 For the third consecutive year, Mount Royal University business student Shayla Breen will be showcasing her horse-riding skills at the Greatest Outdoor Show on Earth.

Breen, who is also the Students' Association of Mount Royal University's (SAMRU) newly elected vice-president student life, originally hails from Edmonton, but mastered competitive horse riding in New Zealand. She is a member of the distinguished Calgary Stampede Ranch Girls, with responsibilities including opening and closing the rodeo, as well as mingling with guests and sharing the core values of Calgary's flagship event to visitors from around the world.

"My three main responsibilities are, ride fast (very fast), stay on the horse with the sponsor flag and keep my cowboy hat on," says Breen, casually explaining each day's opening act of riding at full speed through smoke and flames.

When her family returned to Alberta via the South Pacific Breen began showing off her skills with a local equestrian drill team in Millarville. Before she knew it, she was carrying sponsor flags at rodeos throughout southern Alberta. Her talents quickly garnered the attention of a former Stampede princess, who instructed Breen to reach out to a friend for coffee. The coffee date led to another meeting before Breen finally got an audition to ride for a coveted spot in North America's largest outdoor rodeo.

"I showed up, they put me on a random horse, gave me a pattern to do and a couple weeks later I got a call asking me to please come join the team," says Breen. "My first year, I went two days before the rodeo started. We did the pattern and I looked at the girl next to me and said, this isn't so bad, it's not that fast." She was later informed the routine she had just completed was only a light warm-up.

"It wasn't until the actual show where I understood you fly out of the gate at full speed into flames."

Yes, fire.

"You have thousands of people all around you screaming. It's one of the most exhilarating experiences of my life."

The truth is, speed and talent aside, each day when the rodeo starts in front of 25,000-plus fans Breen becomes an ambassador for a city of 1.2 million people. But she's also currently focused on leaving an impression on the Mount Royal campus.

Breen was elected to the SAMRU council in April 2018, officially taking on her new title this past May. She's currently in the planning stages of what she wants to achieve, but has a keen eye on advocating for non-academic needs.
"A lot of my portfolio is related to mental health. Working with Recreation, Wellness and Residence will be key," says Breen, who has also played the role of student volunteer with the Peer-to-Peer Mental Health program at MRU.
Breen joins a new president, Andrew Nguyen, on council, both of whom have many of the same reasons for running.
"Shayla and I share a passion for student well-being. We each have a commitment to support student wellness in a holistic approach and I am excited to get to work with an individual who is driven by a passion for mental health," says Nguyen.
"She is a strong advocate for students' needs and her relatability allows her to be approached by any student seeking support or looking to address a concern."
Professor Catherine Pearl, who teaches social innovation, marketing and entrepreneurship, believes the work and time Breen has dedicated to the classroom and beyond is more than impressive. Especially considering her demanding extracurricular activities.
"Her enthusiasm and drive are simply amazing," says Pearl. "Over the two years I have taught her, she has carried a heavy load of courses as well as outside activities. Her work was absolutely exemplary. She is bright, articulate and also happens to have a terrific sense of humour. I actually will miss her in my classes this coming fall."
Pearl maintains Breen's dedication to the Calgary tradition is second to none.
"She is a terrific student with incredible drive and energy. Both are tempered by compassion and insight about our city and what is occurring in it. I recall a powerful presentation that Shayla did in our facilitation social innovation class on the fentanyl crisis, and frankly how palpable it was, along with her discussion of it and what its significance was to her."
Currently working to completing her Human Resources major, side-saddled with a minor in Social Innovation, Breen originally galloped towards the Ranch Girls opportunity as a way to give back to the community. Aside: sidesaddle racing will make its debut for two nights at the Grandstand Show, following the chuckwagon races on July 7 and 8.
For Breen, her role far exceeds a simple warm-up act. It's about showing attendees what the Stampede is about and what the rodeo really means. Breen considers it a form of western hospitality, as well as being a kind Canadian.
"I can remember living in Edmonton and going to Stampede, but it wasn't until I moved to Calgary when I realized what it meant to the community."
For 10 days in July, she will be ingrained in the nucleus of the local community. Breen is committed to attending every day of the rodeo and can be found at the Stampede infield from 11 a.m. to 4 p.m. each day. She is happy to chat with anyone, whether that means talking all things SAMRU, mental health, or pancake breakfasts and rodeo. She particularly looks forward to watching the barrel racing.
Originally Breen wasn't sure if she was going to be able to balance the Stampede and the new vice-president role, but as is common in the world of rodeo, determination saw the scenario shake out just fine.
"I'm lucky that SAMRU is very supportive of my goals outside of the job. I will be in the office before Stampede, then back in the office after the rodeo," says Breen. "It's the biggest adrenalin rush I have ever experienced. It's my favourite 10 days of the year."
Find out more about how SAMRU supports student life on campus.
July 5, 2018 ― Jonathan Anderson
Media request contact information.
Have a story idea? Please fill out this form.