Memories made while a new record set
Mount Royal graduates largest cohort ever during Spring 2018 Convocation
Mount Royal's Spring Convocation ceremonies are officially in the books.
A record number of students became Mount Royal University alumni between May 31 and June 1. In total the University graduated 1,701 students over four ceremonies.
Those in attendance for the two days witnessed 1,231 graduands cross the stage and toss their tassles. The largest previous graduating class was in 2015, when 1,165 participants completed their university career.
As is becoming an annual tradition, the largest cohort was Friday morning's Bissett School of Business celebration. The third ceremony of 2018 saw 510 business students graduate, with 360 in attendance for the festivities.
During his address to the graduates and each of the audiences, Mount Royal President David Docherty said, "Before you move on, think about how you have changed. What took place during your Mount Royal experience to better equip you for the future? I'd like to think there were many things, and that the entire MRU community played a role in preparing you, not just for the next chapter, but also for adventures you cannot even fathom at the moment."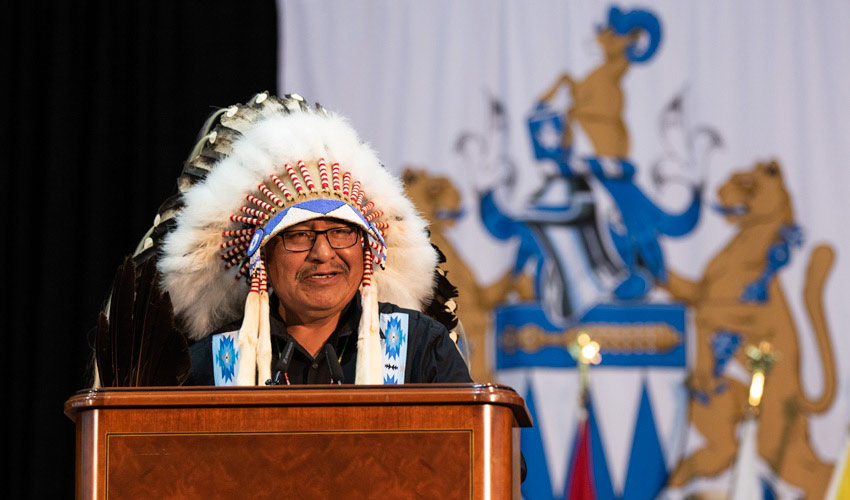 2018 Spring Convocation also saw a number of new Indigenous components added to the proceedings. This year each ceremony opened with remarks from 2016 honorary degree recipient, Clarence Wolfleg (Elder Miiksika'am).
Wolfleg (above) explained Mount Royal's commitments to inclusion and Indigenization throughout the campus.
He thanked President Docherty (below, left) for the University's efforts and explained the gifting of the president's headdress and the Mount Royal honour song, performed by the Sorrell Rider Singers (below, right) to help close each ceremony. For the first time ever, self-declared Indigenous students received a medicine bag from the Iniskim Centre.
Honorary degree recipients
A distinguished list headlined this year's collection of honorary degree recipients. Dating back to the Middle Ages, honorary degrees are often accompanied by the Latin words honoris causa, which translates to, "for honorific reasons." They are presented on behalf of Mount Royal University's Board of Governors, on the recommendation of the General Faculties Council.
Faculty of Health, Community and Education
The morning of May 31 began with former Mount Royal board member and chair Barbara Jean Fraser (below) being awarded an honorary Bachelor of Education ― Elementary.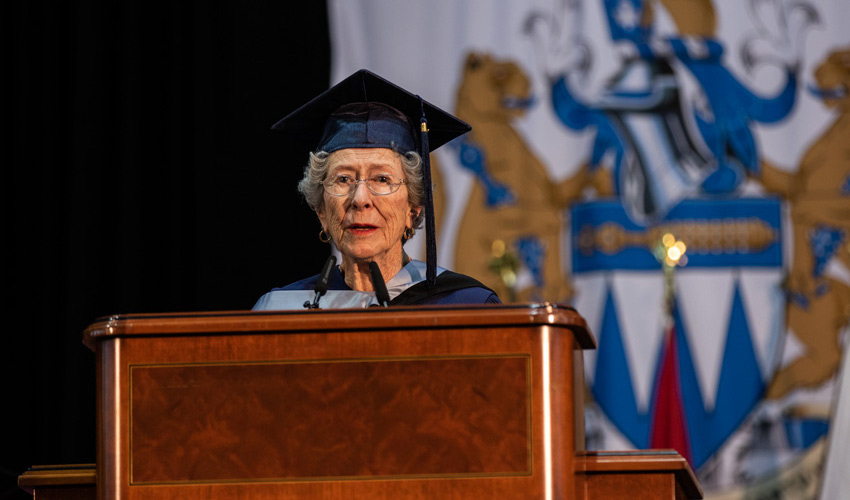 For 50 years, Fraser has been a dedicated volunteer and leader within 19 organizations. Her efforts have improved how health care, education and social services are delivered in Calgary and Alberta. She has received many honours, including the Order of Canada, the Golden Jubilee Medal, the Confederation of Canada Commemorative Medal and the Alberta Centennial Medal. She was also the first female chair of the Calgary Board of Education.
During her speech, Fraser made mention of Mount Royal's unflagging dedication to quality instruction. "Mount Royal has adhered all these years to its mandate to teach. And its focus is you. You're the core."
In addition, she offered two key pieces of advice to the education, social work, child studies, nursing and midwifery graduates. The first was to "play to your strengths." The second? "Be very, very kind to your knees. You're going to miss them when they're gone."
Read more about Barbara Jean Fraser.
Thursday's afternoon ceremony saw John Lacey, PhD, receive an honorary Bachelor of Arts with a major in Policy Studies. Lacey, who chairs the Mount Royal Conservatory advisory committee, has been a longtime supporter of Mount Royal and Calgary's arts scene.
Lacey (below) noted he received his first undergraduate degree in geology from the Imperial College of London almost exactly 65 years prior during a "very different time." While studying among colleagues, there was much fear of the Korean War. There were also far different expectations of graduates in 1953.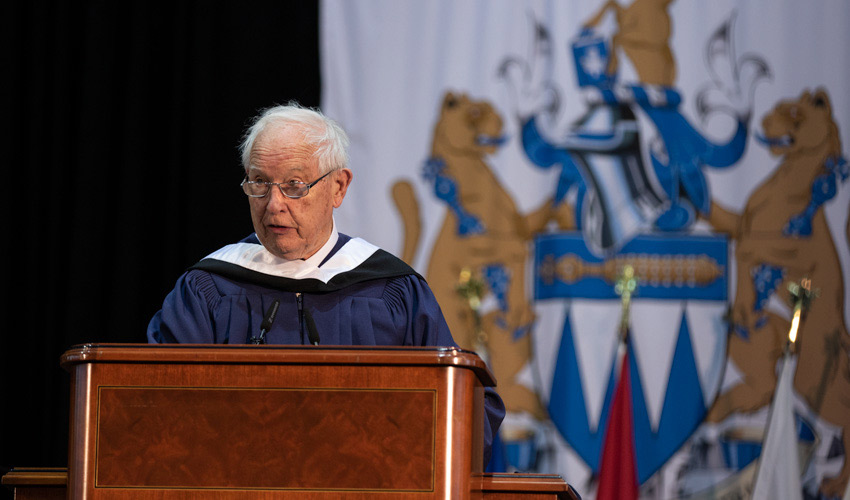 "All of us expected to find a place in industry or government, and to stay in that organization for the next 40 years until we received our gold watch and pension," he said. "Today, no one expects such a path upon graduation."
It is more common now to change career paths numerous times, he said, and suggested that the day would be a first step of an adventure offering many different opportunities. Taking a broad view is key, he said.
"Specialization is the trend today. My personal view is that the world today actually needs generalists rather than specialists. People who not only know their field they graduated in, but have developed a knowledge of associated activities so they can assist and advise on the entire scope of the project."
A generalist approach allowed Lacey to develop a collection of friends, projects and clients around the world, he said. "University has taught us a skill more valuable than any other, for it allows us to keep learning."
Friday morning, country music superstar and Mount Royal nursing alumni Paul Brandt (below) was awarded an honorary Bachelor of Business Administration - General Management. Brant was recognized for his commitment to and affiliation with Mount Royal, most recently in his role as storyteller-in-residence with the Bissett School of Business, which saw him working with students to create business and social enterprise projects. He thanked those he has been working with, saying their contributions have made a difference in his work as an advocate for justice and humanitarian causes.
Before beginning speaking, Brandt switched out his mortarboard for his trademark black cowboy hat. He noted that MRU has a special place in his heart, as it instilled in him the confidence and knowledge needed for success in the music business. Specifically referring to his role as storyteller-in-residence, he said, "I've learned so much. It's been an incredible journey to this point of creativity, community and entrepreneurialism. The work has resulted in impressive social innovation, especially through the anti-human trafficking campaign, developed here at Mount Royal, called Not in My City."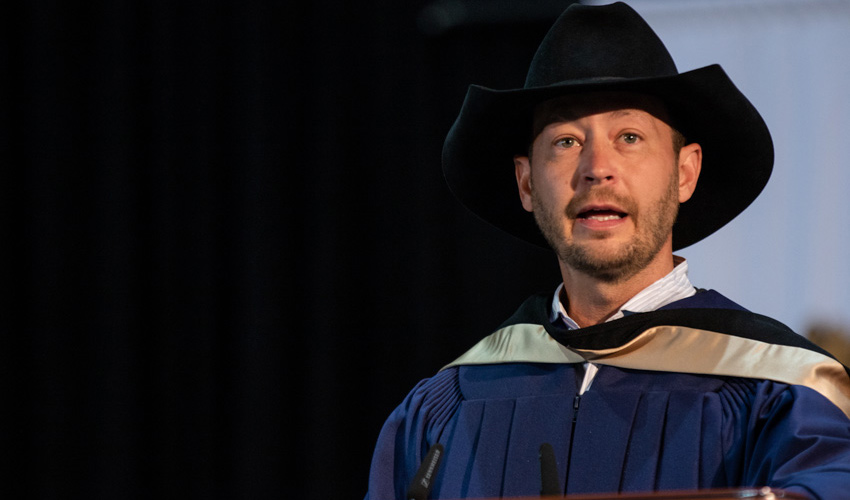 Not in My City works in support of sexually exploited and trafficked children in Canada, and has raised over $250,000 thus far.

Brandt continued to say, "MRU re-enforced for me that in the face of adversity, there are five words that serve well. 'Fear not, and show up.'" Those five words were what got him through two particularly terrifying assignments for his nursing program.

Those were bed making and breastfeeding, he said, eliciting laughter from the crowd.

But he showed up.

The main message of Brandt's speech, however, was to not let the fear in the world today dominate. "We live in an era of strong opinions, loud voices and harsh criticisms, and trial by social media. It's not about who makes the best point, it's about who makes their point the loudest and with the most scathing personal attack.

Brandt emphasized the importance of civility, and not judging based "strangeness," or differences.

"We all have quirks. Misconceptions. A certain amount of rightness or wrongness. We're all 'strange.' Civility says it's not up to me to convince other people of truth. Truth will convince people on its own.

"My time at Mount Royal has shown me that time invested in service and love of others is never wasted. It pays great dividends and unlimited opportunity for the future. Thank you for this incredible honour today."
The fourth and final honorary degree recipient was Bret Hart, one of the most recognizable Calgarians around the world. He was bestowed an Honorary Bachelor of Health and Physical Education ― Physical Literacy as an outstanding individual who has been recognized at an international level and who has used his position and recognition for the betterment of society.
As an amateur wrestler he won many awards, including the 1977 Collegiate Amateur Wrestling Championships as a Mount Royal Cougar. His professional career in Stampede Wrestling and the World Wrestling Federation is how most know him, however. Nothing less than a global icon, Hart is known as the most technically proficient pro wrestler ever. He spent four years as World Heavyweight Champion, earning the moniker, "the best there is, the best there was and the best there ever will be."
Multi-talented, Hart has appeared in many films and television shows, and he recently did the artwork for the Hitman beer case from Village Brewery. For a decade he wrote a column for the Calgary Sun, and his autobiography was a bestseller. As a philanthropist, he supports the Terry Fox Foundation, the Calgary Prostate Centre, the March of Dimes Stroke Recovery program and RESOLVE.
Hart (below) rose to speak to thunderous applause from the audience. His words touched all those in attendance as he spoke eloquently and thoughtfully about his short time at Mount Royal, saying he regretted being unable to stay and complete his education as a filmmaker. He described himself as a "creative and artistic young man" who, at the time, had no interest in following in his brothers' footsteps as a professional wrestler. But, he says he "tripped out of the starting gate" at Mount Royal, taking the "wrong" classes and allowing himself to be distracted by things that shouldn't have been a priority.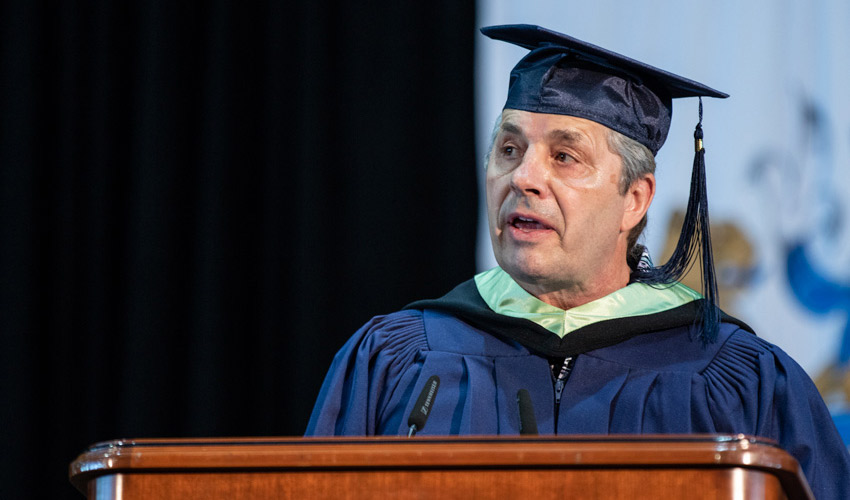 "Destiny. I can only wonder," he said. "In truth, I knew, sadly, that I had failed myself."
He decided to give pro wrestling a try, ending up having one of the most storied and decorated careers ever in the sport, however he admitted that it was not his goal at the time.
"I fell into the open arms of professional wrestling. I promised myself that I would only do it for about five years," and then he would return to school. Those five years turned into 23.
"I always wondered what might have been, even though I love what I accomplished as a young man in the rugged profession of pro wrestling."
Always carrying around a number of books wherever he went in the world, Hart educated himself, making himself more aware and wiser, he says.
"When I look back at my matches, I realize that I got to make my movies, to tell my unbelievable stories, action-packed with twists and turns."
In closing, he said that he could feel his parents' pride in him at that moment.
"My dad always used to say, 'Where the head goes, the body follows.' I think he was referring to wrestling, but I think it's about life in general."
He then spoke about the importance of family, its being the "presence that never leaves you, even if you find you have to leave it. In many ways, I graduated long ago from the finest school. The infamous Hart house."
To the graduates, Hart had these words of advice. "You will discover that life is based less than you think on what you've learned, and much more than you think on what you've had inside you from the very beginning. The best chance you have if you want to rise to the top is to give yourself up to loneliness, fear nothing and work hard. One grows not only according to the pace of one's intellect, but in the cultivation of one's heart and soul. In the meantime, soar. Eat ether. See what's never been seen. Defy expectations. Depart. Be lost. But always climb."
Governor General Medal recipients
Other award recipients included Kathleen MacKinnon (below, left), who was presented the Governor General Silver Medal. MacKinnon graduated Thursday morning with a Bachelor of Nursing and achieved the highest academic standing of any program, with a perfect GPA of 4.0.
The Governor General Bronze Medal recipient was Jennifer Thornhill, who graduated with a Social Work Diploma. The bronze medal is awarded to the person with the highest academic standing in a diploma-level, post-secondary program. Her GPA was a perfect 4.0, as well.
The Governor General's Medal, established in 1873 in recognition of exceptional academic achievement, is one of the most prestigious awards that can be received by a student in a Canadian educational institution.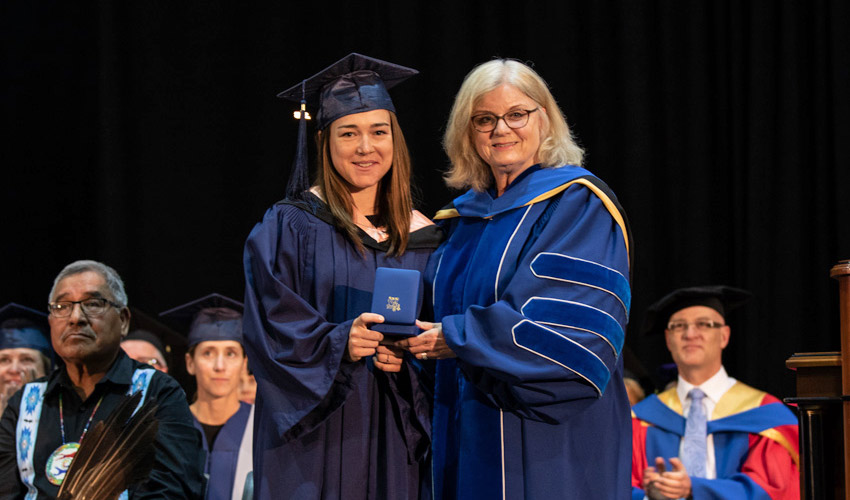 Valedictorians
The valedictorians for 2018 spring convocation were as follows:
Claire Brown
Bachelor of Nursing
During her time at Mount Royal Claire Brown volunteered as a peer health educator, whose work is to educate fellow students and the University community about health-related issues. On the academic side she worked as a research assistant on a study of physical aggression and violence against nurses. She is currently employed as a registered nurse at the Rockyview Hospital.
During her speech she said, "Mount Royal's slogan, 'You Belong Here' captures in so few words what it truly means to be a Mount Royal University student. MRU has provided us with much more than an excellent education. This school has fostered opportunities for us to continually improve both academically and personally as we immersed ourselves into this diverse, evolving and engaging community."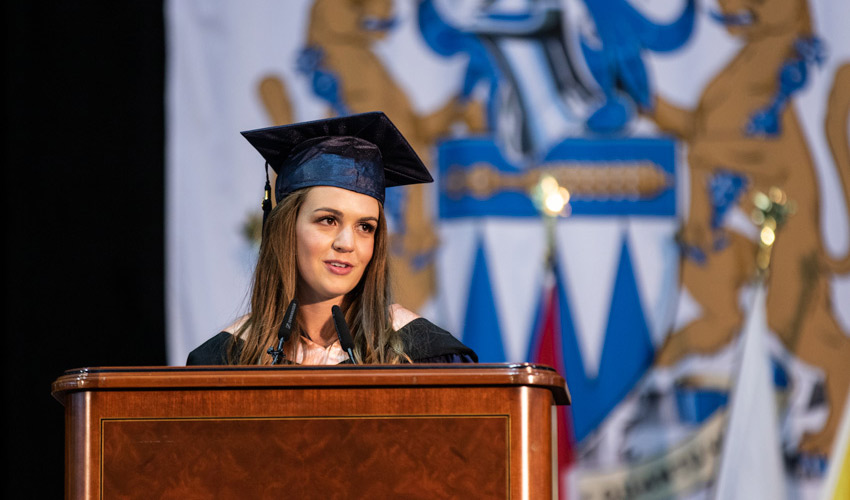 She also thanked the instructors and professors of the Faculty of Health, Community and Education for their guidance, assistance and passion for their profession, as well as family and friends for their support.
Brown finished with, "As we continue to work towards our goals, I encourage everyone to embrace and appreciate their life as it is in the moment. Evaluate the metric by which you measure your success and bear in mind that the ultimate reward of any goal we set in life is happiness. With that being said, live your life with intention."
Amanda Chodak
Bachelor of Arts ―Psychology (Honours)
After working as a flight attendant at WestJet Airlines for over seven years, Amanda Chodak made the choice to attend Mount Royal for her post-secondary education. She made the most of her time, completing an honours thesis under the supervision of Evelyn Field, PhD, and conducting research with Jennifer Bowman, PhD, and Leah Hamilton, PhD. Recently, Chodak received an interview to enter the University of Calgary's Cumming School of Medicine.
Advising the crowd that it's never too late to make a change in life, Chodak encouraged the graduates to not let fear get in the way of trying to achieve new goals. She also thanked her professors for their personal and approachable ways of teaching.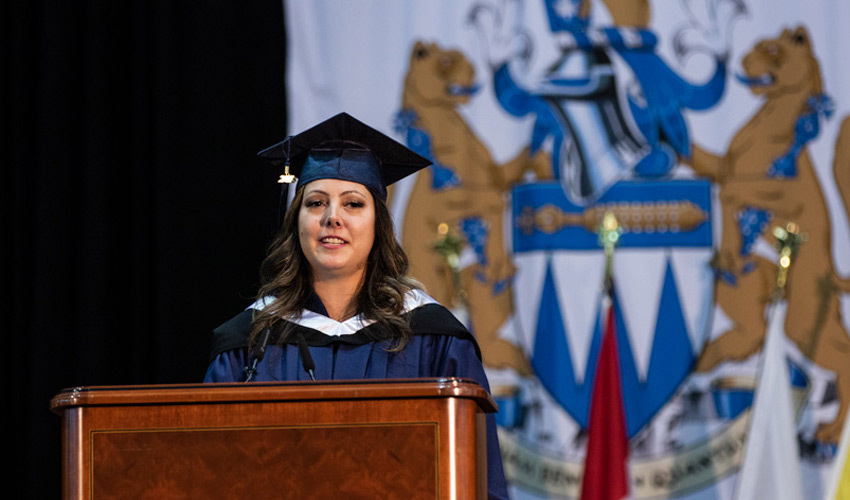 "What a privilege it was to be taught by professors who travelled the world lecturing at conferences and then felt at home enough with us that they shared their quirkiness with us - teaching in their socks, playing their violins for us and bringing their homemade cookies to class (shout outs to professors James Taylor, Rod Montague and Janet Arnold)," she said to laughter from the audience.
Chodak finished with a quote from Audrey Hepburn. "Nothing is impossible. The word itself says, 'I'm possible!'
"So if it's possible, why not go for it?"
Djordje Calic
Bachelor of Business Administration ― General Management (Honours), minor in Economics
Upon completion of his Bachelor of Business Administration ― General Management (Honours), Djordje Calic was accepted to the University of Toronto's Rotman School of Management where he will pursue a masters in financial risk management. Calic also earned a minor in Economics to go along with his undergraduate degree.
In his speech Calic spoke of the numerous services and amenities Mount Royal offered to support the health and well-being of students. He listed resources such as Wellness Services, Recreation, Student Learning Services, the Library and SAMRU as providing the necessary backbone for an exceptional education.
He also made note of the diversity and strength of the connections formed.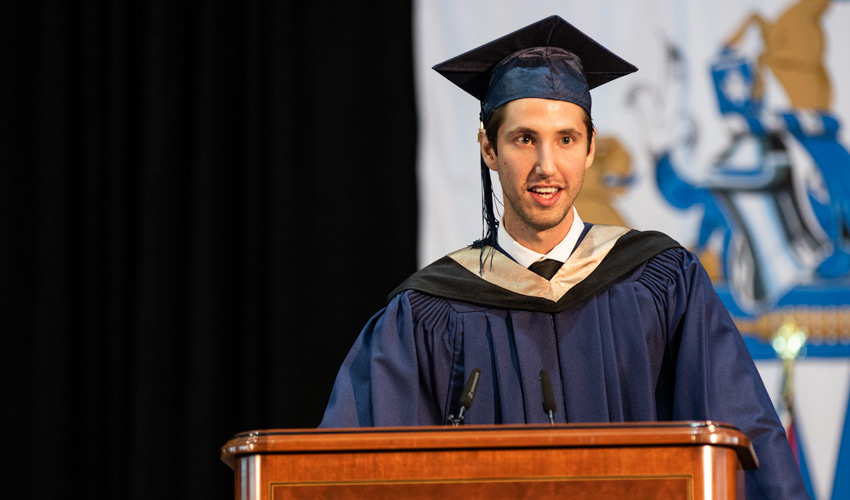 "Mount Royal University represents far more than the inception and conclusion of our formal educational experiences. Hopefully, what this outstanding institution was able to do for all of us is help develop important habits that we will carry with us into our future endeavors," he said. "Regardless of what's next, we carry forth the foundation established here to commit to lifelong learning. We recognize that with a society in constant flux, learning new skills, enhancing our worldview and continuing to form important relationships are necessary to keep the commitment to learning alive and well."
He also encouraged his cohort to never be complacent in the face of adversity.
"Whilst on our own developmental paths it is important to remind ourselves of the many issues that are big and require our support. We must denounce discrimination on all levels and ensure that others around us have the same opportunity to live in dignity. Our obligation lies in using our ability and learned qualities to give back and leave this place better than we found it, full-well knowing that there will always be more work to be done."
Ryan Cunningham
Bachelor of Health and Physical Education - Physical Literacy
Ryan Cunningham led the first-ever cohort of the Bachelor of Health and Physical Education ― Physical Literacy graduates. He was also the recipient of this year's Centennial Gold Medal, which is patterned after the Henry Birks and Sons Gold Medal, which from 1935 to 1985 was Mount Royal's highest award for student academic achievement. The Centennial Gold Medal commemorates a deep tradition of academic achievement and leadership at Mount Royal. A talented basketball player and all-around athlete, Cunningham was also named as a U-Sports Academic All-Canadian. In addition, he coached for the Special Olympics and was a member of the Phi Theta Kappa Honour Society.
As he addressed the crowd, Cunningham reminded his fellow graduates of the importance of always being present in life. "As this phase of our journey ends we look back at the good times, try and forget the bad times, and try even harder to remember the forgotten times," he said.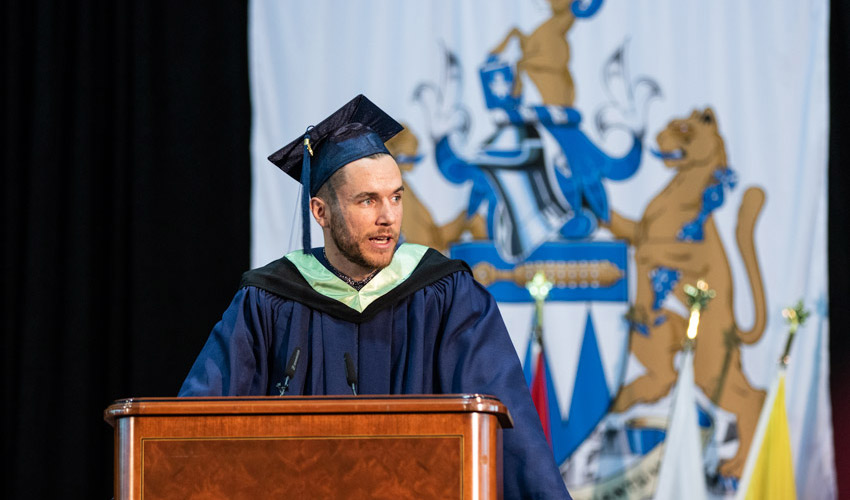 Cunningham reminisced about his favourite courses, his classmates who turned into lifelong friends and his professors who made a point of knowing him personally and holding him accountable for his actions, all of whom played a large part in his success at the University, he said.
He finished with a series of quotes from such individuals as Winston Churchill, Eleanor Roosevelt and Andy Bernard. He finished with, "I'm here to tell you, graduating class of 2018, these are our 'good old days.' Take advantage of them with the good days and the bad days."
Professor Emerita
This year Katja Hoehn, PhD, was awarded for her exceptional contributions to the Mount Royal community. A professor emerita is a retired educator who made an impact and left a distinguished legacy during their time at their institution. Hoehn earned the respect of her peers for her teaching, scholarship and wide-ranging service to Mount Royal throughout her 24-year career. After joining Mount Royal in 1994 as a sessional instructor in the biology department, her expertise in physiology and biology led her to tenure in 2001 and to a full professorship in 2012.
While instructing, Hoehn received both a Students' Association of Mount Royal University Teaching Excellence Award and a Distinguished Faculty Teaching Award. Her pedagogical approach helped other faculty understand how teaching techniques can assist students to better understand anatomy and physiology concepts and bring theory to practise.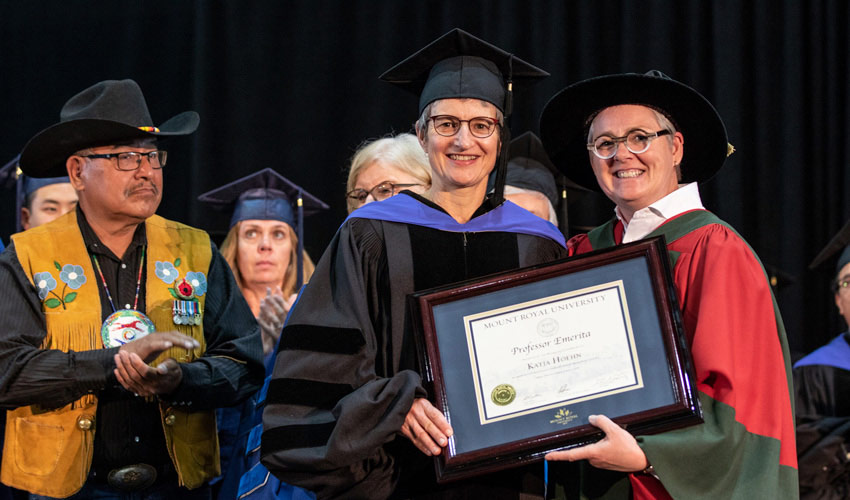 Her scholarship focuses on developing scientifically accurate yet accessible learning tools. Hoehn co-authored the most widely used anatomy and physiology textbook in North America, Human Anatomy and Physiology, now in its 11th addition.
The creation of the Bachelor of Science - Health Science was in part due to Hoehn's efforts. She built numerous classes for nursing and midwifery students, all the way to upper-level, specialized courses required for Health Science majors. More recently, Hoehn participated in developing a new unified major in Biology.
Distinguished attendees
With the regular pomp and circumstance associated with convocation, this year saw three government officials come to campus to witness the celebration of Mount Royal's newly minted graduates.
Chief Lee Crowchild of the Tsuu T'ina Nation (below) attended the May 31 afternoon ceremony.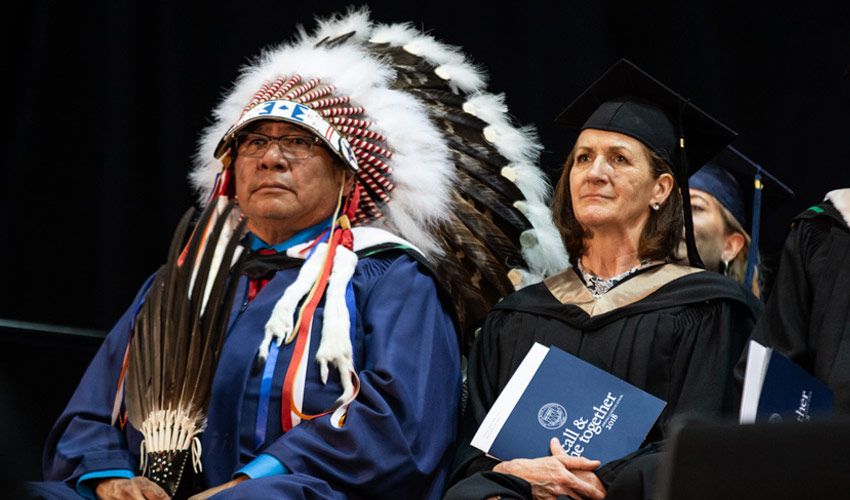 Greg Clark ― MLA, Calgary-Elbow (below, bottom left) joined the platform party on the morning of June 1. Kent Hehr ― MP, Calgary-Centre (below, bottom right) attended in the afternoon.
June 1, 2018 ― Jonathan Anderson
Media request contact information.
Have a story idea? Please fill out this form.