Supporting the student experience
For a newly-created University, focusing on the student experience is critical. As new programs are offered and infrastructure is created, listening to the needs of students can contribute to building a sustainable, positive culture. In three recent surveys of students - the Canadian University Survey Consortium (CUSC), the National Survey of Student Engagement (NSSE), and The Globe and Mail's annual Canadian University Report - Mount Royal showed best-in-class results in a number of major categories.
Getting students ready
The personalized learning environment offered to Mount Royal's students not only helps them succeed in the classroom, it helps to prepare for a career after they graduate. According to CUSC, 64% of Mount Royal students have talked with professors about their future employment or career - 10 percentage points more than the national average. Many of Mount Royal's professors have strong industry ties and in the case of sessional instructors, many are actively employed in their field.
"Mount Royal's focus on real-world application through co-op placements, instructors with industry experience, student participation in research and career development have created a defined personality for the university," said Peter Seto, Director of Mount Royal's Office of Institutional Analysis and Planning. "We want our students to get the insight and support to help them develop the tools to succeed and bring value to wherever they go when they have finished at Mount Royal."
Getting students engaged
The NSSE measures five key categories of student engagement, focusing on the academic strength of the university. Critically, Mount Royal outperformed both the national average and the medium-sized University group, having top results in four of the five NSSE benchmarks of Level of Academic Challenge, Active and Collaborative Learning, Student-Faculty Interaction and Enriching Educational Experiences for first-year students and five of the five benchmarks for senior-year students.
Ninety-two percent of first-year respondents and 94% of graduating students rated their overall experience at Mount Royal as either good or excellent, 10 percentage points higher than the national average for first-year students and 15 percentage points higher for graduating students.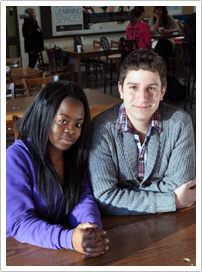 Joice Luis and Tudor Bucataru, first-year students in the Bissett School of Business.
For Joice Luis, a first-year student in Mount Royal's Bissett School of Business, the choice to attend Mount Royal came down to the focus on the individual student. "I chose Mount Royal for the smaller class sizes and I really appreciate my relationship with my professors. They know me on a personal level, and are actually invested in my success - I never feel like I'm just a number. I love it."
"When I went looking for a University in my year after high school, I really focused on determining what I wanted to study and where," said Tudor Bucataru, a fellow first-year working on a class project with Luis.
"When I was reviewing Universities to attend, there seemed to be two different models - some schools seemed focused on seeing how much you could endure, and other schools who focus on helping you succeed. Mount Royal is definitely the latter."
In The Globe and Mail report, Universities were broken down into three categories - large schools (enrolment over 22,000 students), medium schools (enrolment between 10,000 and 22,000 students) and small schools (between 4,000 and 10,000 students). MRU was one of the highest-rated medium universities in the nation, scoring top marks in quality of teaching and learning, instructors' teaching style and student faculty-interaction in the medium-sized category. It also ranked the highest in terms of class size, recreation and athletics.
Growing pains and new opportunities
While Mount Royal had unqualified success in the quality of teaching and learning, class sizes and students' relationships with faculty in all three surveys, opportunities to improve campus life for students remain high on the list of priorities for the growing campus. Notably, the NSSE survey outlined three principal areas of concern for students (availability of parking, the size and design of the existing campus library and the need for more student learning and studying space) that have resulted from the increased pressure on existing infrastructure brought about by a growing student body and an increased desire by students to remain on campus and build a true university culture.
For University Librarian Carol Shepstone, responding to the needs of students is her first priority. After receiving feedback from students last year, the library committed to an extensive remodeling project to utilize existing space better, creating more quiet study areas while expanding their collection. "The results of our surveys show that we have excellent staff and faculty who are genuinely committed to Mount Royal students' success," says Shepstone. "However, we just aren't big enough."
"Fortunately, a major focus for the University's capital projects in the coming year will be the establishment of a building that will house a new library and well as aggregating our existing student learning programs into a single building. It will create more space to accommodate all styles of learning, give us an opportunity to study how students are learning today and be the academic and student commons for the entire university."
Getting students involved
Mount Royal's surveys of student experience are critical in helping the University manage the needs of the student body and respond to issues that are of critical importance. "While Mount Royal's scores on many key benchmarks have been excellent, continuing a dialogue between students and the university is absolutely necessary," says Georgina Grant, Senior Assessment Analyst in Mount Royal's Office of Institutional Analysis and Planning. "We are really doing well, but there are always areas we are looking to improve upon."
"We need to reflect back their voice, and while students are telling us that Mount Royal has a strong academic backbone, they are asking for more study space, a new library and a better parking solution. To help students succeed, we as an institution we are going to work to make these things happen for them."
A new round of surveying Mount Royal's students is due to begin Jan. 2012.
- Colin Brandt, Jan. 12, 2012