MRU sustainability campaign leading to positive results
Do the Right Thing making a difference, but there's still some work to do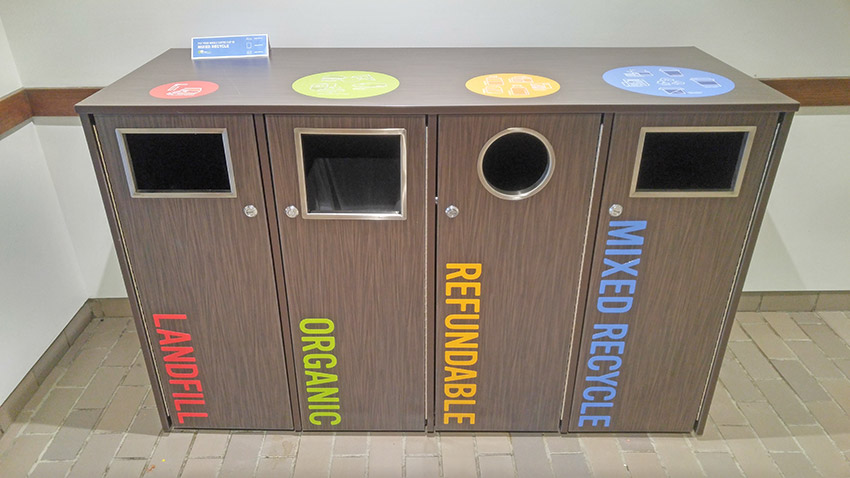 A campus-wide campaign to encourage more sustainable practices is starting to show results, according to a recent assessment of waste. The Do the Right Thing campaign is encouraging students, staff and faculty to reduce garbage, recycle more and conserve energy.

The campaign was initiated in response to tough new City bylaws requiring businesses and organizations to reduce what they send to the landfill, or face serious fines.

The campaign officially launched last fall with all-new labelling of the many recycling bins on campus using colourful, compelling iconography that clearly showed what should go where. A survey last spring revealed that previously, many people found the bins confusing, so relabelling them was a priority, according to Grant Sommerfeld, associate vice-president of Facilities Management.

The bins are branded landfill, organic, refundables and mixed recycle. Bins for paper are located in high-use areas, but paper can also be put in mixed recycling. It has been shown that the bins can collect 97 per cent of the average person's daily waste, meaning very little should be ending up in the landfill.

According to a City of Calgary bylaw, all businesses and organizations are required to collect paper and organic waste separately from non-recyclable waste. The University can face steep fines for sending paper, food or yard waste to the landfill.

Lets all do our part. Do The Right Thing: keep your coffee cup out of the landfill @SAMRUBuzz coffee cups go in mixed recycling #MRUGreen pic.twitter.com/YVYLrLsKsX

- Mount Royal U (@mountroyal4u) October 15, 2017
And beginning Oct. 1 this year, paper and cardboard will be banned outright from City of Calgary landfills. If an organization ignores the ban, it will face significantly higher charges. Sending food or yard waste to the landfill will also result in higher fees.

"People are responding to the (Mount Royal) campaign," notes Sommerfeld. "We saw a change right away with more people putting their coffee cups in mixed recycling instead of the landfill bins. This was great to see because coffee cups have been a real problem."

Gerry Young, manager of Environmental Services, says "there has been far less contamination in the landfill bins," with less refined paper and organics being thrown out.

DYK...#MRU pays by weight for garbage. The more we divert from the landfill, the more money we save. When in doubt, choose Mixed Recycling #MRUGreen #yyc https://t.co/LzoDdyLeZW pic.twitter.com/1zbCqP4t4x

- Mount Royal U (@mountroyal4u) January 19, 2018
"We've moved the needle about 10 per cent," explains Sommerfeld. "The last waste audit found we were diverting 35 per cent of waste from the landfill and we're now at 45 per cent. Our goal is 70 per cent, so we still have a ways to go - especially since we have the ability to go as high as 97 per cent."

In addition to the new bin labels, the campaign uses social media, electronic communication, posters and room signage to target one behaviour at a time. The latest message is "When in doubt, choose mixed recycle."

Carol Hartwick, information manager with Environmental Services, says mixed recycle is the best option if someone is unsure which bin to use. "We won't be fined for putting different recyclables there. The big problems we're trying to solve are people throwing their coffee cups or paper in the garbage," she adds.

Instead of under-the-desk bins, people are being asked to walk to common bins and sort their waste. Hartwick says that for the most part people are adapting well to the change and turning a minor inconvenience into an opportunity to get up, move and Do the Right Thing.

#MRU spends up to $300 thousand a year to light our campus. And, just like at your own home, when we use less energy, we save money and reduce our environmental footprint. Do the Right Thing #MruGreen pic.twitter.com/MlVD127lWc

- Mount Royal U (@mountroyal4u) December 13, 2017
In addition to avoiding fines at the landfill, some of the potential savings for the University are in energy conservation, Sommerfeld says. "We spend up to $300,000 a year to light our campus and we can lower that if people turn off unnecessary lights." Powering down all of the PCs on campus every night could save the University $33,000 a year, he adds.

Find out more about Facilities Management and follow the campaign progress on social media (#MRUgreen). Send your ideas and questions to fm@mtroyal.ca.

Learn more about MRU's "Leaner, Cleaner, Greener Campus"in the Spring/Summer 2017 edition of Summit.

Jan. 22, 2018 ― Melissa Rolfe
Media request contact information.
Have a story idea? Please fill out this form.