An urban choice, but rural need
Clinical placements put distance and culture into perspective for MRU midwife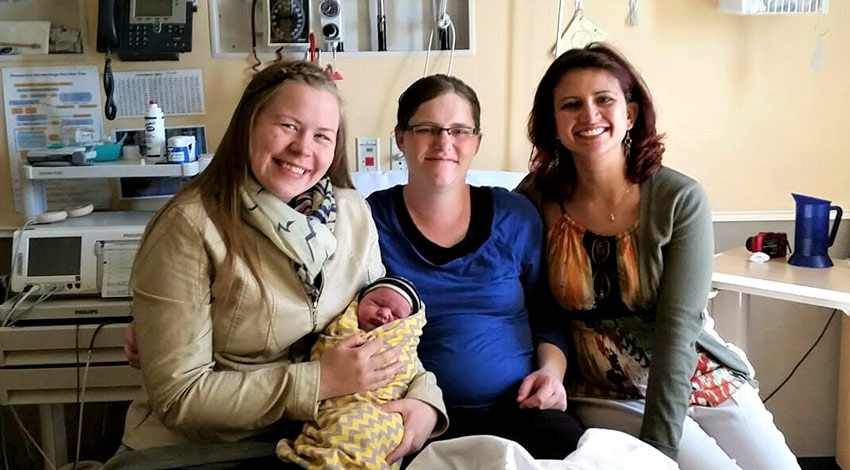 Luisa Franco had never before truly appreciated the concept of distance, nor had she ever felt the isolation that came with living in remote rural Alberta.
Having spent her youth in Bogota, Colombia ― a city with double the population of the province of Alberta ― finding herself in the tiny town of High Level, Alta., which has roughly 3,100 residents and is located about 733 kilometres north of Edmonton and 725 kilometres south of Yellowknife, N.W.T., was an unusual experience.
As part of her Bachelor of Midwifery (BMid) program, a rural clinical placement landed Franco in the basement of a Mennonite family who, by choice, did not have television or Internet. In addition to the physical distance from home, she struggled with isolation. She was only able to stay in touch with her partner and complete her coursework during two-hour intervals at the local Tim Horton's, or at the hospital, where she could access Wi-Fi.
In remote areas like High Level, or neighbouring La Crete, rejecting many modern luxuries, having many children (sometimes upwards of 10) and two to three (and sometimes four to eight) hour-long nail-biting drives to the hospital are just the reality of those who choose to reside in these rural areas. Different cultures and worldviews were nothing new to Franco, being an immigrant to Canada, but never before had the vast remoteness of northern Canada been so real.
"In Northern Alberta there are around 20 babies born each year on the side of the road with people from rural areas just trying to reach hospitals in time to give birth," says Franco. "I once met a man from La Crete who had made a bed and stocked blankets and other things in the back of his truck, just in case he and his wife didn't make it to the hospital in time.
"Another woman who had lots of babies told us she felt she was fully-dilated and ready to push when she was still 15 minutes away from the hospital. So, they obviously don't plan for it, but they definitely try to prepare."
The rise of the midwife in Alberta
Alberta has publicly funded midwifery care since 2009. Since then, there has been a 229 per cent increase in the number of midwives practising in the province. Midwives serve individuals with low-risk pregnancies through a "course of care" that starts during pregnancy and continues after birth.
Many rural areas face similar challenges, such as lack of contemporary health-care resources, however each present their own particularities as well. In High Level, many clients have strong religious beliefs and may decline usual pregnancy tests like ultrasounds. In a previous placement in Fort Qu'appelle, Sask. working closely with Indigenous populations, cultural competence was key to the relationships needed between soon-to-be-mom and midwife.
"One of the main principles of midwifery is choice, and whether it is personal, religious or cultural reasoning for their choices, it's our job to respect them, and not repeat the mistakes of colonialism - imparting things on people," says Franco. "And it can be challenging to adapt classroom learning to practice - because nothing is black and white.
"You need to see the world through a kaleidoscope of worldviews and never assume anything of any individual when it comes to birth."
In Fort Qu'appelle, Franco often worked at the All Nations Healing Hospital - a new facility that combines modern and traditional healing and that undertakes outreach efforts on nearby reserves.
The All Nations Healing Hospital is unique in that it offers Indigenous visitors the opportunity to go directly to the traditional knowledge keeper, who has the guidance of the community's forefathers, or to go to the western side and have the ability to access clinical services.
Franco worked with expecting moms in diabetes and nutrition education. She collaborated with nurses to package healthy meals, including recipes, in hopes that the soon-to-be moms would incorporate them into future meal planning. But the new type of reality of the life was also a shock.
"We'd do cooking lessons and teach them how to eat properly while pregnant, and teach the families how to make healthy foods they might otherwise not know how to cook - like squash," says Franco. "But there was definitely a culture shock. I remember travelling to the clinic behind a water truck spilling water out the top as it bounced down the unkept road. There's no pipes, it was their drinking water.
"All the dirt from the road was going into the water. It was upsetting. You really don't have to travel to third world countries to see need. Where I am from in Colombia it would be normal, but here - it's unacceptable."
The demand for midwives in rural areas continues to grow due to the reality of our population distribution, which has influenced a centralized health-care system in the province - at times straining services like emergency response.
The rural need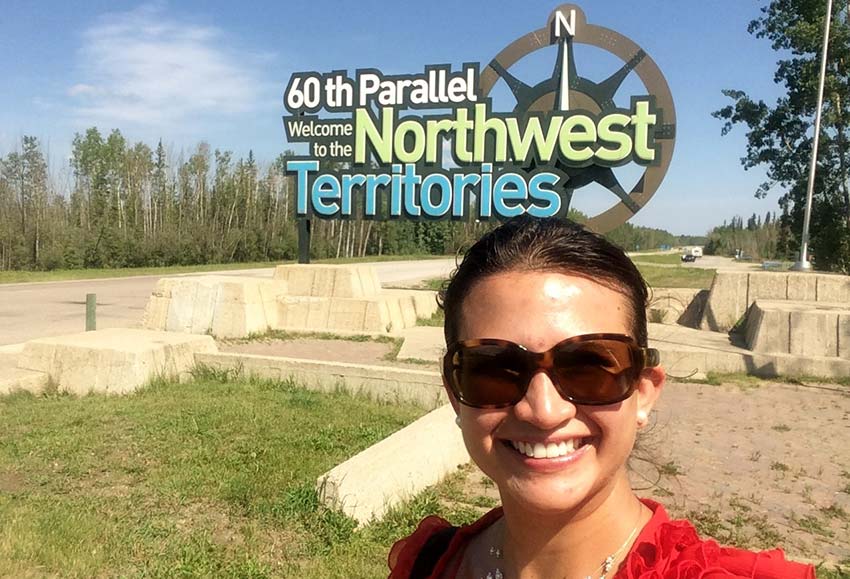 "Currently there are 14 of 102 registered midwives working in rural and/or remote practices in the province," says Mary Landsiedel, professor and program coordinator for the Bachelor of Midwifery. "This demonstrates the limited access to midwifery care outside Alberta's two largest urban centres"
"Rural placements provide students like Luisa with important insight into the challenges in accessing maternity care for clients, and for midwives in accessing resources prevalent in urban centres. They also allow students to care for clients in their homes and assist in building communication and collaboration skills as they interface with other maternity care providers when more complex care is required."
Set to cross the Convocation stage in the traditional red shoes of the midwifery cohort this Spring, and with 115 births on the books, Franco will start her professional career with Red Community Midwives, an organization that works with many vulnerable and marginalized urban groups in Calgary. She hopes to one day return to a remote/rural practice after first bolstering her skills in a setting with all of the luxuries of operating in a large city.
From a fiercely competitive applicant pool of hundreds, 12 seats are filled each year for Mount Royal's Bachelor of Midwifery. Students are exposed to a plethora of diverse and demanding work experiences and rigorous academic curriculum. They make many sacrifices in pursuit of their chosen profession.
International Day of the Midwife is May 5, and Mount Royal would like to recognize Luisa, and all of the other dedicated midwives throughout Alberta, across Canada and throughout the world, for helping to make expecting moms feel like the support they need is never too far away.
Read more about Mount Royal's midwives in the spring 2016 edition of Summit.
April 23, 2018 ― Brendan Greenslade
Media request contact information.
Have a story idea? Please fill out this form.