From deep within the Milky Way comes the Tomatosphere
MRU students take part in out-of-this-world citizen science project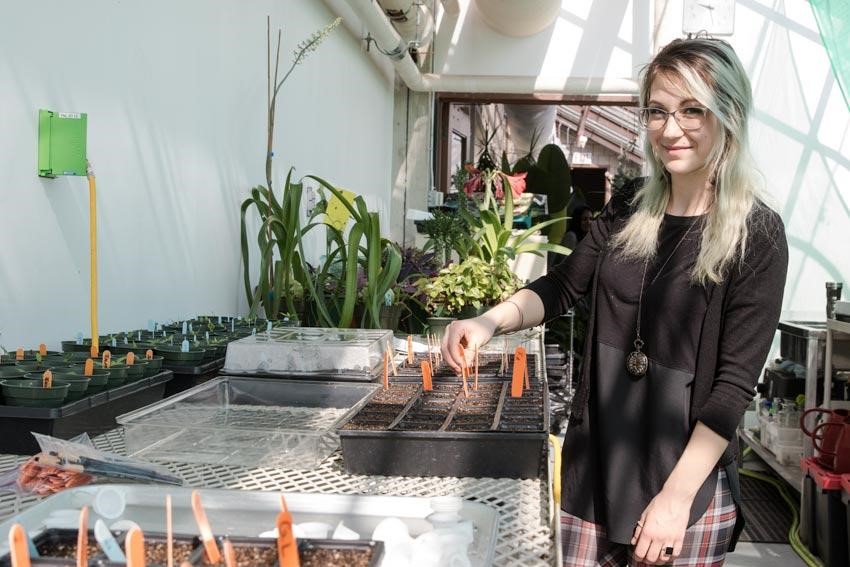 As science continues to grow our understanding of the galactic realm, the viability and eventual need for the human race to put down fresh roots on other planets is becoming more plausible by the day.
Of course, at present, this remains fodder for sci-fi films and dreamers like the team behind the Mars One project who aim to establish a permanent human settlement on the only planet in our solar system thought to feasibly be able to support human life one day.
As it stands now, the world's population is over 7.6 billion. According to United Nations predictions it could reach 9.7 billion people by 2050, and over 11 billion by 2100 - a number considered by many in the science community to be unsustainable. Needless to say, the Mars One team could be on to something.
However, many challenges exist, including a big one - food. This is one issue that is being tackled by the Let's Talk Science Tomatosphere project, and students from kindergarten through to post-secondary across North America are taking part. This citizen science project aims to grow interest in scientific experimentation and inquiry by engaging students in analyzing germination rates of irradiated tomato seeds that have actually been taken to space, or exposed to space-like conditions. Because, let's face it, nobody is going to be willing to colonize Mars without sauce for their space pizzas.
Currently, the fruits from the Tomatosphere™ investigation help Canadian scientists understand some of the issues related to long-term space exploration, and was brought to Mount Royal by Diana Fletcher, a professor in the Faculty of Science and Technology.
"When I heard about the project I was excited to get our students involved," says Fletcher. "It was a great fit with the environmental health and sustainable and healthy societies courses I teach. Although the project targets students in kindergarten to Grade 12, I saw an opportunity to engage our students and conduct some deeper inquiry." These courses can be taken as part of the General Education requirements for degrees, meaning students from all parts of the University can take part.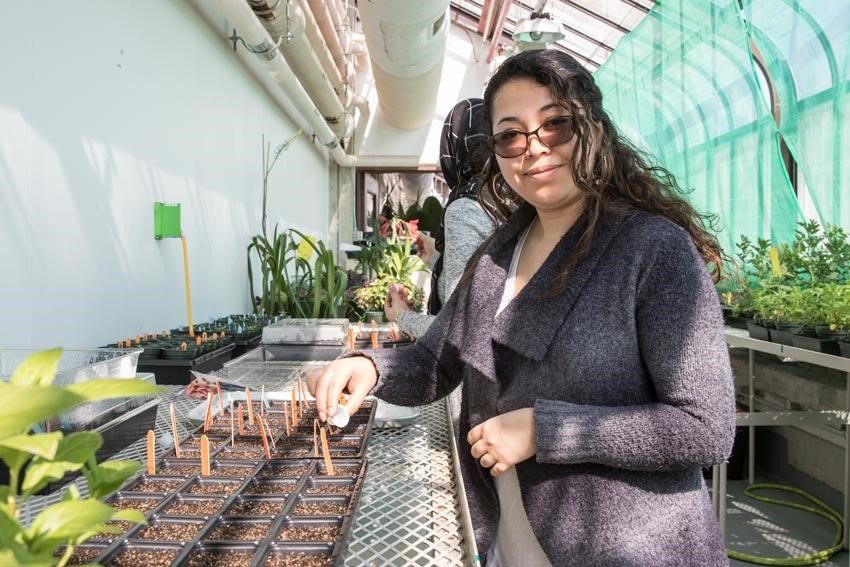 Participants received two packages of tomato seeds. One package contains seeds sent into space or treated in space-simulated conditions. The other contains untreated "control" seeds. The aim is to understand the effect that radiation levels in space have on the germination rates of the seeds. The experiments were conducted in Mount Royal's rooftop greenhouse with the help of greenhouse technician Barry Moench.
Rachel Anderson, who is in her final year of her Bachelor of Arts - Sociology, was thrilled to take part in the project as part of Fletcher's class.
"I think it's so cool and cutting-edge that there's a project aimed at making food and meals more nutritious and flavourful for astronauts," says Anderson. "I appreciate having an opportunity to participate in the 'space seeds' experiment because I think engaging with the community, especially in ways that teach individuals how to be more sustainable and preserve the natural world, is imperative and beneficial."
Geraldhine Lopez Garcia, who is in her third year of Bachelor of Science - General Science, also appreciated the project incorporated into the course.
"The space seeds experiment was an excellent way to close this course," says Lopez Garcia. "Throughout the term we expanded our knowledge on the importance of sustainability in our society. This experiment is a way to see how growing food in environments other than the Earth could be a tool in the future to alleviate the hunger problem in remote places of the world."
Predictions at the time of planting the seeds were mixed amongst the students.
"It is difficult to predict the consequences of radiation on the seeds since there are many types of radiation and each can have a different effect," says Lopez Garcia. "For the 'space seeds,' I think that genetic mutation will occur and the growth of the tomato plant will be hindered."
Anderson, on the other hand, postulated that if the seeds she planted have been irradiated, the initial growth of the plant will be a little slower but then eventually surpass that of a regular seed.
Fletcher was less convinced that there would be a noticeable difference in the germination rates of the irradiated seeds versus the control batch.
How did they grow?
Fast-forward several weeks and some results are in!
The first two classes' results came back," says Fletcher. "We saw that one of the packages of seeds germinated slower in the winter group. So, they took about a week longer and some of them never came up. Our assumption is that the seeds that were in space didn't germinate as quickly."
Spring classes will continue to engage in the experiment, sprouting another round of plants as students continue to gather further data to enhance the growth of the Tomatosphere project.
Find out more about General education and how it contributes to a well-rounded education at Mount Royal.
May 17, 2018 ― Brendan Greenslade
Media request contact information.
Have a story idea? Please fill out this form.