Trading Post 150 aims to abandon colonial divides
Sharing of art, education and entertainment aim to mitigate cultural tensions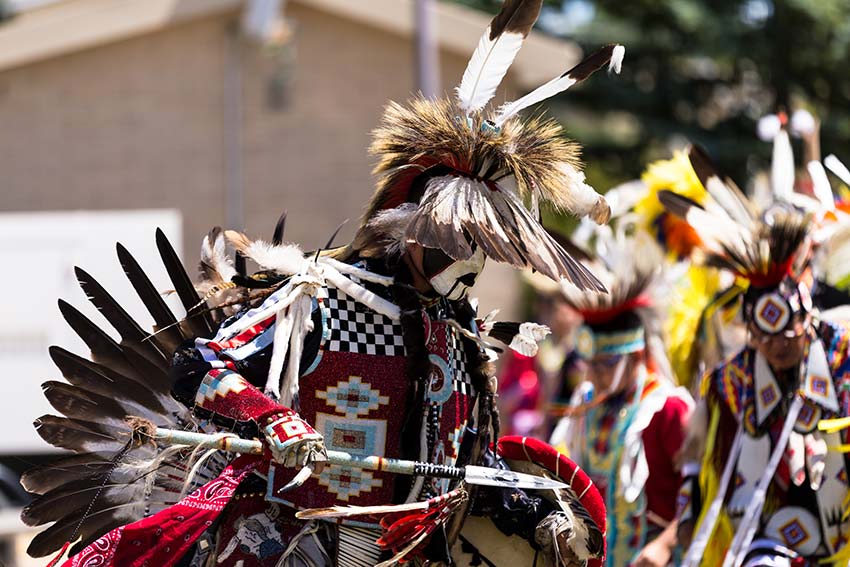 As Canada's 150th anniversary celebration of Confederation on July 1 grows near, the dialogue around the most appropriate way to define the true age of the country has increased. Many have argued that Canada's modern history goes back much, much farther, which is profoundly supported by the recent discovery of a 14,000-year-old Indigenous settlement on Triquet Island in B.C. In light of this tension, the people of the Treaty 7 Blackfoot Nations hosted a special cultural event June 25 on the Mount Royal campus. Led by Michael Broadfoot, an MRU health science major, Trading Post 150 was attended by more than 1,000 people and offered a community space to share, exchange and heal.
The idea was developed through the final assignment of Professor Liam Haggarty's Indigenous Studies 1101: Introduction to Indigenous Studies: the Canadian Context course, a popular elective that sees many Indigenous and non-Indigenous students enroll. Every semester the last assignment is altered to tie in to current events, with Canada's 150th anniversary being the obvious choice this time around.
"You can celebrate it, you can protest it, I just wanted (the students) to explore it from an Indigenous perspective," says Haggarty. "For this event the students wanted to focus less on Canada as a nation, and more on Canada as a country of rich cultures, Indigenous ones and many others."
After class discussion sparked the idea, Broadfoot put together a dedicated team of volunteers, even securing a grant to host an intercultural event described as "nations building together."
The day began with a traditional Calgary-style pancake breakfast, followed by the opening of a cultural market. Throughout the day, Indigenous and non-Indigenous guest speakers shared their experiences, with award-winning filmmaker Cowboy Smithx and Mount Royal student Tawnya Plain Eagle acting as emcees. Smithx founded the international Indigenous speaker series REDx Talks and hosts the critically acclaimed podcast The Silent X. Plain Eagle is a journalist and member of the Making Treaty 7 Cultural Society.
"The students designed this event to reflect that trading post mentality, which they saw as a really important part of the initial interactions between cultures," says Haggarty.
"It's a celebration of the multi-cultural, social make up of Canada."
Broadfoot grew up in Prince George, B.C. before enroling at Mount Royal in 2013. He and his team created Trading Post 150 as an alternative response to much of the negative feedback Canada 150 is garnering. The event offered cultural goods, teachings and an exchange of ideas.
"(Trading Post 150) was about bringing people together," says Broadfoot, who is also pursuing a minor in Indigenous studies. "Canada 150 will seldom be celebrated by Indigenous Peoples in Canada, if at all. We looked to set ourselves apart by bringing people together instead of enforcing colonial divides between peoples."
Calling it a "no-brainer", Broadfoot and his team developed Trading Post 150 to find ways to value Canada's cultural differences.
"We are not celebrating Canada's 150th, we're also not protesting it," he says. "We are engaging with social issues in an uplifting and empowering way."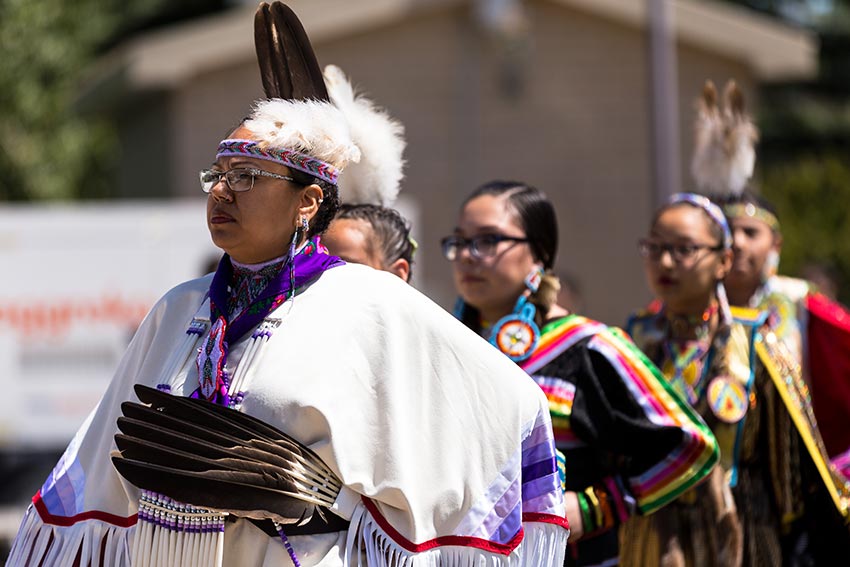 The event provided a platform for meaningful dialogue while removing barriers by recognizing those who have been here for many generations and by welcoming Canada's newest residents. For Haggarty, Trading Post 150 and his empowered students taking action massively exceeded his expectations.
"This is far more engaged than I would expect students to be in my class. For me this represents students taking an active role in their education. This is them activating their learning and applying it to the social world around them. That's huge, and as an instructor, that's what I really want."
Trading Post 150 hosted numerous performers and diverse speakers, including Leroy Little Bear, author and founding director of Harvard University's Native American Program. A few of the musical talents included Juno-nominated artist Sherryl Sewepagaham, who co-founded the Indigenous women's trio Asani, Calgary-based artist Mark Overland, who performs under the name Lucid 44, punk band No More Movements and Indigenous hip hop artist Drezus.
Mount Royal University is located in the traditional territories of the Niitsitapi (Blackfoot) and the people of the Treaty 7 region in southern Alberta, which includes the Siksika, the Piikuni, the Kainai, the Tsuut'ina and the Iyarhe Nakoda. We are situated on land where the Bow River meets the Elbow River. The traditional Blackfoot name of this place is "Mohkinstsis," which we now call the city of Calgary. The city of Calgary is also home to the Métis Nation.


Discover more about Mount Royal's Indigenous studies minor.

June 28, 2017 — Jonathan Anderson

Media request contact information.
Have a story idea? Please fill out this form.