Trico Changemakers Studio showcase Sept. 27
Community, learning and innovation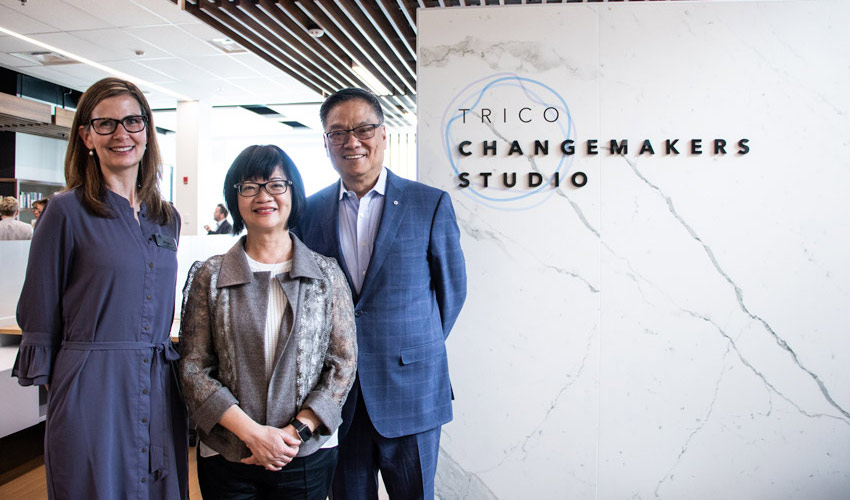 Join the official opening of the Trico Changemakers Studio
The entire Mount Royal community is invited to the showcase on Thursday, Sept. 27 on the third floor of the Bissett School of Business building (EB3013). The official opening begins with formal remarks and a land acknowledgment from Mount Royal
Elder Roy Bear Chief
.

Stop by anytime between 11 a.m. and 1 p.m. to
meet the studio members and learn how they are making a meaningful difference for people and the planet. Refreshments and snacks will be served.

The official public opening of Mount Royal's Trico Changemakers Studio will feature a showcase of its current occupants of nine organizations and five student changemaker teams.
The Trico Changemakers Studio is a co-working space for social innovators from across sectors and student changemakers from all faculties and disciplines. In addition to co-working, the Trico studio team facilitates social impact initiatives and workshops, experiential learning and meaningful work opportunities for students, and connections between campus and community. Elder Roy Bear Chief has described the role of the Trico studio team as that of web builders (tsoo wa wa kaas, in Blackfoot) weaving a web (ani to pi si) to support changemaking. Each of the threads in the web represent diverse partners who are contributing to creating meaningful change in partnership with communities locally, regionally, nationally and around the world.
One of the original residents is Universal Access (UA), a for-profit tandem team of brothers focused on increasing the number and quality of spaces that are physically accessible to all people, including those with both visible and invisible disabilities. UA links clients to a network of trusted renovation and construction contractors and to non-profit organizations that can speak about subjects such as inclusive hiring.
Since the company's inception, UA has had a strong rapport with Jill Andres, director of the Trico Changemakers Studio.
"From early on when Universal Access was just getting its start, Jill was a strong supporter of our social enterprise," says UA founder Sean Crump. "The fit with what we were doing and the makeup of the Trico Changemakers Studio worked cohesively with one another, making it an easy choice for our new home."
For Andres, Crump's passion for sustainable and impactful changemaking was evident from the time she met him. Initially the two crossed paths while Andres was moderating a panel for Reap Calgary.
"We got talking and I was immediately struck by not only (Crump's) commitment to the change that he wanted to create ― and was already creating ― through his business, but also by the approach he was taking to his own entrepreneurial growth," Andres says. She describes UA as a "social purpose business" that is working to transform communities by reducing the barriers people experience in engaging fully in community.
"They are not only guided by Universal Design standards, but also by lived experience, and they are continually striving to better understand how their efforts can contribute to wider societal benefits," Andres says.
"As social entrepreneurs, they are seeking blended value ― the financial returns required to operate a sustainable business, and the social impact that makes Universal Access an important contributor to a resilient and prosperous community."
Residential benefits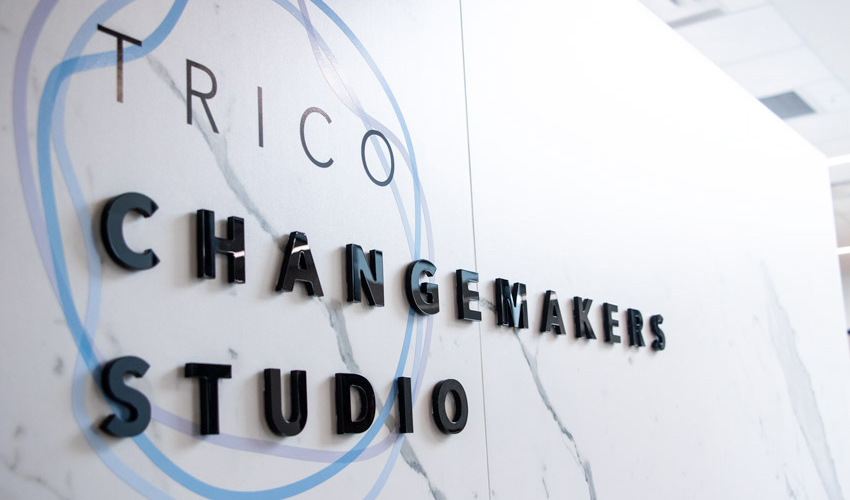 Currently UA is seeing immediate advantages to being a part of the studio. First and foremost, the space offers the Crump organization the ability to operate in both an affordable and appropriately sized space for the current stage of their business.
"In order for our company to be successful it is imperative that we involve the community we serve and the non-profit organizations that work with that community offer great insight and access to those communities," says Garret Crump, Sean's partner and younger brother.
"It is a pleasant work environment and having consistent access to boardrooms has made hosting meetings much easier. The look of the studio is very high end and most who come in tend to admire the space and comment on its appealing nature."
UA is currently consulting on a few new-build projects while looking to continue certifying commercial spaces along with paying specific attention to Calgary's expanding brewery community.
Sean and Garrett are focused on ensuring as many events across the city are as inclusive as possible to help increase the options offered to everyone. In the near future, UA plans to launch two new initiatives, providing two separate certifications for barrier-free community and residential buildings.
While most people are getting to know the studio for its business trendsetters, some may not know about the social impact facilitation residents are also part of. The Trico Changemakers Studio team supports multi-stakeholder groups with the design and enablement of systems change, collective impact initiatives and social innovation labs, and provides social innovation workshops to deepen individual and organizational capacity to address complex challenges.
"There are some phenomenal individuals and groups from the public, nonprofit and private sectors in the Trico Changemakers Studio working on incredible initiatives and we can't wait to showcase these," Andres says.
"Our members represent the expanse of the social innovation ecosystem ― from innovative non-profit organizations and funding agencies, to large public institutions re-imagining how they deliver service, to artists who are exploring the myriad ways art can disrupt and transform social systems, to small private sector start-ups with a triple bottom line."
The three core values of the studio are community, learning and innovation. These core values will determine which organizations join as partners and drive the mission of the studio. The studio is a joint initiative between the Institute for Community Prosperity, the Institute for Innovation and Entrepreneurship and the Bissett School of Business.
Sept. 18, 2018 ― Jonathan Anderson
Media request contact information.
Have a story idea? Please fill out this form.