Second-year public relations student Hanna Clark shares how she overcame loneliness and isolation at university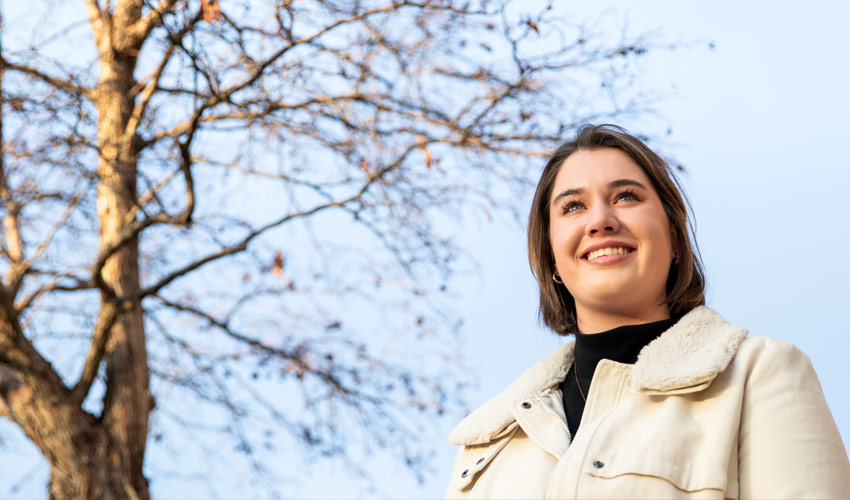 When I graduated from my Calgary high school, I thought that I had it all "figured out." I believed I would go to university, complete a four-year degree, graduate and have a great career. I began to think about taking big steps in my life, and so I excitedly applied and was accepted to a university on the other side of the country.
Although I completed a year of courses, I found the experience very difficult and isolating to be so far from home, on my own. Those feelings led me to consider other options for the 2016 fall semester. I initially learned about Mount Royal on social media, but it was when my family suggested I consider the school in more depth that I decided to look at the website. Mount Royal University proved to be an obvious choice for me, offering smaller class sizes, a welcoming campus and degree programs that matched my interests in communications. Weighing these factors, I decided on MRU and began the transfer process.
Starting a new program at a new institution can be a very exciting opportunity; however, it can also be difficult and overwhelming. When I first walked through the university's doors in September 2016, I felt a myriad of emotions. I was thrilled to be starting a new chapter of my life, but, at the same time, I was overwhelmed by all the new experiences and new people. A variety of changes were all occurring simultaneously. I tried to focus on my studies, channeling those feelings into my classes for my program.
A couple of months into my semester, around the peak of studying for midterms and projects being due, I began to struggle with feelings of loneliness and isolation yet again. I kept these thoughts and feelings inside, which eventually led me to push away people that I cared about. I began to stop taking part in the activities that had once brought me so much joy. These feelings started to have a negative impact on my daily life.
I began to feel really hopeless. Initially, I had difficulty getting out of bed to go to class, and this progressed to a point where I was unable to attend classes at all. I started to experience a downward spiral, where each day felt more difficult and overwhelming than the last. In this spiral, I developed self-destructive behaviors that grew into unhealthy coping habits. I didn't know who to reach out to, and I felt too vulnerable to ask for help. My friends noticed that I didn't seem like my regular bubbly self. They took the time to check in, and nicely asked me if I was okay. Their acknowledgment led to me taking a step back and checking myself, and my mental health. I realized that I needed to take the initiative in advocating for my mental health and reaching out for support.
I remember the first time I Googled "MRU mental health", hoping I would find help, but unsure of what that support might look like. I landed on the university webpage talking about the mental health services available to students. The different tabs, Need help now? and Helping others specifically caught my eye. Each separate tab has campus and community resources that are available and accessible. This webpage serves as both a hub for information and a landing page. There are links to more information that goes into detail about the services and supports. Within minutes of clicking the Need help now? tab, I developed a game plan for what I needed to do.
That same week, I got up my courage to visit Wellness Services (U216) to book a one-on-one counselling appointment. I remember my heart was racing, and I felt slightly hesitant, but I tried to be optimistic. After my appointment with a counsellor, any trace of hesitation was gone. I felt relief.
Follow @MRULiveWell
A weight had been lifted from my shoulders, and I knew there were supports available on campus for students who were like me. A simple Google search had led me to an opportunity to speak and confide in a mental health professional in a non-judgmental environment. I continued to visit the MRU Mental Health Services page through Wellness to access resources when I felt that I needed additional support. I also decided to try and get involved on campus in things I was passionate about. I made a habit of going to Recreation and working out. I found that group workout classes were my favorite, and so I tried to commit to one or two classes a week. I also tried to get out of my comfort zone by attending campus events on Main Street. I found this to be a casual environment to chat to other students about various projects and topics. Many events are drop-ins, and so I would stop by on my way to class. This helped me meet new people and learn more about initiatives on campus.
My experiences really opened my eyes to the support and resources that are available here on campus for students and staff as well. I cannot emphasize enough how much of a difference it made to seek support. I learned that reaching out for help is always valid, no matter the reason.
This year, I took part in a one-day, three-hour workshop called The Inquiring Mind. This workshop was an opportunity to gather with students from other disciplines, and with the assistance of knowledgeable facilitators, increase our collective and individual awareness of mental health. Through engaging in group discussions and activities, we learned how to reduce the stigma that often accompanies mental illnesses, and how to increase resiliency. Upon completion of this workshop, I felt two things. I felt confident in what I had learned, and confident in myself and my own abilities. I also felt grateful that our university has unique opportunities for both students and faculty to feel supported in their mental health, and to feel equipped to support others.
This feeling of gratitude continues each day that I am here, and now, in my second year of public relations, I have the incredible opportunity to be working as the social media lead for Wellness Services here at MRU. I am thriving in my program, and I genuinely enjoy going to my classes. Outside of class, I can be found studying with friends, or working on social media for @MRULiveWell. After experiencing first-hand the amazing services available on campus, I want to ensure that other students know the importance of reaching out for support and the accessibility of those supports.
The truth is, I still don't have my future all "figured out." It took time for me to realize that this uncertainty is OK. With the support that is available, and the tools and skills I have developed to be there for myself and others, I am now content in figuring things out along the way.
Wellness Services at Mount Royal provides mental health services, medical services, optimal therapies, workshops, volunteer opportunities and plenty more resources for both students and the public.
Nov. 16, 2018 ― Hanna Clark
Media request contact information.
Have a story idea? Please fill out this form.