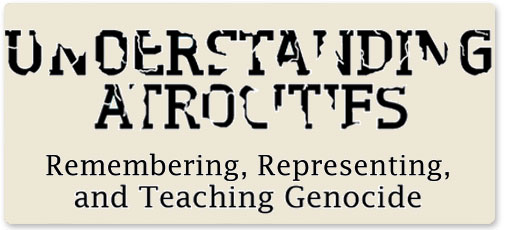 Mount Royal University, Calgary, Alberta
Conveners: Tristan Smyth and Scott Murray
Date: February 19-21, 2014
PRELIMINARY CALL FOR PAPERS
We use 'genocide' and 'atrocity'- words that overlap and mix - as we reach for an understanding of the full horror of one people's attempts to eliminate another. Atrocity is an aspect of genocide, and is at the crux of most discussions on the topic, but from what is this sense of atrocity derived? We universally regard genocide as an atrocity, yet why does it persist? The Understanding Atrocities Conference aims to explore, among other things, the relationship between 'atrocity' and 'genocide,' and how they are interwoven and understood. By approaching the topic of genocidal atrocity within the themes of remembering, representing, and teaching, we hope to engender a discussion across, between, and among the disciplines.
The conference will include keynote addresses by James Waller, the Cohen Chair of Holocaust and Genocide Studies at the Keene State College, and author of Becoming Evil: How Ordinary People Commit Genocide and Mass Killing (2002); Andrea Smith, author of Conquest: Sexual Violence and American Indian Genocide (2005); and Christopher Powell, author of Barbaric Civilization: A Critical Sociology of Genocide (2011). The conference will also include a panel discussion on political and academic encounters with genocide, with Allan Rock, the President of the University of Ottawa and former Canadian Justice Minister, and Lloyd Axworthy, the President of the University of Winnipeg and former Canadian Minister of Foreign Affairs.
The conference will consist of plenary addresses, roundtables, film presentations, and multiple panels and workshops relating to recent issues and advances in scholarship and teaching on key aspects of genocide studies, as well as pointing the way toward further research and study.
Interested scholars - students and faculty - are invited to present proposals for individual papers, entire panels, roundtables, workshop sessions, or any other type of academic or creative presentation by September 15, 2013.
Individual papers
Please submit a 200-word abstract, including your professional title and institutional affiliation (if applicable), contact information (email), and audio-visual/IT equipment needs.
Panel proposals
Panels will consist of three papers and a commentator/moderator, although other formats are possible. Please submit a brief description of the session with the role of each panelist, professional titles and institutional affiliations (if applicable), a 200-word abstract for each paper presenter, contact information for the panel organizer/primary contact, and audio-visual/IT equipment needs.
Film presentations
Submit a brief description of your film, including the title, topic, running time, ages of audiences for which it is suitable, whether it is a finished piece or work in progress, and whether you would like additional time for audience feedback and discussion.
Workshop proposals
Please include a brief (500 word) description of the aim and structure of the workshop, along with the names, professional titles and institutional affiliations of the workshop leaders (if applicable) and contact information.
All proposals should be sent by email to understandingatrocities@mtroyal.ca. Applicants will be informed regarding inclusion on the conference program by November 1, 2013.