Michelle Dennis, Megan Duffy and Mike Wenzlawe may have travelled different roads, but they all arrived at the same place - valedictorian of their graduating class. Read more about their journey to the top and Mount Royal's Convocation ceremonies on June 6-7, 2013.

Michelle Dennis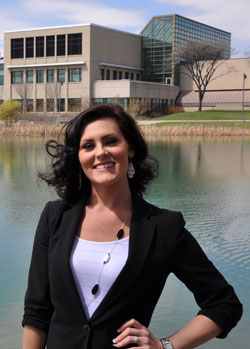 Michelle Dennis was involved with SAMRU and the Iniskim Centre.
"I want to be irreplaceable."
This was the mindset that took Michelle Dennis from a student too shy to share her
goal in a video created during her first week in the Bachelor of Communication - Public Relations program to the student leader you see today.
As Dennis progressed through her program, she began to hit her stride.
"I saw others getting good grades and thought to myself, 'There's no reason I can't do that'."
Despite facing many challenges while navigating through her degree, Dennis always found the support she needed to achieve success within the walls of the University.
"Being selected as Valedictorian is a direct result of Mount Royal's investment in me,
because there was always support to help me overcome any challenge I faced along
the way," says Dennis.
Dennis celebrated receiving official Métis status with the Iniskim Centre, finding guidance while becoming ingrained in many of their initiatives that supported her peers.
Becoming involved with the Students' Association of Mount Royal University (SAMRU), Dennis volunteered as a communications representative before eventually climbing the ranks to Vice-President, Student External Affairs, where she was the face of SAMRU through high-level crisis situations.
"My university experience was everything I had imagined and hoped it would be," says Dennis.
Dennis has landed a term position doing stakeholder relations for Suncor Energy - a role with which she hopes to build the foundation for her career in communications.
"When I started university, I planned to study as hard as I could, and I am amazed at where it has taken me. Now that I am preparing to leave, I plan to work as hard as I can and see where it takes me. That formula has worked out for me so far," says Dennis.
"As we cross the stage today, we are living proof that each of us has the ability to create, and recreate, our own stories."
-Brendan Greenslade

Megan Duffy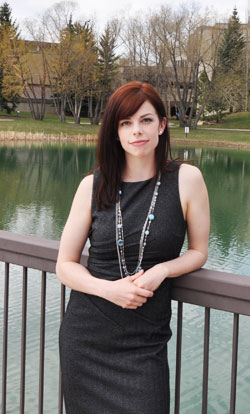 Megan Duffy's research opportunities gave her a chance to work with children.
Looking back on her time at Mount Royal University, Megan Duffy is surprised where she has ended up.
"Considering how my academic career started out, I can hardly believe that I ended up with a Bachelor of Arts degree, never mind that I'm Valedictorian," says Duffy.
"Considering the path I took to get here, I certainly didn't make it easy on myself."
Coming to Mount Royal to pursue a Social Work Diploma after a four-year hiatus from post-secondary, Duffy lacked confidence when she re-entered the classroom.
"I got a huge amount of support from faculty and staff - the environment and community at this school are the big reasons why I stayed in class," says Duffy.
"They picked me out, played on my strengths and helped me with my weaknesses, getting me past that first year and helping me to start feeling like I knew what I was doing."
Near the end of her second year in the Social Work Diploma program, a chance conversation with Associate Professor Nancy Ogden about the Bachelor of Arts - Psychology program changed the course of Duffy's academic career.
Joining the BA stream after two years in Social Work, she quickly began to thrive, engaging in research, contributing to publications and even presenting at conferences. Through research opportunities, Duffy was able to focus on working with children in elementary school, where she studied attachment and socialization.
Going forward, Duffy hopes to continue to work with at-risk children.
"In my classes at Mount Royal, I didn't just learn about the topic of study - I learned how to learn," says Duffy. "Developing critical thinking and the commitment to continually learn and grow might be even more important than my degree.
"Many people wrapping up their degrees might see the end of their undergrad as the end of the story, but it's just the beginning of the next chapter. I'm really looking forward to seeing what's next for me and my graduating class."

- Colin Brandt


Mike Wenzlawe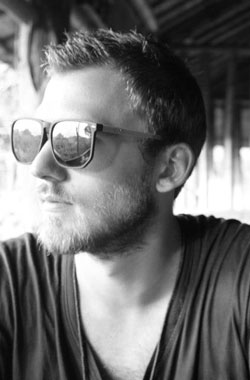 Mike Wenzlawe's travels took him as far north as the Northwest Territories and as far south as Australia.
Being selected Valedictorian left Michael Wenzlawe almost speechless.
"It's such an immense honour. I am completely ecstatic about it."
This Bachelor of Applied Ecotourism and Outdoor Leadership (ETOL) student is not easily astounded. Wenzlawe has had remarkable experiences that would impress even the most seasoned of travellers.
During the time he was working on his degree, Wenzlawe travelled to Australia, New Zealand, Bangkok, Dominica (a small island in the Eastern Caribbean) and visited Nahanni National Park Reserve in Canada's Northwest Territories.
Starting his post-secondary studies in business at another university, Wenzlawe realized after two years it just wasn't going to get him what he wanted in life.
"When I started in ETOL, everything instantly clicked and got brighter in the sense that I found what I was meant to do. The funny thing is that I had only ever 'car camped' before the program, but from the start I really pushed my boundaries."
Wenzlawe made the Dean's Honour Roll in each semester of his degree and also recently made the President's Honour Roll.
"Ever since I was young I would strive to be in some sort of leadership role. I never really cared about grades in school until I was in ETOL, but the one thing I have always made sure of is that I was in a role where I could help others," says Wenzlawe.
As Wenzlawe moves on from Mount Royal he will share his passion for ecotourism with high school students as a trip counsellor for S-Trip!- a leading expert on student travel in North America that provides programs to more than 40,000 students annually in over 40 destinations.
"I think one of the best things you can do is be involved in helping someone attain their own goals," says Wenzlawe.
"Never set restrictions. I wouldn't have got to where I am now if I didn't go for something that I thought was beyond my reach."

- Angela Sengaus