Virtual reality takes to the soccer pitch
Psychology honours project ties sport and technology together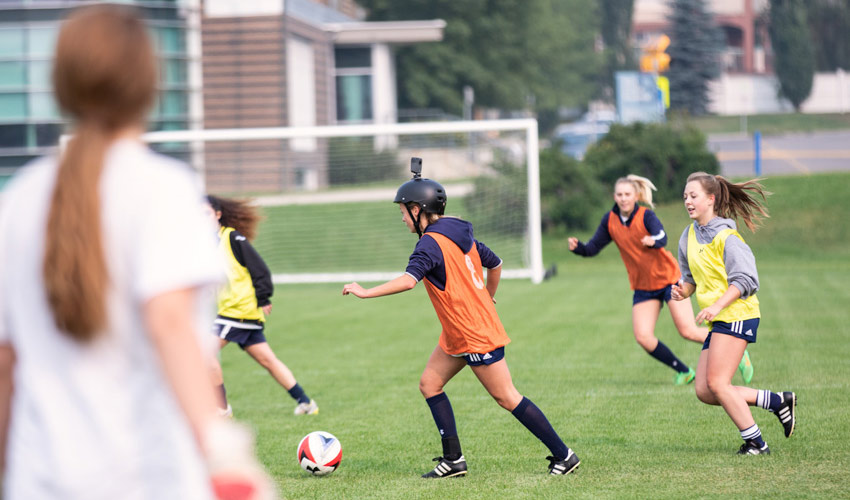 While they keep it real practising and playing on the pitch, the Mount Royal University's women's soccer team could soon be using virtual reality (VR) to help train and recruit off the field.
Tony Chaston, PhD, a psychology professor at Mount Royal and fourth-year psychology honours student Daniel Millar were on the sidelines shooting video at a recent team training camp run by Tino Fusco, head coach of women's soccer at MRU. Later they will edit that footage into VR videos the team can use.
"We've been shooting on-field experiences using static cameras on a tripod, but also with helmets ― players and coaches wearing virtual reality helmets on their heads ― and also collecting audio," Chaston said during a sideline interview.
"We had some sessions where Tino was out with players while they were playing a game and he's coaching them. We had him miked and we had a virtual reality camera on his head at the same time. Later the players can go back and see what he saw."
Millar will break the video down into usable pieces ― a significant amount of work. For his honours thesis project he will show that video back to players using VR equipment (either an Oculus product or an HTC VIVE) in Mount Royal's Centre for Psychological Innovation. Players will then fill out questionnaires with queries such as, "Do they feel that this immersed them?" And, "Was it effective?"
"I don't think at this point we're at the stage where we can evaluate whether it makes them better players," Chaston said. "It's way too early for that. This is those early stages of just trying to figure out how to do this and does it have the potential to be an effective tool."
The collaborative aspect of the project is what makes it unusual and inspiring for Chaston. "It's really fantastic to be able to take an academic department like Psychology and match it up with a sport within the institution and pull the two together. It's a lot of fun and it's the kind of stuff universities should be doing. Working together to explore new things and new ideas."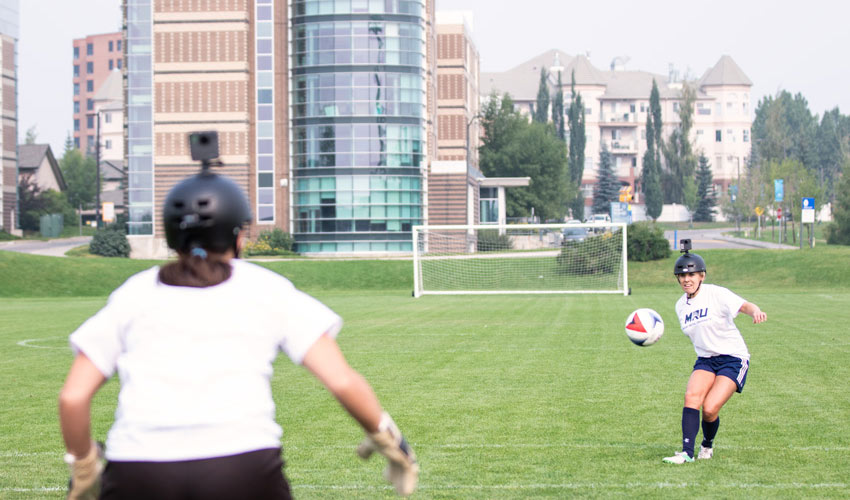 Fusco said he's open to a number of benefits from his work, depending on which way it goes.
"What we have seen so far is a 'wow' factor," said Fusco, who pitched the initial idea to Chaston, spurring the professor to shape it into a research project.
The main area Fusco imagines using VR is in developing tactical decision-making, allowing players to see 360 degrees when reviewing a practice scenario or game. This, he hopes, will give them a better understanding of what they should do next and their spacing on the field.
Fusco said the technology could also help with new players.
"A recruit can come into my office, put the headset on and be on the field with the current players," he said. "Maybe this will reduce anxiety in some players coming into the program or maybe I use it to see how 'soccer intelligent' the recruit may be by asking them questions around the scenarios."
Millar, who is in his fourth year, hopes eventually to work with injured athletes trying to get back to match fitness levels.
"In a virtual reality environment, instead of just watching a game on a flat screen and realizing what they did wrong or what they need to do better next time they can actually be inside it," he said. "If they're injured, they can still be part of the team. It can help a lot, I think. It will be very helpful to coaches as well for developing new drills and different styles of coaching."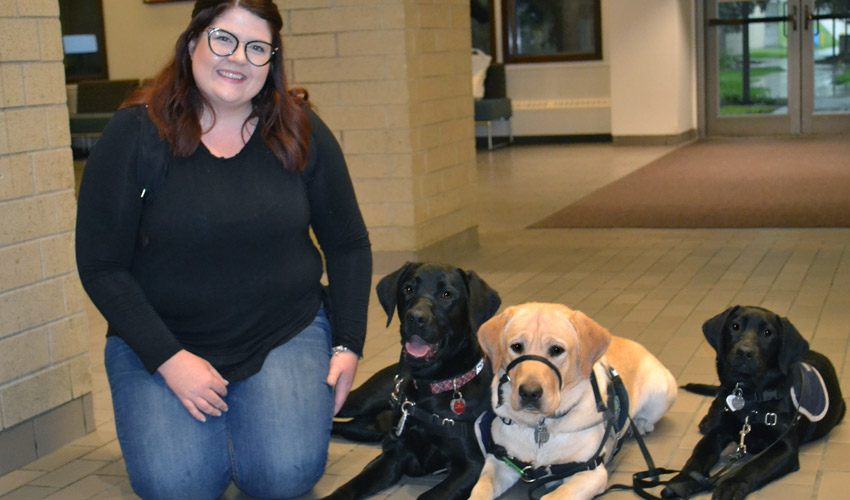 Meanwhile, Chaston is also continuing to work on VR applications designed to help reduce stress and anxiety. After a summer of shooting video of mountain scenery (think rivers and waterfalls), the lab had a recent visit from some puppies from Edmonton's Dogs with Wings. With footage in hand, Chaston and his team will now look at whether the anxiety-reducing experiences of "puppy rooms" during exam time, for example, can be replicated in VR.
"I love my research," Chaston said. "It's so much fun because I'm a nature and hiking and outdoor camping guy and then on top of that I'm a tech guy, I love new tech and VR stuff. I kind of put the two together."
New Experience Lab at the Library
VR is also emerging in the now year-old Riddell Library and Learning Centre (RLLC). The Library's new Experience Lab, open from 10 a.m. to 2 p.m. from Monday to Thursday for students, faculty, staff and the community, features three different types of technologies ― virtual reality software and headsets, augmented reality software and development tools, as well as mixed reality headsets.
These include Oculus Rift tethered headsets, HTC VIVE and HTC VIVE Pro, as well as untethered Oculus Go, Google Cardboard and Microsoft HoloLens.
"It's the first time trying VR for a lot of people. We have hundreds of different experiences," says Anna Nuhn, Library visualization specialist. "You can do a museum tour of the MOMA, or you can go in and fight zombies in a post-apocalyptic world."
Eventually the lab will be running workshops on development for virtual reality, augmented reality and mixed reality, and how faculty and students might implement that into their course teaching, learning, research and personal interest projects.
Immersion Studio
The Library's Immersion Studio, meanwhile, is a black-box environment with ten projectors capable of showing 360-degree images and video on all four walls. It has speakers that are capable of dynamic audio providing different sounds in different areas of the room.
GoPro and 360-degree cameras can be checked out at the service desk to take photos and videos that will display in the studio.
"We can provide gallery views so a class could come in and display their project posters or research, or if someone wanted to book out the space for an exhibition, the public could come through and view art, research or data," said Matthew Laidlow, media designer at Mount Royal. "You can do slide shows, timelines, really any kind of video or image will display here."
Mount Royal's Centre for Psychological Innovation provides exceptional research opportunities for students.
Sept. 17, 2018 ― Peter Glenn
Media request contact information.
Have a story idea? Please fill out this form.