Mount Royal University unveils new, inclusive Cougars brand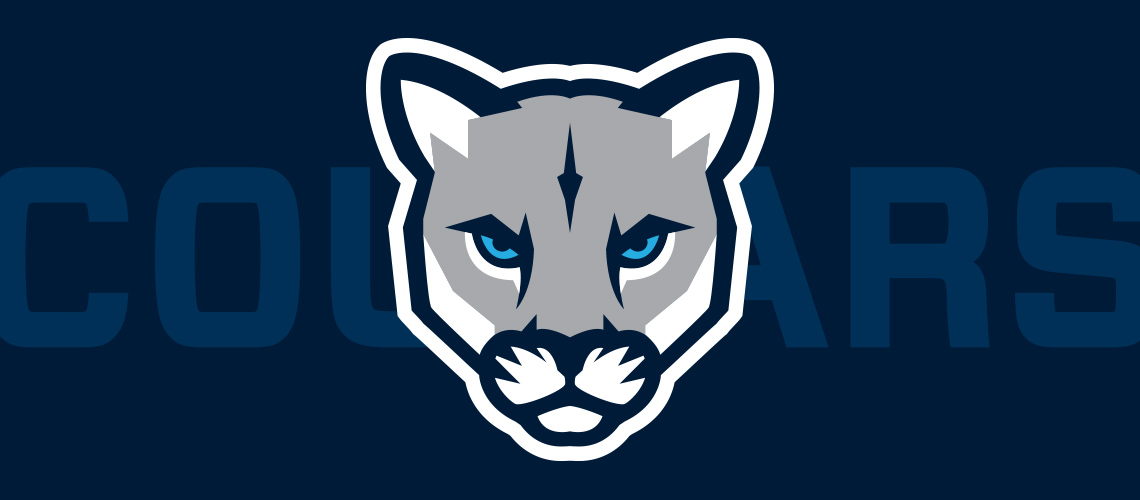 The refreshed visual identity includes two leading logos, a front-facing Cougar head and a lockup with the letters MRU that include a side-facing Cougar head. The new logos also maintain strong ties with Mount Royal's institutional branding through a consistent colour palette.
Even though Mount Royal has been around more than 100 years, the Cougars name first came to light in 1960 where it began as a collegiate football team, winning a provincial championship in their inaugural season. While the football team no longer exists, the Cougars pride was adopted by all the institutions athletic teams in the '60s and has lived on for more than five decades.
Director of Athletics and Recreation, Karla Karch, says, "The Cougars strive to provide our student-athletes and recreation users with an exceptional experience. This brand and the spirit of MRU is a key component of that experience."
In 2016, a year-long visual identity refresh project began with strategic planning and included feedback from students, alumni, faculty and staff. Research found that the true value of the Cougars brand was to make it more available and inclusive for everyone on campus and everyone who has a connection to MRU.
"This new identity for the Cougars builds a renewed sense of pride across campus," says Mount Royal University President, Dr. David Docherty.
"Together, we can share in this campus spirit, because together we are the Cougars."
Pride. Determination. Focus. Today we proudly launch @MRUCougars next generation identity. #WeAreTheCougars https://t.co/9mKQv8OUnl pic.twitter.com/MZTEa1QzOv

- Mount Royal U (@mountroyal4u) August 25, 2017
Introducing We Are The Cougars
We are the Cougars - everyone who is part of our community, and everyone who is invested in the success of Mount Royal University is welcomed and encouraged to embrace the Cougars spirit. That spirit may have its roots in Athletics, but it has tremendous power to unify our campus.
The new Cougars brand
Designed by a collaborative internal Mount Royal University committee and external Edmonton-based graphic design firm Artslinger, the new brand unifies the Mount Royal University campus. The new visual identity provides options for application throughout the University outside of varsity athletics.


For more information on the building of the brand and to view the new marks: mru.ca/WeAreTheCougars

Aug. 25, 2017
Media request contact information.
Have a story idea? Please fill out this form.