Introducing and welcoming Dr. Tim Rahilly
Mount Royal's tenth president and first vice-chancellor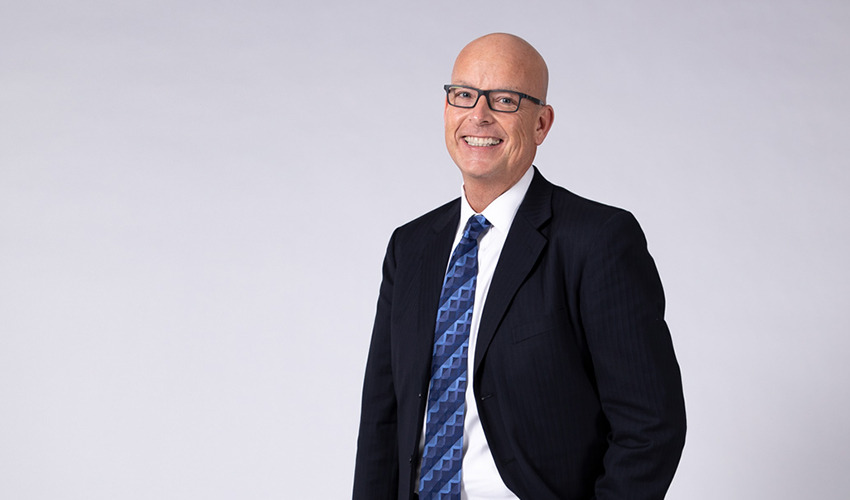 Tim Rahilly, PhD, joins Mount Royal University as president and vice-chancellor on May 1, 2019.
---
"The main reason I wanted to come to Mount Royal is because everything is centred around students," says Dr. Tim Rahilly. "There is a real match between MRU's values and mine."
These are the words of Mount Royal's tenth president and first vice-chancellor as announced by the board of governors on Feb. 5, 2019. Dr. Rahilly will join Mount Royal on May 1, 2019 and serve a five-year term.
Sue Mallon, chair of the board of governors, says of Rahilly, "He is deeply committed to the transformational power of education and how it changes students' lives and our communities for the better.
She also thanked Dr. David Docherty, who after completing an extended term as president of Mount Royal, will become president at Brandon University on the same day. She cited Docherty's focus on student success as driving many achievements at Mount Royal
The soon-to-be president and vice-chancellor, Rahilly (pronounced RAW-lee) is currently vice-provost and associate vice-president, Students and International at Simon Fraser University, a position he has held since 2010. Prior to this, he held academic, administrative and student services roles starting in 2003.
In a phone conversation, the high-energy and articulate Rahilly says his new role is really the best of two worlds - academics and administration. His view is that, "when the two groups come together and collaborate, the result is a meaningful education and experience for students.
Recognizing how critical it is to remain academically active, Rahilly has taught courses and supervised graduate students at Simon Fraser University, University of Manitoba, Royal Roads University, Technical University of British Columbia and McGill University.
"It's very important to me that quality of education is the top priority at Mount Royal. I believe quality should be unassailable," says Rahilly, adding that Mount Royal has a widespread reputation for teaching and learning excellence. He believes universities have a role in helping students develop as people, and good teaching that engages them on a personal level is enduring.
Rahilly continues to foster his relationship with scholars in the fields of student affairs and mental health, and his most recent publications include co-authoring contributions to "University Pathways: A Global Perspective" and "Serving Diverse Students in Canadian Higher Education: Models and Practices for Success".
"I've always found the quest to create and share new knowledge through research to be deeply satisfying," says Rahilly. "It's going to be really exciting to help Mount Royal expand its footprint in discipline-based research, adding more Canada Research Chairs, partnering with other scholars and community members, and giving undergraduate students the rich experience of learning alongside inspirational faculty.
When it comes to the campus environment, Rahilly has always been relentless in ensuring that students from all backgrounds and circumstances are supported to achieve their academic goals and feel safe, motivated and fulfilled inside and outside of the classroom.
"I see it as our responsibility to support students in achieving their academic mission by always thinking of the whole person," he says. "A university should provide a meaningful and engaging education that has academic merit and is of personal importance to each student."
Rahilly has extensive experience in developing policies and programs in the areas of improving health and wellbeing, and preventing sexual violence; supporting Indigenous students; and advancing varsity sports. He is currently President of the Canadian Association of College and University Student Services (CACUSS).
Two years ago, Rahilly was on the Mount Royal campus to participate in a review with the Student Affairs and Campus Life division. He was enamored with the welcoming feeling on campus.
He says, "Mount Royal's current motto, You Belong Here really resonates for everyone - students, faculty, staff and the community alike."
Rahilly believes universities must have a porous relationship with the community, fostering relationships with donors, alumni, government, neighbours and research partners, to name just a few stakeholders. Rahilly is eager to meet existing partners and build new relationships, bringing the community to campus and going out to tell the MRU story.
"The opportunity for any new leader is to bring a perspective of how the institution is perceived from the outside," says Rahilly. "This creates a great opportunity to work together with the campus to better inform the community about what we have and will become."
He sees Mount Royal as a post-secondary leader in student community service, experiential learning, changemaking and indigenization. Rahilly also looks forward to making a personal contribution to Alberta's strong network of post-secondary institutions.
An outcome-focused and results-oriented administrator, Rahilly has successfully grown domestic and international enrolment at Simon Fraser University, and overseen large capital projects, such as the $65-million Student Union Building and Stadium.
Rahilly holds a PhD in Educational and Counselling Psychology from McGill University, a Master of Arts in Educational Psychology and Counselling from McGill University and a Bachelor of Arts in Psychology with a Minor in Education from Concordia University.
"I believe in the transformational power of education. It has had an extensive impact on my own life. Education can truly transform the lives of students," says Rahilly.
Mount Royal's presidential search process began in July 2018 and the board of governors was assisted in the process by a Presidential Selection Committee made up of board, faculty, student and staff representatives and Boyden Canada. The rigorous process also included input from both the campus and external communities.
As of February 1, 2019, changes in legislation now permit Mount Royal to appoint both a chancellor and a vice-chancellor. The date for the formal installation of Dr. Rahilly as president and vice-chancellor of Mount Royal will be set in the coming weeks.
Feb. 3, 2019
Media request contact information.
Have a story idea? Please fill out this form.