Women as victims, women as offenders and women as workers
New book co-edited by MRU professor shines light on women on all sides of criminal justice system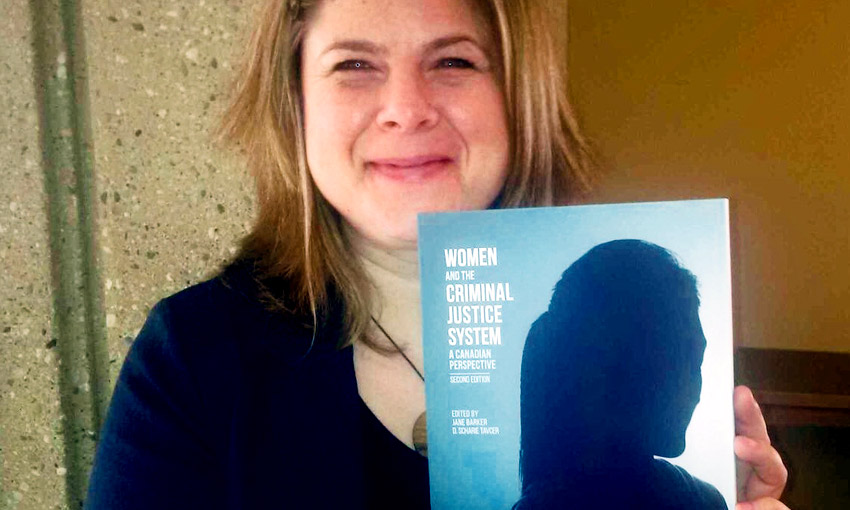 A previous career in the justice system has informed research, teaching and the newest edition of a justice studies textbook by a Mount Royal University professor.
Scharie Tavcer, PhD, a professor in the Department of Economics, Justice and Policy Studies, spent years working in a number of roles in corrections, including in jails, halfway houses and at a B.C. psychiatric prison, before going to graduate school, all of which have informed her work as an academic.
"This is my background," she says. "I worked in prisons. I worked with male offenders primarily and in my graduate studies looked at women, violence against women and at the intersection of violence against women, offending, and further victimization ― as we see in the case of the missing and murdered women and girls. I've researched, thought about and taught these areas for years. Putting it all together in a book just makes sense."
She says the new, second edition of Women and the Criminal Justice System: A Canadian Perspective, a textbook she co-edited with Professor Jane Barker from Nipissing University, is unique in how it addresses all ways women intersect with the justice system in Canada.
With a focus that includes a variety of Canadian regions, the book is broken into four parts: Overview of Women and the Canadian Criminal Justice System; Female Offenders in Canada; Victimization and Criminalization and Women Working in the Canadian Criminal Justice System. This edition also features a case study in each part, and a new chapter, written by Tavcer, on Prostitution and the Missing and Murdered Women and Girls in Canada.
"No other Canadian book addresses women in the justice system the way we do," says Tavcer. "This is women as victims, women as offenders and women as workers. There's lots of books out there that talk about women offenders, talk about women victims, or talk about women workers but no comprehensive text includes all three."
Congratulations to @drduniapetunia on the release of "Women and the Criminal Justice System: A Canadian Perspective." #mruproud #mruresearch @mkbowler @mquinn_michael pic.twitter.com/wX0ZMtQ0ez

- Lesley Brown (@lesleyabrown) January 19, 2018
In keeping with the editors' focus as educators, the book makes use of discussion questions and case studies, including one on the Ashley Smith case written by Tavcer.
"We're teachers and that's the way we would teach it, too, to put a human face to this reality, to use it as an example to illustrate points or to query those points, so it just made sense to make it part of the text ."
A number of themes emerge in the book. One is the overrepresentation of Indigenous women as offenders. Another is offenders' experiences of victimization. "A large percentage of who is in our prisons have sexual and physical abuse histories. Same with the men but more so with the women. So that mirrors what we see with women as victims overall in society. We've always been high game for sexual violence and physical violence so we see that even as workers.
The section on women working in the justice system opens with a case study on the sexual harassment case in the RCMP, and Tavcer says that is just one example of how women have struggled to succeed in the system.
"Sexual harassment of women in the RCMP has been going on for decades as it has everywhere," she says. "In predominantly male professions such as corrections, policing, probation, any of those jobs, women have had a different go of it. They've had to present themselves differently, had to do maybe twice the work to get the same recognition."
Tavcer is already using the book in a course she teaches at Mount Royal and it is being used in classes across the country, but she stresses that it isn't written just for students in an academic setting and that anyone involved in the justice system could benefit from it.
"It's not just for universities. It's a go-to for anyone working in criminal justice. It's not onerous and there are a lot of real examples and links."
March 12, 2018 ― Peter Glenn
Media request contact information.
Have a story idea? Please fill out this form.