Bringing the wetlands back to life
Symposium looks to close "divide between science and policy" on crucial habitats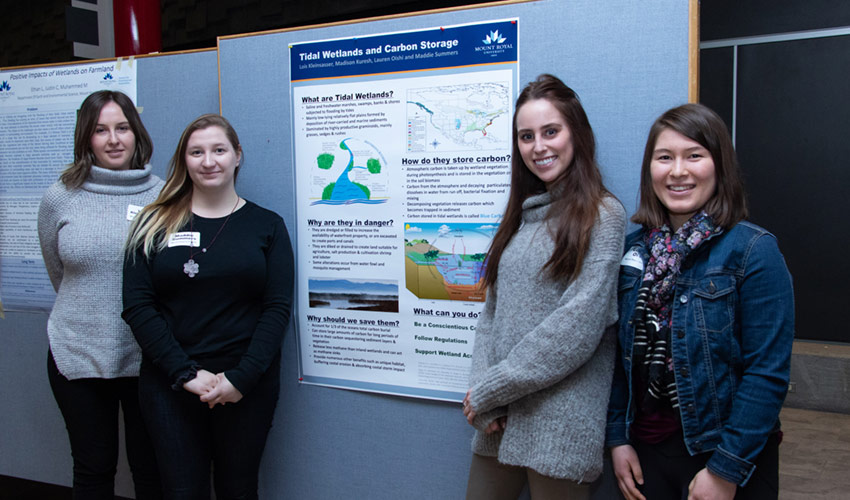 Wetlands, or areas of saturated soil that support plant life, are vital for human survival. They are among the world's most productive environments ― cradles of biological diversity that provide the water and productivity upon which countless species of plants and animals depend for survival.

A symposium at Mount Royal University on Feb. 1 to mark World Wetlands Day (Feb. 2) explored these crucial habitats and natural flood barriers that help protect Calgary.

Each year on Feb. 2, World Wetlands Day marks the adoption of the Convention on Wetlands, an international treaty for their conservation and sustainable use. The agreement was put in place to raise global awareness about the important role of wetlands for people and the planet. This year's global theme is Wetlands and Climate Change. The theme for the Calgary symposium that included academics, city and provincial planners and guest speakers, was Exploring the Nexus of Wetland Science, Policy and Practice for Sustainability of Wetland Functions Under Future Climate Change Scenarios.

Wetlands are indispensable for the countless benefits, or "ecosystem services," that they provide, ranging from freshwater supply, food and building materials, and biodiversity, to flood control, groundwater recharge, and climate change mitigation.

"Wetlands are very productive ecosystems. They help remove excess carbon in the atmosphere and lock it up," says Felix Nwaishi, PhD, assistant professor in the Department of Earth and Environmental Sciences at Mount Royal University, and an organizer of the symposium.

Calgary is a city where the pre-settlement landscape was predominantly wetlands, but they are under extreme threat due to urban development. A rapidly growing urban population comes with enormous challenges for city planners and managers as they work to deliver not only basic services such as accommodation, transport and water, but ensure that cities are safe, resilient and environmentally friendly.

During storms, urban wetlands absorb excess rainfall, working like an overflow parking lot for water, reducing flooding and preventing disasters and their subsequent costs. The abundant vegetation found in urban wetlands, meanwhile, acts as a filter for domestic and industrial waste and contributes to improving water quality.

Nwaishi compares wetlands to a kidney in a person, helping remove contaminants from stormwater. They are also crucial as a means of natural flood control. This includes cities where concrete and pavement prevent water from draining properly into the ground.

"When you have excess water flowing during peak hydrologic cycles like during snowmelt, which was about the time we had the (2013) floods in Calgary, you need to have those wetlands to help retain some of that water and also to help some of that water percolate into ground water."

Morning sessions at the symposium focused on the current state of wetlands science, with afternoon sessions focusing on policy.

"There is often a divide between the science and policy. That's what we're trying to bring together. To bring the policymakers and the people who actually do the scientific research into the same room to say this is what we are seeing from our research, and then the policymakers tell us how the policy is actually helping to implement the recommendations from these scientific studies."

The symposium brought together scientists, the Government of Alberta, the City of Calgary, the Alberta Energy Regulator, industry, wetland conservation organizations and students. The event was a joint initiative between the Miistakis Institute, the Institute for Environmental Sustainability (IES) and the Faculty of Science and Technology.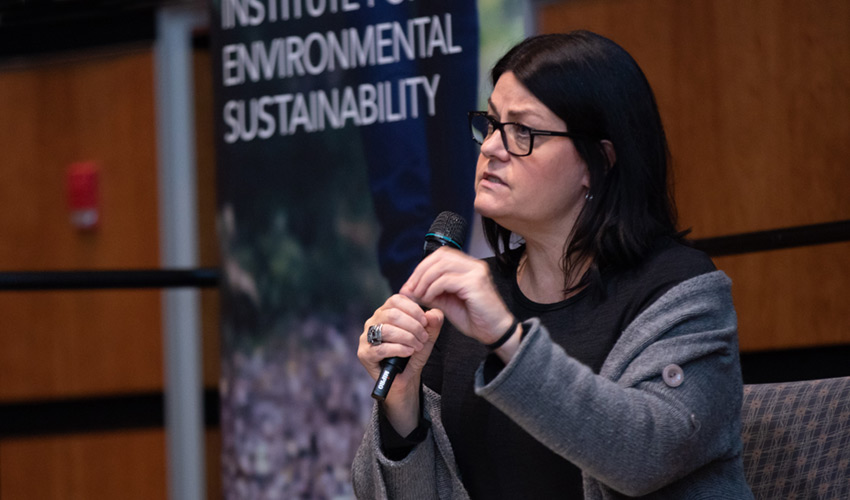 Morning keynote speaker Irena Creed, PhD, executive director and professor in the University of Saskatchewan's School of Environment and Sustainability, outlined the decline of wetlands worldwide, including the staggering 90 per cent lost in southern Alberta. Creed praised the province for modelling the way to restore wetlands, with its 2013 function-based wetlands policy. She stressed it is "far easier to drain a wetland than restore one", however, and preserving them needs political and public will.

MRU plans to be a hub for wetlands sustainability knowledge exchange in Calgary, and Alberta.

"We are undertaking this initiative as an institution because there is currently no presence of wetlands science in Calgary, which is strange given where we are," says Nwaishi. "We are sitting in a city that pre-development contained many prairie wetlands, so you would expect institutions to have active wetlands science to address some of those evolving issues from disturbance of urban wetlands and beyond."

Connie Van der Byl, PhD, associate professor in the Bissett School of Business and the academic director of the Institute for Environmental Sustainability, agreed the event is perfect for Mount Royal and IES.

"The institute enables research and scholarship, engagement and learning in the area of environmental sustainability. The World Wetlands Day Symposium and associated plans for a Mount Royal-led wetland sustainability hub fit perfectly with our mandate," she said. "The symposium and hub will enable collaboration between academia, government and practitioners, and will leverage diverse perspectives to develop innovative solutions to this important environmental issue."

The symposium also involved MRU students, who created posters to show during the lunch break.

"It gives them an opportunity to interact firsthand with scientists and policymakers that are working in the forefront of something they are actually studying," Nwaishi said.

Before coming to Mount Royal, Nwaishi did post-doctoral work at the University of Waterloo where he was involved in a wetlands reclamation project sponsored by Suncor. Prior to that he completed his PhD at Wilfrid Laurier University in 2015. Born in Nigeria, he completed his master's at Manchester Metropolitan University in the U.K. His research focus is integrating biogeochemistry and ecohydrological processes that sustain wetland ecosystem functions.

"I've been working with the energy industry for about seven years, but I was doing this from Ontario."

He is also working with the City of Calgary as a member of the academic advisory panel for its Stormwater Management Strategy committee.

"One of the things they are looking at is how to prepare the city of Calgary for future floods and what is the role of wetlands in regards to management of stormwater."

Mount Royal's Institute for Environmental Sustainability is dedicated to understanding and improving environmental sustainability.

Feb. 4, 2019 ― Peter Glenn
Media request contact information.
Have a story idea? Please fill out this form.