Turning talk into action
Children's Mental Health and Addiction Studies Certificates offer practical knowledge through online learning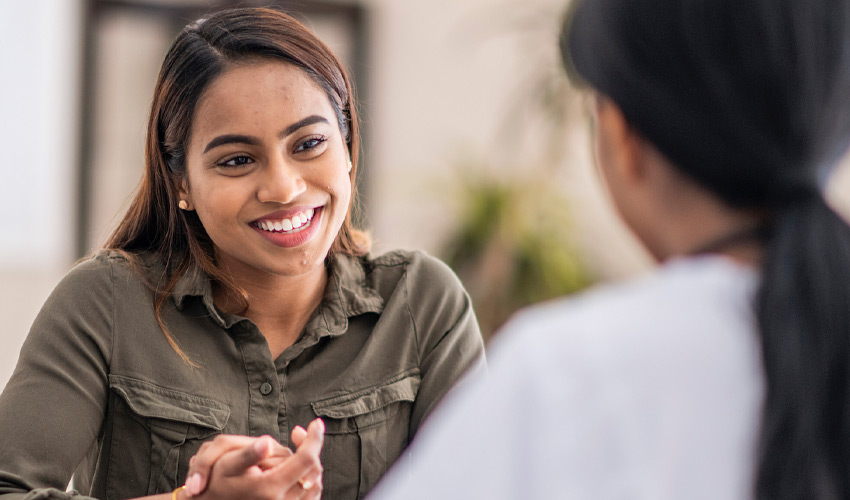 Mount Royal's Faculty of Continuing Education offers two certificates that support personal and professional development in the mental-health field.
---
Since its founding in 2010, Bell Let's Talk has sparked conversations about mental health while raising millions of dollars for programming. This increased awareness has also led to people seeking personal and professional development in order to better support mental health year-round.
Two certificates offered by Mount Royal University's Faculty of Continuing Education and Extension support learners on their journey to gain knowledge and skills in the realm of mental health.
"If you understand why someone is behaving the way they are, you are more likely to have compassion and treat them in a way that helps versus hindering their experience," says Katharin Pritchard, an instructor in the Children's Mental Health Certificate at Mount Royal. "The pandemic has exacerbated an already critical issue. It is important that we all look for and recognize mental health issues arising in children and youth."
The nine courses in the certificate — ranging from Child and Youth Resiliency to Mental Health II: Psychosis, Mood, Anxiety and Increased Risk — explore children's mental health issues within the larger context of family, community, and mental health and educational systems. The courses are offered online and are taught by experts in the field, including psychologists and social workers.
Research shows that the earlier a mental health issue is treated, the better the outcome. The more time that elapses between symptoms and treatment, the worse the outcome. The longer the symptoms go on without treatment, the more compounding issues arise as the child/youth worries and frets about what is happening to them, Pritchard says, who also teaches in the University's Department of Child Studies and Social Work.
"The certificate, which is quite comprehensive, gives good, basic information to help understand the environmental, social and individual characteristics that impact child and youth mental health. It talks about how children and youth can be treated to either avoid the issues or alleviate the issues that arise," she says. Teachers from all grade levels, counsellors, parents, social workers and more have gained skills and knowledge that they use to support children's mental health.
Addictions and mental health
Talking about mental health can also start conversations about other facets of someone's life. Those with a mental health issue have a higher risk of having a substance use problem, notes Lorell Thoms, an instructor for Mount Royal's Addiction Studies Certificate.
"Addictions and mental health problems are not separate issues. They overlap in many ways," says Thoms, a registered social worker. And the effects of COVID-19 are being felt particularly hard in this population. "Most people with substance abuse disorders have already become isolated from those who care about them. Lockdowns have blocked access to many of the health coping strategies people were using — support groups, exercise, even going to work."
The six courses in the Addiction Studies Certificate feature evidence-based approaches and up-to-date research. Students gain an understanding of current addiction approaches and trends while also learning about prevention, treatment, physical and psychological addiction, mental health and family dynamics.
While the material is relevant for anyone who wants to learn about addictions and/or how to support those going through recovery, courses are designed to complement professional training. Social workers, teachers, nurses, parents and those in personal recovery are just some of the learners who have taken the courses.
"Many participants find understanding for experiences in their own journey," Thoms says. "It's designed to open people's minds and examine proven ways to support those living with the negative effects of substance use and addiction."
Jan. 28, 2021 — Ruth Myles
Media request contact information.
Have a story idea? Please fill out this form.