Chinook Aerosports takes flight
LaunchPad 2021 recipient lands close to $30,000 in start-up funds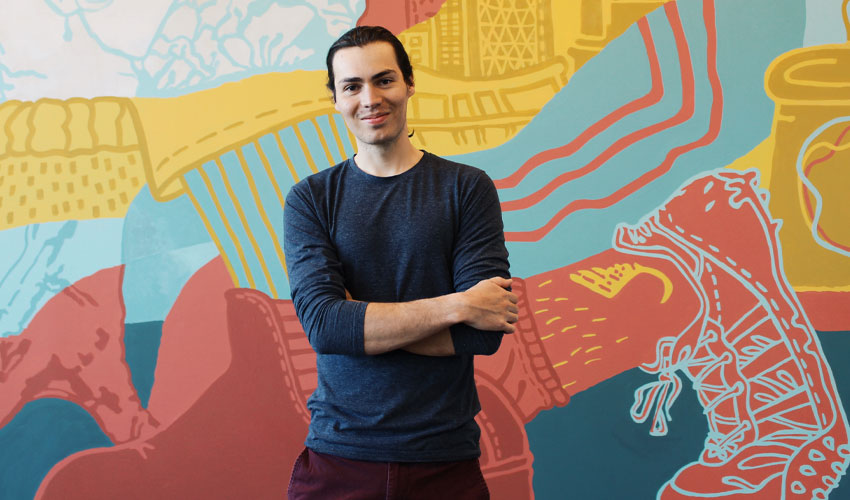 Ben Pearman of Chinook Aerosports.
---
Hosted by the Institute for Innovation and Entrepreneurship, the ninth-annual JMH LaunchPad ― Mount Royal's ultimate pitch competition ― saw five founders take to the digital stage for their chance at $70,000 in cash and prizes.
Ben Pearman, founder of Chinook Aerosports impressed a panel of esteemed judges that included Paul Shumlich, founder of Deepwater Farms and a LaunchPad alumnus; Chris Kneeland, co-founder of Cult Collective, The Gathering and Communo.com; and Kim Orlesky, founder and CEO of KO Advantage Group and Sales Unicorn.
Aislinn Grant is an alumna of MRU's business program and the owner of Grant Design. She won the first-ever LaunchPad competition in 2013 and is now a supporter of the program. Before the event began, she shared a few remarks with the founders.
"I'm such a lifer for this competition," she says. "I was someone who tried and failed and tried again." Grant credits the experience and support she received at Mount Royal fo helping her launch and sustain her successful brand identity company.
Pearman's impressive pitch led to him being awarded the $10,000 JMH Award, $15,000 from LaBarge Weinstein and $4,000 from the 2021 LaunchPad Alumni Award.
"As always, we were blown away by the quality of the student pitches. It's humbling to realize the amount of dedication it takes by students to build these companies while still in school and dealing with all of the new COVID-related stresses. It's a proud day for the Institute and MRU," says Ray DePaul, director of the Institute for Innovation and Entrepreneurship.
The evening's most impressive pitch, Chinook Aerosports is bringing innovation to the rapidly growing world of disc golf. In short, Chinook Aerosports builds technology that lets players track their athletic progress and helps them find their disc when it gets lost (which it inevitably does).
"Ben has proven to be a true entrepreneur. When he didn't get selected for the 2020 LaunchPad competition, he didn't pack it in but rather worked extremely hard over the last year to be the standout business in 2021," DePaul says. "It is this level of resilience, passion and eagerness to learn that will take him wherever he wants to go."
Produced by Chinook Aerosports, The Arc is a training tool for disc golf players and the first of its kind. Players attach the device to the bottom of their discs and it connects to a mobile app. When disc golf players throw the disc, sensors inside The Arc detect several metrics about the disc's flight. This is done using an Altitude Heading and Reference System, which Pearson built specially for use on discs and allows players to receive real data about their throw ― helping them improve in a totally new way.
The Arc can provide such in-depth details as: "Your disc veered too far to the right during its flight because it was rotating at 600 rpm instead of 900 rpm." The Arc is also trackable, so players don't have to worry about not being able to find their discs.
"The Arc allows users to train based on real, actionable data. Currently the closest thing to it is hiring a coach," Pearmans says, who will become an MRU alumnus in June upon graduating with a Bachelor of Business Administration with a concentration in entrepreneurship with a minor in financial analysis.
"A really experienced disc golfer will be able to analyze a shot really well and give you educated suggestions on how to improve, but on their own they can't provide a detailed breakdown of your shot that takes all the factors into consideration."
Additionally, Chinook Aerosports has become the only disc manufacturer in Western Canada. Their debut disc is a distance driver called the Andromeda, for which Pearman is currently accepting pre-orders.
Manufacturing has been the biggest challenge so far in terms of Chinook Aerosports getting to market. According to Pearman, the global supply chain has also been moving slowly, so it's been difficult to source the necessary materials. As he puts it, unfortunately this results in a lot of "hurry up and wait" situations.
Early on in his entrepreneurial career, Pearman is grateful for the support from Mount Royal and the Institute for Innovation and Entrepreneurship.
"Ray is the man. He's the type of guy who could be doing groundbreaking stuff in Silicon Valley, but he cares more about helping young entrepreneurs and growing the community," Pearman says. "I owe him a lot of gratitude for taking a chance on me early on. If you show that you have the ambition and determination to take a risk and go after something, he'll never turn you away. The institute is incredible for that reason and I consider myself extremely lucky to have gone to MRU."
Other award winners from the evening included:
$15,000 Grant Design, $10,000 JMH Award 
Swim by Em — owners Connor Pupp and Emily Robitaille 
$10,000 JMH Award
Evergreen Lights — owner Aarondeep Maan
$10,000 JMH Award
Bug Broz — owner Jake McLellan
"This event has become known in the city as a celebration of our students and also as a way to connect students, alumni and members of the Calgary entrepreneurial ecosystem. We accomplished that again this year with live pitches, 'where are they now' segments and virtual networking. I'm so proud of the team at the Institute for putting on an amazing virtual event," DePaul says.
Find out more about how innovation drives learning at MRU.
April 16, 2021 ― Jonathan Anderson
Media request contact information.
Have a story idea? Please fill out this form.