Distinguished Faculty Award recipients announced
Exemplary contributions recognized, extraordinary commitment acknowledged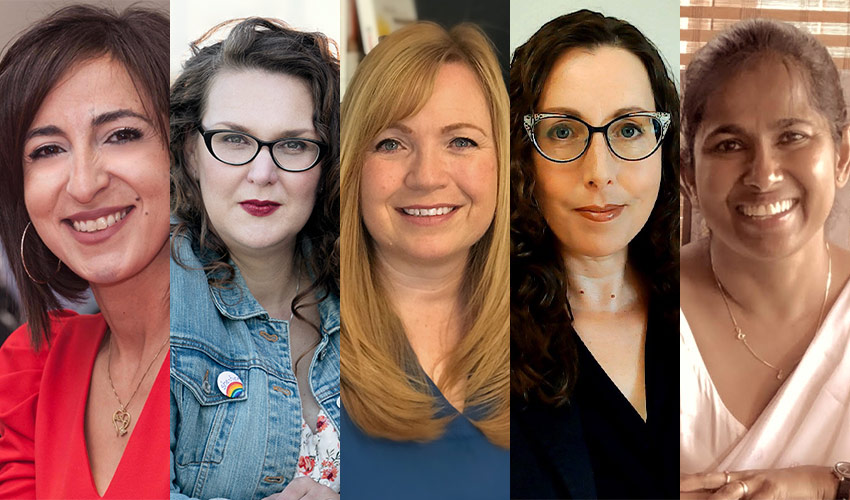 Distinguished Faculty Award winners from left to right: Dr. Ghada Alatrash, PhD, Dr. Kimberly A. Williams, PhD, Dr. Lynne Lafave, PhD, Dr. Carmen Nielson, PhD, and Dr. Samanti Kulatilake, PhD.
---
During this year's Celebrate! Teaching and Learning event, Mount Royal recognized faculty members for their exemplary contributions to the University community. The Distinguished Faculty Award winners from both 2021 and 2020 were acknowledged, as last year's event had to be cancelled. The annual awards celebrate outstanding work in teaching, research and service. Peers submit a dossier of information nominating a colleague, and nominees have to submit a comprehensive package of supporting information. A selection committee comprising past recipients reviews each submission and selects the winners.
Associate Vice Provost Mike Quinn, PhD, said the nomination process is rigorous and the calibre of nominees was exceptional.
"We get incredible nomination packages," he said.
"I know how much work and effort goes into the entire process, and I know I speak on behalf of the selection committees that this is really a process that people anguish over. We receive applications from outstanding faculty and it really is a challenge every year to pick a small selection from an absolutely outstanding number of files."
Discover how the 2020 and 2021 Distinguished Faculty Award winners continue to stay inspired so they can do the same for others.
2021 winners
Full time:
Contract:
2020 winners
Full time:
Contract:
Find out what teaching and learning means at MRU.
May 20, 2021 — Michelle Bodnar
Media request contact information.
Have a story idea? Please fill out this form.