MRU bestowed Elder Miiksika'am with an Honorary Doctor of Laws June 8
Mount Royal's Indigenous spiritual leader and advocate 'epitomizes education'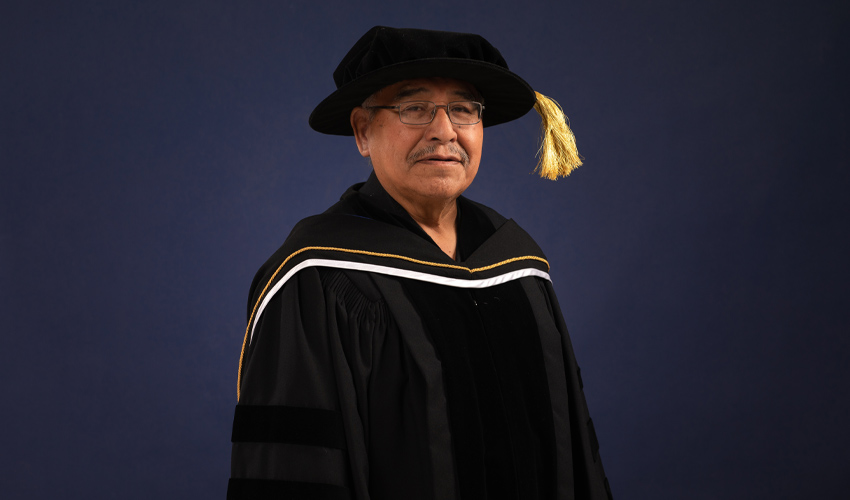 Elder Miiksika'am, whose name means "Red Crane," has a well-earned reputation as a campus elder and spiritual advisor.
---
When Mount Royal University President and Vice-Chancellor Dr. Tim Rahilly, PhD, phoned Elder Miiksika'am in late-March 2021 to ask if he would accept the bestowment of an Honorary Doctor of Laws at Mount Royal's Spring Convocation ceremonies, Miiksika'am's first thought was of his wife of 53 years, Fran, who had passed away just days before.
Fran Wolfleg was an instructor at Old Sun Community College (which operated as Old Sun Residential School until 1971) and later a teacher at Siksika Nation High School. When MRU had given Miiksika'am an Honorary Bachelor of Arts in 2016, "She was so proud of me when I received that," Miiksika'am says.
"She showed her pride in a silent way, the way that when you're together for 50 years you don't need to say anything."
Remembering Fran's reaction to that achievement five years ago, Miiksika'am says in the moments after his call with Rahilly that he figured she would be even more proud of the Honorary Doctor of Laws. "I think she'll be having a big party up in our spirit world, singing and dancing."
The bestowment occurred during the morning ceremony on June 8 with graduands from the child studies, education, health and physical education and social work majors in attendance.
Miiksika'am, whose name means "Red Crane," has a well-earned reputation as a campus elder and spiritual advisor. His presence has grown in recent years, beginning by meeting leaders and students associated with the Iniskim Centre; he is now eminent for connecting MRU students, faculty and staff with external Indigenous ceremonies and community members, speaking with students during field schools and classes, leading ceremonial smudging, honouring select members of the MRU community with a Blackfoot name and delivering remarks at Convocation.
In 2018, Miiksika'am and Dion Simon, an Iniskim Centre coordinator, created the concept of the Buffalo on the Move (inni awatto) installation of seven carefully placed rocks adjacent to Charlton Pond on campus.
"In the buffalo days, inii made their annual move in the springtime to their calving sites, such as near Buffalo Lake (a sacred Blackfoot site) in the northwest part of the Blackfoot traditional territory," reads a passage from the panel onsite that Miiksika'am composed. "Today the young and old seek knowledge at Mount Royal University. When completed, they are able to benefit from their journey.
"Education is the new buffalo from which a good life will be attained."
"I thought the big, lead rock looked like a buffalo sitting down, looking north," Miiksika'am says today, still clearly proud of the impact inni awatto has had as a signature location for campus photos, and more significantly as a way to honour the University's Indigenous population.
"He has passed on cultural rights, such as the right to smudge, to certain students and offered guidance, especially to Indigenous students who have become disconnected from their history and heritage," says Dr. Liam Haggarty, PhD, an associate professor of history and Canadian Studies.
"Although (Elder) Miiksika'am has no formal training as a teacher, I have learned as much from him about what it means to be a teacher and mentor as I have from anyone either in school or in my personal life. He epitomizes the virtue and value of education."
In addition to taking part in Haggarty's Treaty 7 field school, Miiksika'am speaks to students about restorative justice, residential schools and treaties, telling stories from his own experience or those passed down from his elders.
Miiksika'am was sent to Old Sun Residential School outside Gleichen, AB, at the age of six-and-a-half, speaking broken English and having his name anglicized to Clarence Wolfleg. It was a scarring and corrosive experience, Miiksika'am says, improved only by the fact that his mother gave some older boys "a few dollars" to protect him from some of the priests and other students.
He says he never refers to the residential school by name, only calling it "that place."
But it was at "that place" where Miiksika'am, one summer evening in 1956 with the sun still high in the sky and the boys already ordered to bed, whispered in Blackfoot to his friends.
"I said, 'You know what I'm going to be when I get out of this place? I'm going to be a soldier like my father (who served Canada in the Second World War, fighting in the Battle of Ortona), and when I come back, I'm going to be a leader of my people.' When I was at 'that place,' I believe my destiny was set."
Miiksika'am did indeed follow in his father's footsteps, participating in UN peacekeeping initiatives in Cypress and in NATO European missions during the Cold War.
He later filled many roles serving his community, ranging from a special constable and police chief to leading outpatient community programs for Siksika Alcohol Services, and working as a case management officer for Correctional Services of Canada to being a communications officer at the Old Sun Community College.
His leadership, he says, didn't come easily but was earned "by being voted in by my people." Miiksika'am served 10 terms as a member of the Siksika Nation Council, in addition to working in educational and healing roles with local, provincial and national organizations.
"As a residential school survivor who has gone on to become Mount Royal's biggest advocate, the impact he is making on past and current students will ensure his legacy continues for multiple generations forward," says Dr. Stephen Price, PhD, dean of the Faculty of Health, Community and Education.
"I completed what I said I would do when I was seven years old," Miiksika'am says, matter-of-factly. "Now, I'm getting ready for my winter years, looking at the medicine wheel as a guide. I share the knowledge that I have."
June 2, 2021 — Matthew Fox
Watch the live stream of Mount Royal's 2021 Spring Convocation ceremonies, which are happening in a drive-in format. Eight ceremonies will take place from June 7 to June 10.