Whittnie Gaqui
Bachelor of Communications — Public Relations
In anticipation of MRU's first ever Giving Day on Nov. 30, we are celebrating the deep, long-lasting impact of Mount Royal's generous donor community.
Whittnie Gaqui received the following awards while a student at Mount Royal and provides her testimonial as to their positive effect on her education and her life.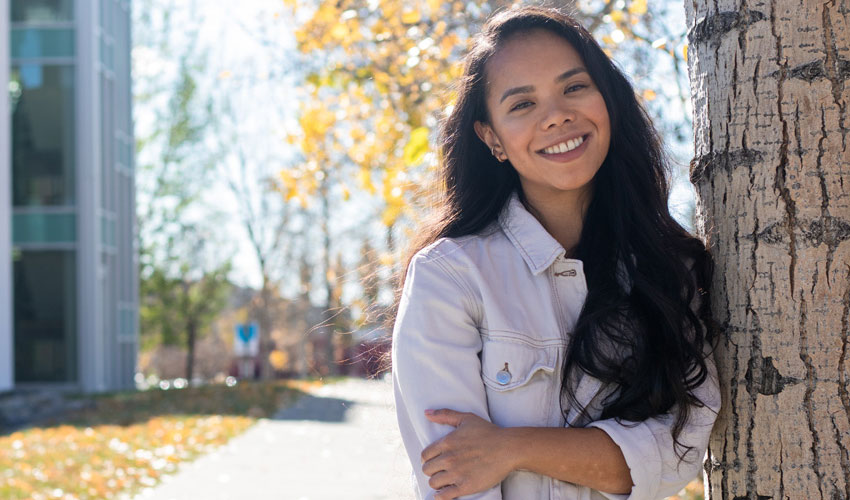 How did these awards assist in your academic and personal success?
As a mature student, these scholarships provided me with confidence.
Confidence in the path I chose to pursue (as I was returning to school after graduating MRU in 2013), and that this next program would assist me in finding my dream career. When I decided to enrol as a student again, I wanted to ensure it would be for something I truly would enjoy. After my interview with the public relations chair, Allison MacKenzie, I felt more confident than ever that the path I had chosen was the right one. I worked hard in the Fall 2019  and Winter 2020 semesters — five courses and full-time work — receiving a 4.0 GPA in every course. Despite balancing a rigorous school and work schedule, my hard work and grades were no match for the COVID-19 pandemic and I was laid off June 6, 2020. I received my first student awards email on June 22, 2020, and I wept. To be recognized for those long days beginning with 8:30 a.m. classes, and late nights of studying on layovers until the morning hours — these scholarships solidified my decision to continue on my path in communications.
In January 2021 I co-founded a digital communications company with friends. We've had the opportunity to work with companies across North America and Australia in fields such as pharmaceuticals, technology, fashion and food and beverage services. We even created digital signage, email marketing and social media content for Penn State University. I use every piece of knowledge acquired from my public relations courses every day. I create integrated digital communications strategies based on learned theories. I employ writing techniques learned from my applied writing classes to create website copy for businesses in different industries. I use my learned visual communications skills to create engaging social media content for my clients. In June 2021, I received the Ted Soskin Scholarship in Communications.
How important is giving to you?
These scholarships propelled me forward into the career of my dreams. They help students like me make their dreams a reality.