Playing to win
Conservatory alum Kevin Chen wins prestigious international competition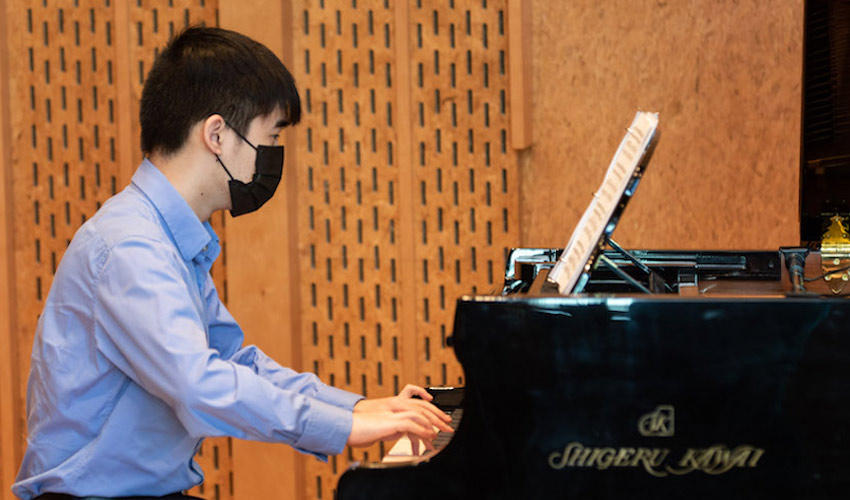 Pianist Kevin Chen, seen here playing at the Mount Royal Conservatory, recently won the prestigious Franz Liszt International Competition in Budapest.
---
The Mount Royal Conservatory community is celebrating after one of its own took the top spot in the recent Franz Liszt International Competition in Budapest. At 16, Kevin Chen is the youngest pianist ever to earn the prestigious prize, which came with a purse of €30,000 Euros (approximately $43,000 Cdn).
The Calgary teen bested 21 other competitors over seven days of technically demanding performances. In the final round, the jury picked Liszt's Concerto no. 1 in E-flat major, S. 124 for Chen to perform. Participants prepared two out of three concertos — two piano concertos and Totentanz.
"Needless to say, winning the competition is rewarding after my hard work of preparation and it provides a major boost in my career, but the true meaning for me is deeper than that," Chen says. He went into the competition for the experience, particularly being able to play in front of a live audience after prolonged pandemic restrictions. He was also eager to meet the other 21 contestants and hear their interpretations.
Chen appears at 37 minutes in this recording of his final performance at the Franz Liszt International Competition.
---
When he started his musical studies at the age of five at the Mount Royal Conservatory, Chen says he was drawn to conceptually simpler pieces with beautiful melodies. As he grew artistically and embraced a wider spectrum of music, he gravitated to more profound works such as the technical challenges and compositional techniques inherent in the works of Liszt. The acclaimed pianist and conductor, who lived from 1811 to 1886, is now one of Chen's favourite composers.
Supporting students in their musical development is one of the core principles of the Conservatory, says Dr. Brad Mahon, PhD, who oversees the Conservatory in his role as dean, Faculty of Continuing Education. Mahon is also the former director of the Conservatory.
"Kevin is a symbol of inspiration for other Conservatory students, for all of us, really. On top of being an amazing artist, he is a reminder of what is possible," Mahon says. "We can all take pride in his results that come from dedication, perseverance, resilience and the exceptional training and support Mount Royal's Conservatory provides."
Supporting artistic growth
Chen has taken part in a number of offerings at the Conservatory, including the Academy Program, which offers young artists the opportunity to progress at an accelerated pace. Participants gain essential artistic experience in a variety of settings, including regular performances for audiences that may consist of peers, faculty members, guest artists and the public.
Jean-Louis Bleau, interim director of the Conservatory, has avidly followed Chen's musical development and performance career. Seeing Chen grow as a young artist and advance so quickly and with such creative passion has been a point of great pride for all those who have inspired and in turn been inspired by such a remarkably gifted young man, Bleau says. It takes a village to support the aspirations of a young artist, he adds.
"Looking back on Kevin's progress and making note of the teachers who have worked to facilitate his success shows how important it is to have passionate teachers, donors and community along the path who coach, inspire and applaud that success," Bleau says. "When I think of Kevin's time at the Conservatory, I remember the late Stan Ray, who provided opportunities for young people to pursue the arts. His generous gifts over the years contributed significantly to Kevin's advancement and the advancement of other young people as they pursued their love and devotion to the arts."
In this compilation of outstanding Conservatory performers Chen appears at 57 minutes in.
---
Plans for the future include performing for audiences all over the world and sharing his love for music, Chen says, continuing the journey that began at the Conservatory. He is appreciative of the instruction and access to resources he received during his time with the Conservatory and the supportive environment that nurtured his artistic growth.
"I believe that showing your work to others and hearing their opinions is a very important element in development — not just in regard to music, but for any profession. Music is not simply black and white; every artist has their own interpretation," Chen says. "Even though I have my own ideas, receiving feedback from many different sources is always beneficial as it broadens my perspective and outlook and exposes me to a much wider range of possibilities that I can explore."
Composing future success
Chen works to balance his dual roles as a rising musical star on the global stage and as a Grade 11 student at Dr. E.P. Scarlett High School. (He now studies piano with Marilyn Engle at the University of Calgary.) He's played with orchestras internationally, and won first place in the Minnesota International Piano-e-Competition, the Hilton Head International Piano Competition and the W. A. Mozart International Piano Competition in Lugano, Switzerland, and placed third in Kazakhstan's Astana Piano Passion Competition earlier this year. The cherry on the cake in his latest win was that the competition celebrates the work of one of his favourite composers.
"Liszt's music resonates with me not only because of its technical challenges — although it does play some role — but also because he communicates something much more profound. His ingenuity in many compositional techniques, such as being considered an early impressionist, laid down foundations for the generations of composers after him," Chen says. "Because of this passion and intimacy in conveying his emotions and personality, combined with the overwhelming satisfaction of performing these works, his music holds very special value to me."
Laurie Matiation is the artistic director, Academy and Advanced Performance Program, at the Conservatory. She treasures the moments she spent listening to Chen play in masterclasses and recitals during his years in the Academy Program as an honours student.
"To hear him play takes your breath away. I remember listening to him perform once, and was just mesmerized by his passion and love of performing," Matiation says, likening Chen's accomplishment at the Liszt competition to "winning the gold medal at the Olympics."
And just like athletes, not every musician has the makings of a gold medalist. Matiation points out that studying at the Conservatory prepares the student in their life journey, whether that be as a performer, teacher or engineer.
"It not only focuses on striving for excellence in what they do, but on how to get there, how to be a team player. The focus is on how to be the best that you can be in whatever you decide to do. What Kevin has learned as a performer will serve him well, and has served him well."
The Mount Royal Conservatory has been a trusted provider of musical education in Calgary for more than a century.
Nov. 16, 2021 — Ruth Myles
Media request contact information.
Have a story idea? Please fill out this form.