New certificate brings in-demand skills to Continuing Education at Mount Royal University
Environmental, Social and Governance (ESG) Reporting micro-credentials offered in early 2022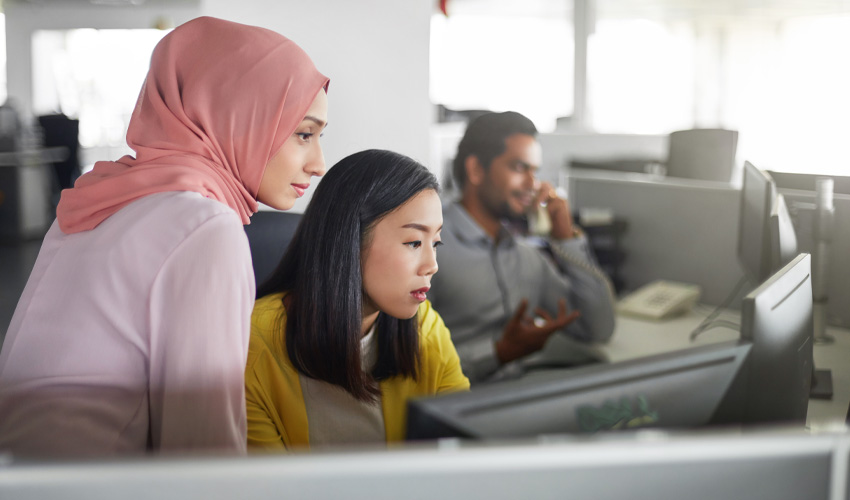 ESG Reporting involves collecting and analyzing data on an organization's ESG standards and activities, information crucial to investors.
---
There's a new opportunity for people looking to improve their career prospects with demonstrated skills in the high-demand area of environmental, social and governance (ESG) reporting.
Mount Royal University's Faculty of Continuing Education is launching a certificate that delivers targeted learning in this area, which has been described as both an art and a science. ESG reporting supports everything from investment decisions to a job seeker's choice of employer.
"The skills and knowledge that you learn in our new ESG Reporting Certificate can be implemented right away, and they are in an area that is seeing increased demand across the board," says Dimitra Fotopoulos, director of Professional and Continuing Education with the Faculty of Continuing Education at Mount Royal. "As Alberta adds to its energy sector with sustainable production such as solar and wind, and carbon capture, utilization and storage (CCUS) organizations need a strategic approach to their ESG reporting."
ESG reporting is the collection and analysis of data of an organization's ESG standards and activities, information crucial to investors. An ESG report is the umbrella under which a company's commitments, performance and targets for the future are demonstrated using globally recognized ESG standards, frameworks and indicators.
It is gaining in importance as investors, stakeholders and organizations include these factors in their analysis of business and organizations. In addition, robust ESG reporting can add to employee retention and maintain an organization's social license to operate.
Mount Royal's three ESG Reporting courses were developed collaboratively between the Faculty of Continuing Education and the Institute for Environmental Sustainability (IES). Each course is also a micro-credential and comes with a digital badge that can be shared online so employers can verify the achievement.
Micro-credentials enable recent post-secondary graduates and established career professionals to develop and demonstrate specific skills that today's employers need. Developed and delivered in consultation with industry experts, these new micro-credentials offered by the Faculty of Continuing Education are short-term, online courses designed to help learners re-skill or up-skill, and enhance employability.
Digital badges are electronic images that contain secure, embedded data that verifies a credential and that the holder can demonstrate as a specific competency or skill. These badges can be shared on social media (such as LinkedIn and Facebook), attached to a resume, or added to an email signature. Mount Royal's digital badges will be managed and verified through MyCreds.ca, Canada's official credential wallet for post-secondary learners and graduates.
An expert practitioner was enlisted to ensure the relevance and applicability of the material in the ESG Reporting Certificate, says Dr. Connie Van der Byl, PhD, associate professor in Mount Royal's Bissett School of Business and academic director, IES. The process reflects Mount Royal's focus on learning that students can implement in their careers.
"IES leveraged its network of external contacts to review the material and to stay abreast of changes in this highly dynamic context. This is an excellent example of the Mount Royal approach to learning – applied, relevant and thoughtfully developed with rigour through valuable collaborations," Van der Byl says. "This suite of courses is targeted to those who want better visibility of the impact organizations are having in the ESG arena and who are pursuing a career in sustainability/ESG. These micro-credentials also benefit those who are responsible for ESG reporting and are looking to gain a better understanding of what goes into an ESG report."
"There's huge growth in this area in all industries, without exception."

Instructor Reem Tanta
According to Bloomberg Intelligence's ESG 2021 Midyear Outlook report, ESG assets are on track to exceed $50 trillion by 2025. That makes up more than a third of the projected $140.5 trillion in total global assets under management, says Reem Tanta, who developed the ESG Reporting coursework and will serve as the certificate's primary instructor.
"There's huge growth in this area in all industries, without exception. The pandemic put individual and community health at the top of the priority list. Social movements emphasized the importance of the 'S' (social) after decades of focusing only on the 'E' (environmental). Diversity, inclusion and governance — the 'G' — are becoming public topics that shape employment and investment decisions," Tanta says. "In addition, the Glasgow COP26 Conference on Climate Change is speeding the global race to net-zero carbon emissions. It's no wonder that ESG is reshaping the financial industry."
The certificate offers a high-level overview of ESG reporting with specific, tactical approaches to the process of producing a report, which can be complicated. The three courses are:
Overview of ESG Reporting

Fundamentals of ESG Reporting

ESG Reporting and ESIA Processes (registration opens March 2022)
Students will build their knowledge about the ESG reporting process and the components of an ESG report in the courses. In addition, they'll develop practical ESG-judgment skills by learning to differentiate between companies that align ESG strategy with actions and those that don't. ESG issues are becoming material factors that businesses must manage appropriately, Tanta says.
"We are seeing a steady growth in sustainable investing led by the growing number of responsible investors who believe the more disclosure of data/information on a company's ESG performance can reduce risks and improve returns. In Alberta's energy industry, we are seeing even small private firms producing ESG reports," Tanta says. "After completing these courses, students will have a connection lens between environmental, social and governance factors and how they affect financial decisions and contribute to more sustainable practices."
Dec. 16, 2022 — Ruth Myles
Media request contact information.
Have a story idea? Please fill out this form.