Freestyling at the top
Ecotourism and outdoor leadership student competes in first Olympics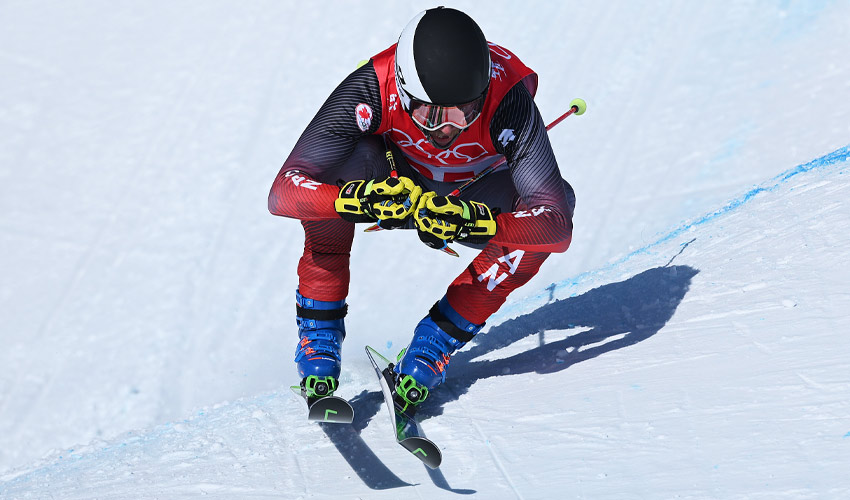 Jared Schmidt is excited about what he might be able to do with his Ecotourism and Outdoor Leadership degree. Photo courtesy Greenfly.
---
Jared Schmidt moved to Calgary in 2018 to join Team Canada's national ski cross team and pursue his goal of becoming an Olympian.
In 2022, he did just that.
Alpine Canada and the Canadian Olympic Committee announced Schmidt as one of eight Canadian ski cross athletes to be competing at the Beijing Olympic Winter Games in January.
Along the way to becoming an Olympian, Schmidt, originally from Ottawa, has been a student at Mount Royal University. Enrolled in MRU's ecotourism and outdoor leadership (ETOL) major, Schmidt has had to balance being a student with his aspirations of reaching the highest level of his sport.
"Balancing school with skiing has been tough, I'm not going to lie," Schmidt says. "It's definitely tricky navigating. I'm not very good at communication, but I'm getting better at it, and it's something that's helped me stay more organized in school."
After starting his International Ski Federation (FIS) career in 2019, Schmidt tore his MCL (medial-collateral ligament) before the end of the season. The injury forced him to miss the 2019/20 FIS season.
"Two years ago, I was injured, so I had the whole winter off and I was able to take a full course load," Schmidt said, looking at the bright side of a severe injury. "It was really cool because it opened up that other part of my life. I made a lot of great connections. It definitely opened up my friend group to a lot of really cool people in the program and at Mount Royal."
All of Schmidt's hard work to balance skiing and school while overcoming an injury paid off. He qualified to represent Canada after an exceptional World Cup season in 2020/21, his first season back after his injury. He won his first two World Cup medals, finishing third in Bakuriani, Georgia in February 2021, and then securing another bronze in Arosa, Switzerland, in December.
Continuing his successful run at the Beijing Games, Schmidt finished 10th in the ski cross event. From a family of athletes, Schmidt's sister, Hannah, also competed in ski cross at the Games, finishing seventh.
Schmidt had the sixth-best time in the seeding run, qualifying him for the knockout race to make the quarter-finals in the competition. Racing against three other skiers, Schmidt came in second, putting him through with the final 16 competitors.
Schmidt ultimately came in third place in his quarter-final, meaning he did not get the chance to move onto the semifinals. However, his quarter-final run secured him a top-10 finish at the Olympics.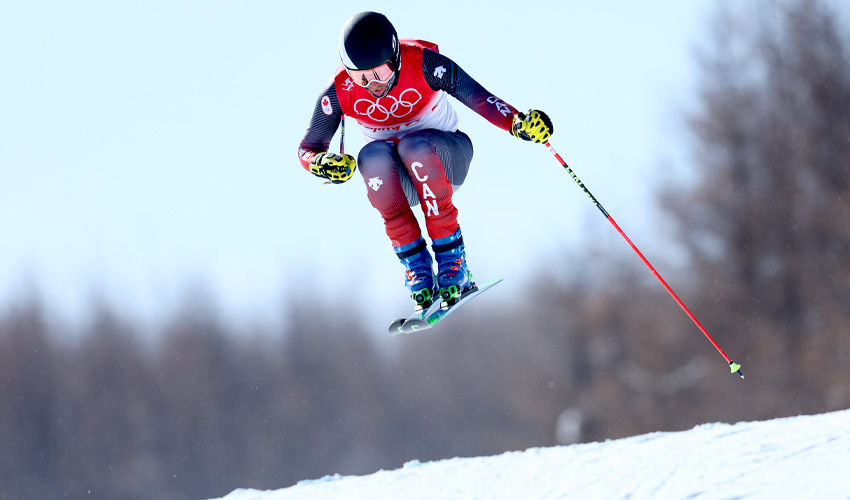 The ETOL program was a huge draw to Schmidt, as he was looking to enroll in a program in the outdoor sector while being able to train at a high level. Photo courtesy Greenfly.
---
Initially an alpine skier, Schmidt said that the Beijing Olympics weren't originally on his radar after only making the change to ski cross four years ago.
"I was kind of looking at 2026 in Italy, but it ended up working out really well," he says. "I just stuck to the process and skied really well. I didn't have too many expectations going into the Games. I tried to live in the moment a little bit and soak it all in."
Schmidt made the switch to ski cross after receiving a message from now three-time Olympian and 2018 silver medalist Brittany Phelan.
"(Phelan) sent me a message saying 'Hey, I think you'd really like ski cross, so come out to spring camp at Sunshine Village and try it out for two weeks,' " Schmidt says. "I went out and flailed around and kind of made a fool of myself hitting jumps and stuff, but the coaches showed interest and saw that I had a little bit of skill."
Schmidt raced in alpine and ski cross events the following year before qualifying for the 2017 FIS Junior Ski Cross World Championships.
It was then he made the move to Calgary and Mount Royal to pursue his ultimate goal. The ETOL program was a huge draw to Schmidt, as he was looking to enroll in a program in the outdoor sector while being able to train at a high level.
"With the National Training Centre, WinSport and the Canadian Sport Institute, it just worked out perfectly that Mount Royal has a program like ETOL," he says. "So I can pursue both of my goals: to come out with a degree and be successful in skiing."
Schmidt has a long career in skiing ahead of him but is still excited about what he might be able to do with his ETOL degree when his competing days come to an end.
"The cool thing about the degree is that it opens up so many doors," he says. "I'm not really sure what I want to do yet. I have thought about pursuing an outdoor education kind of job or going into the guiding sector. It's great to have those options open."
Mount Royal's Bachelor of Health and Physical Education — Ecotourism and Outdoor Leadership explores the theoretical and practical applications of sustainable tourism, socio-cultural heritage, outdoor adventure programming and facilitation, entrepreneurship, leadership and communication.
Feb. 28, 2022 — Zach Worden
Media request contact information.
Have a story idea? Please fill out this form.