'Live'
Words provided by Sally Njoroge in recognition of Black History Month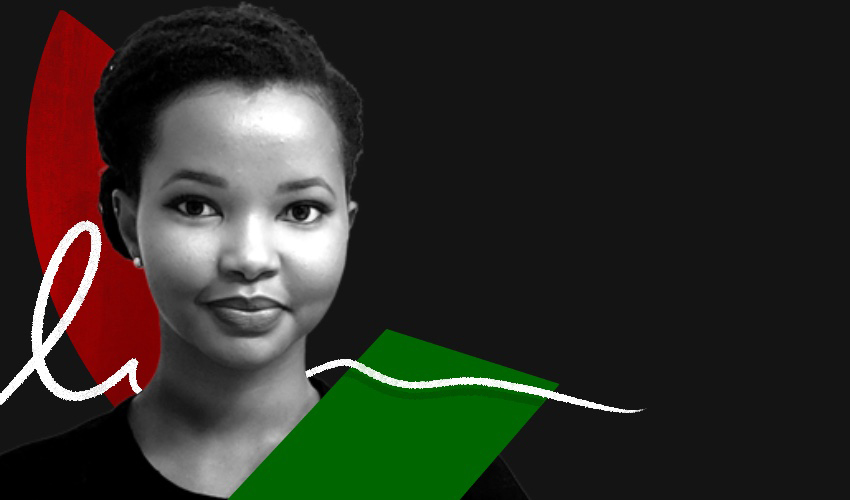 Throughout the month of February, MRU is presenting a collection of the voices of Black writers in our community in recognition of how words have the power to both build and destroy identities.
As the program lead with Mount Royal's Trico Changemakers Studio, Sally Njoroge plays a part in encouraging difficult conversations that can lead to positive social change. A Bachelor of Arts ― Sociology alumna with a minor in innovation and entrepreneurship, Njoroge organizes and facilitates the Changemaker Conversations Project (sponsored by the Calgary Foundation), a series of discussions about difficult-to-solve issues and topics requiring deep systems thinking on the themes of rights relations and racial equity, environment and sustainability, well-being and belonging, and how art can enable social change. The series convenes a diverse body of changemakers, including students, MRU faculty and staff, and community organizations engaging in generative dialogue towards action.
Born in Kenya and arriving in Canada at the age of nine, Njoroge is also a writer and a poet. She says, "I write to make sense of myself and the world around me. It helps me be introspective and work out different ways of understanding the life we're living in." Writing can be a form of therapy, Njoroge says, and she uses her sociology background to analyze society and find sense among its complexity.
Finding inspiration in the likes of Maya Angelou, Lauryn Hill, a Kenyan rapper named E-Sir who tragically passed away at a young age, plus Black American culture — specifically the Deaf Jam Poetry of the '90s and the early 2000s — was instrumental in solidifying Njoroge's fascination with the use of language and words. She aims to achieve the same kind of lyricism in her own work.
With regards to her role with the Trico Changemakers Studio, Njoroge says, "Now that I'm in this position, I think about how I can use my platform to make sure that conversations are happening where the student body and community members can connect with leadership in a way they haven't been able to before."
Njoroge's poem "Live" was also featured in MRU English professor and current Calgary Poet Laureate Natalie Meisner, PhD's This Might Help project, which provided hope through writing during the difficult time of the pandemic. Listen to Njoroge read here. 

Live
From the moment we come into this world we are met with nurturing hands.
We do not choose to be born but somewhere along the way we must decide to live.
The point is to see what we become.
We are not concrete, we are not meant to stay put in one place until we crack.
We are air, and we are water, fluid in every sense possible.
And even when we are deprived of energy we still rise up every morning and we become revived.
And in the new day,
we look forward but we are led by more than just our sight,
because we know the horizon is an illusion to our eyes.
So our duty is to keep on moving,
to grow, and see our fruits make a home for us.
Our beings are filled with mystery and uncertainty
but equally a ministry of agility, with depths we have yet to explore.
We are constellations, and compilations of good and bad songs,
the choice is ours to find what we want to live for.
Meet your heart with the awe of a creator.
Concern yourself with the act of labour.
An idle mind will get you no where.
It has been written,
you do not just wake up and become a butterfly.
Adapting is the light without an end because we are always becoming.
Guard your spirit, and let it remain unbreakable.
Living is letting all this organized chaos shine within this fragile shrine we call life.
And the next time we ask,
what is the point to all of this?
Remember we are all artists,
and we are always in the process of creating,
always in the process of making mistakes,
and always in the process of learning something new each day.
So live in joy, knowing each season comes with a new canvas.
Cast out your regrets and celebrate the skills you've cultivated.
Ride against your fears and let your curiosity lead you to understand this…
life is filled with possibilities, and if we just keep moving forward, we will be compensated.