Map the System 2022
Discovering the root causes of systemic problems and working to address them
Michelle Bodnar — Mount Royal University | Posted: April 12, 2022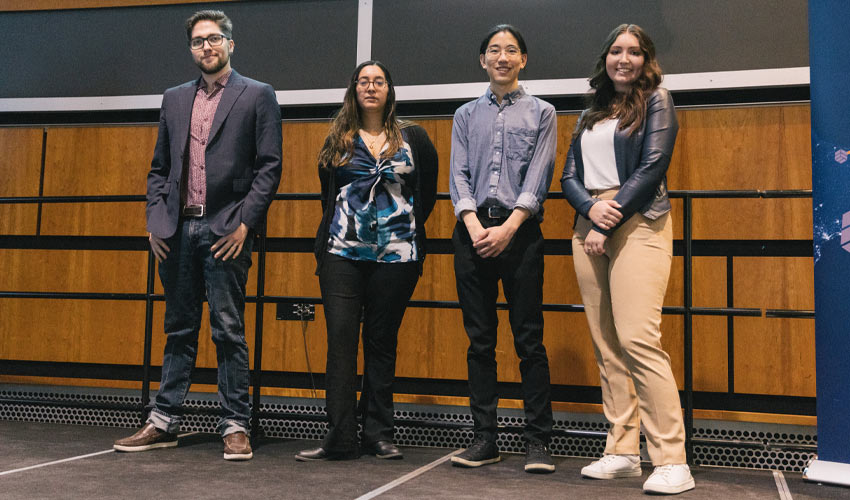 Mount Royal's Map the System campus competitors from left to right: Marshal McCallum, Roshni McCartney, Curtis Wong and Kaitlyn Squires.
---
This year's Map the System competition revealed how stigma against sex workers results in unequal access to health care, how Canada's child-care system only works well for a privileged few and how the study of language can reveal much about geopolitical constructs.
An initiative out of the Skoll Centre for Social Entrepreneurship based at the Saïd Business School at the University of Oxford, MRU's Institute for Community Prosperity's mandate for Map the System is to "connect students with social impact learning through applied, community-partnered research, creative knowledge mobilization and systems-focused education."
Currently held at 18 Canadian and 64 global universities, the Institute also manages Map the System Canada and continues to work to involve more Canadian institutions in the experience. Faculty and staff work closely with students who are willing to undertake the immense challenge of discovering the root causes of systemic problems and apply an enactable solution … all outside of the demands of their regular coursework.
"Map the System aims to expand students' capacity to undertake interdisciplinary research while focusing on real-life opportunities to make a difference in the world on a pressing current issue. It is a bridge between students-as-learners and students-as-changemakers," explains James Stauch, director of the Institute.
"When you look at any issue on the global or regional stage right now — the war in Ukraine, the climate emergency, freedom convoys, Alberta's drug poisoning epidemic — these all have underlying root causes, deeper patterns, and point to systems failures or vulnerabilities well beyond what is obvious or making the front page. Part of a sophisticated 21st-century skill set, whether you are talking about skills for careers or skills for effective citizenship, is systems thinking and systems practice."
The winner of MRU's competition will present at the national finals, to be held online during the second week of May. The top four Canadian teams then move on to the global finals at the University of Oxford.
Representing MRU for 2022 will be Bachelor of Science — General Science student Kaitlyn Squires for her study titled "Sex Workers in Canada Face Unequal Access to Healthcare."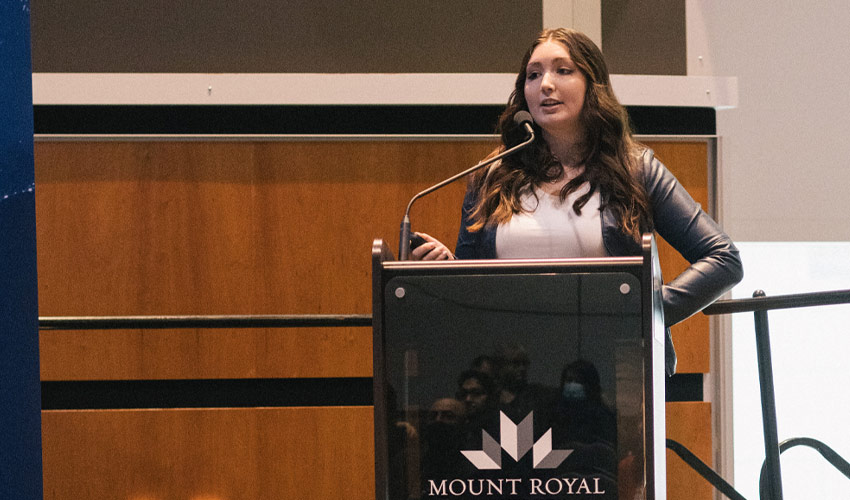 Bachelor of Science — General Science student Kaitlyn Squires will represent Mount Royal University at the national finals.
---
When looking into health inequities as a whole, it was brought to Squires' attention that sex workers, of whom 75 per cent identify as female, are almost three times more likely than other Canadians to report unmet health-care needs.
"It's a topic that very few people are aware of. It made me challenge the biases I held and I hope others will too," Squires says.
Squires opened her presentation by recounting a story from a street nurse she spent time with for her research. A sex worker had cut her hand and went to a nearby medical clinic for help. Because of the stigma surrounding sex work, she was denied service at that location, and at others.
"The main barrier preventing access is stigma, which is perpetuated by federal policies and biases Canadians hold," Squires says. Sex workers are seen as "tainted," "vectors of disease," "criminals" and "illegitimate," and are then discounted. Although federal legislation established in 2014 legalized the sale of sex, just about every other aspect of the trade remains criminalized, further exacerbating stigma.
The exploration of a topic of interest from a multi-disciplinary view, Map the System "looks at an issue starting at its roots in order to fully understand what is going on and why," Squires says. Through intense inquiry, Squires believes the sex-worker problem of unequal access to health care "is solvable through policy changes, such as decriminalization, and the reduction of stigma. One effective leverage point to increase outreach is the creation of community-based clinics like Safeworks."
This year's event was adjudicated by social work professor Peter Choate, PhD, assistant professor of economics Lavinia Moldovan, director of business development at Technology Helps Mina Demian, and Jillian Mah, community success lead with HelpSeeker Technologies, information design alumna and 2020 Map the System MRU co-winner. The judges reported having a difficult time choosing the winner due to the exemplary level of work presented by the participants.
Social Work Diploma graduate Mizuki Oshita competed in Map the System twice as a student, and holds the role as the program's campus coordinator.
"Since I had an invaluable experience out of my Map the System participation as a student, I had a strong passion to reach out to as many students as possible who might benefit from the opportunity just like I did. I have been enjoying being part of the other side of Map the System this year as its coordinator, supporting students and building up the MRU campus final," Oshita says.
MRU has established itself as a leading centre of systems learning, says Stauch. Nursing alumna Roisin Dillon won the Map the System global final at the University of Oxford in 2018 for her research into Canada's opioid crisis. Several other MRU students have also advanced to the global finals.
"We also host the Map the System challenge at the national level, support student teams who advance to Oxford and provide coaching, mentorship and learning to students worldwide," Stauch says, including publishing the free Student Guide to Mapping a System.
2022 Map the System runners up
"Speaking at Cross-Purposes: Cantonese in Canada & Hong Kong"
Curtis Wong
Bachelor of Arts — Anthropology
Recent graduate Curtis Wong used his Map the System experience to first explore "how Chinatowns across North America are experiencing growing pains as they grapple with their history in light of urban development and changing Asian-Canadian demographics."
That led to Wong discovering his topic, which is "a look at Cantonese as my own heritage language and the most common language you'll hear in Chinatowns. The story behind Cantonese is a cool case study to explore using systems-thinking dynamics."
Approximately 80 million people speak Cantonese, but there is little to no institutional support for the dialect either within China or within countries where there is a large Cantonese-speaking diaspora, including Canada. With more than a billion speakers, Mandarin has become more widely used as some consider it easier to both learn and speak.
"In English we get caught up in debates over 'languages versus dialects' and the number of speakers to compare languages, but languages are so much more complex than that," Wong says. "Exploring Cantonese in Canada not only led to insights on local Chinatowns but also People's Republic of China geopolitics and even United Nations' language norms."
Wong believes the solution lies in validating the Cantonese dialect further through increasing its presence in the post-secondary world.
Appreciating the ability to use his anthropology background in the Map the System process, Wong says, "My appreciation for Cantonese language and culture has grown exponentially throughout this process, and I know that many people like me feel isolated from a large part of their personal identities. Hopefully this sparks inspiration for others to explore their own heritage languages."
"Accessible, Affordable, Accessible: Canada's Childcare Failure"
Marshal McCallum
Bachelor of Business Administration — General Management (Honours)
Roshni McCartney
Bachelor of Business Administration — General Management
Both McCallum and McCartney have children and feel "lucky" to have them registered in licensed, subsidized child care. Without those sorts of placements, on average Calgary parents are looking at $1,300 per month for infant care, $1,250 per month for a toddler and $1,145 per month for preschool-aged children. The total upfront cost of registering for a licensed facility is around $3,000, McCallum says, which is typically built out of the first month's payment, plus an equal deposit, with the remainder in registration fees. Children must be registered before parents can apply for the subsidy.
In their Map the System inquiry, the pair ask, "Why is child care in Canada a privilege, and not a right?" They note that child care as it is set up in Alberta works best for urban families with two parents and higher incomes.
"Lower-income families access lower quality care, and that follows them through their educational journeys," McCartney says.
In addition, numerous child-care "deserts" exist throughout the province, where there are no licensed facilities available. Even in the densely populated Calgary, over half of the child-care aged population lives in child-care deserts.
The solution, as McCartney concludes, lies in integrating child care into the educational system rather than as simply a place to "park" kids for a few hours. "We need to treat (child care) as an educational model," citing the successes of Scandinavia where early education and child care exist together within the same systems.
"Communities need to be able to dictate what is required in their jurisdiction to serve the people living there," McCallum says. "A more robust early childhood education system will attract people to communities with dwindling populations and encourage them to stay."
Mount Royal's Institute for Community Prosperity facilitates undergraduate community-partnered research opportunities that build the confidence and capacity to lead transformational change in communities.