Research happens everywhere
Professor's work using photography to address global inequities in health care
Ruth Myles — Mount Royal University | Posted: April 4, 2022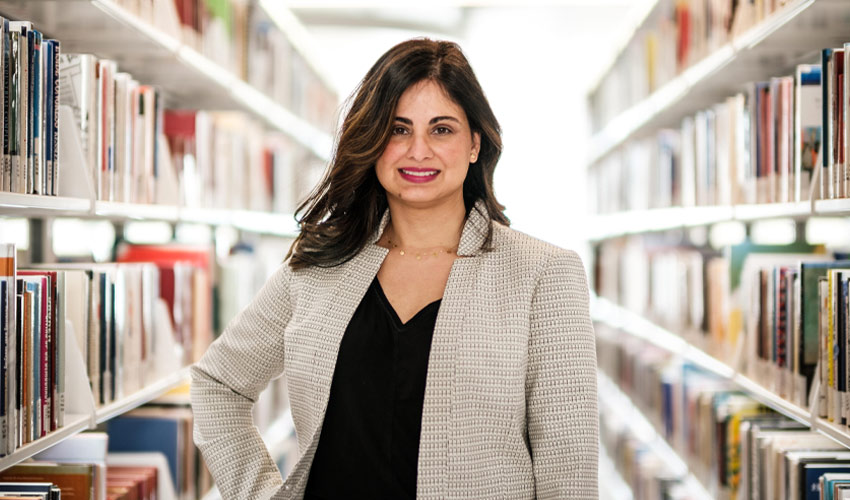 "If I didn't have people who opened the door for me in so many ways, I wouldn't be where I am today. When I see students who have that same sort of potential and drive, you find a way to include them in your work," says Mount Royal's Dr. Aliyah Dosani, PhD.
---
Research is a formidable weapon to take on inequities in health, from across the world to right next door, says Dr. Aliyah Dosani, PhD.
Dosani, a professor in the School of Nursing and Midwifery within the Faculty of Health, Community and Education at Mount Royal, recently received a $100,000 Canadian Institutes of Health Research (CIHR) grant for her research, "Using Photovoice and Critical Social Theory to Help Develop Culturally Safe Services for Perinatal Depression in Rural India." Dosani is Principal Investigator (PI), leading the work alongside her co-PIs, Dr. Shahirose Premji, PhD, of York University, Dr. Josephine Etowa, PhD, from the University of Ottawa, and Dr. Abhijit Nadkarni, PhD, from the London School of Hygiene and Tropical Medicine.
"For me, it's all about health equity and social justice. What do we do about the obvious disparities we see in health — differences that are systematic, avoidable and unfair?" says Dosani, whose doctorate is in population/public health.
The majority of research is produced in western countries and mainly takes into account western cultural contexts, Dosani says. This research may then be used to inform the development of screening tools and interventions that are used all over the world, so there is an inherent bias built into the system. For Dosani's latest project, that translates to women in rural India understanding depression differently than how a woman in rural Alberta would, so the same screening tools would not work equally as well in the two locations.
Dosani's research involves giving women living in rural Rajasthan a camera, and asking them to take pictures of how they understand depression in their cultural context. These women come from resource-poor communities with little-to-no mental-health support. In tandem, lay counsellors who deliver basic talk therapy will take field notes about what they are seeing during counselling sessions. The research team will then analyze the photos and field notes to better understand how the women are experiencing depression.
"Photos are so meaningful in terms of what we are looking at and how these women interpret their life and how they navigate this issue," Dosani says. Farouq Samnani, a Canadian art director and photographer based in Bali, will help guide the technical aspects of the project and train the women to use cameras.
The information gathered will be used to tailor screening tools to more accurately reflect what the women are experiencing, Dosani says. It will also direct how interventions can be adjusted to provide more effective treatment. The project is expected to take about a year, depending on the pandemic and travel restrictions. Partners include Aneel Brar from the Mata Jai Kaur Maternal and Child Health Centre in Rajasthan and Dr. Ravindra Agrawal, PhD, from Sangath, a not-for-profit organization working in Goa, India, to make mental-health services accessible and affordable.
Recognizing the value of student involvement
While Dosani didn't conduct research as an undergrad at the University of Calgary, when she was a faculty member at the institution Premji was a colleague who mentored her transition into research. The two have since worked together on a number of tri-council funded projects.
"If I didn't have people who opened the door for me in so many ways, I wouldn't be where I am today. When I see students who have that same sort of potential and drive, you find a way to include them in your work," Dosani says.
"For example, a few years ago, there was a student in my Community Health Nursing class who had huge potential. I approached him right away and said 'Alex, you have to come on board with this project.' Since then, I've worked on a number of projects with him."
Dosani mentored that Mount Royal student, Alex Cuncannon, in grant writing on the photovoice project. He has since graduated and will be joining the team as a research assistant, possibly travelling to India to help conduct the work. That first-hand experience of engaging in the research process to produce rigorous evidence is life changing not only for those involved in the project, but for those who use the results to affect change for the better.
"I think that is why people enter into research: to be able to generate solid evidence that can be used not only by yourself and the people who you are connected with, but when it is published in high impact journals like a lot of my work is, that means a lot of people are reading it. And if a lot of people are reading it, they are going to potentially use it."