Steps forward in undergraduate research
Recognizing undergraduate students' impact on the future of physiology
Katherine Sharples — Mount Royal University | Posted: April 6, 2022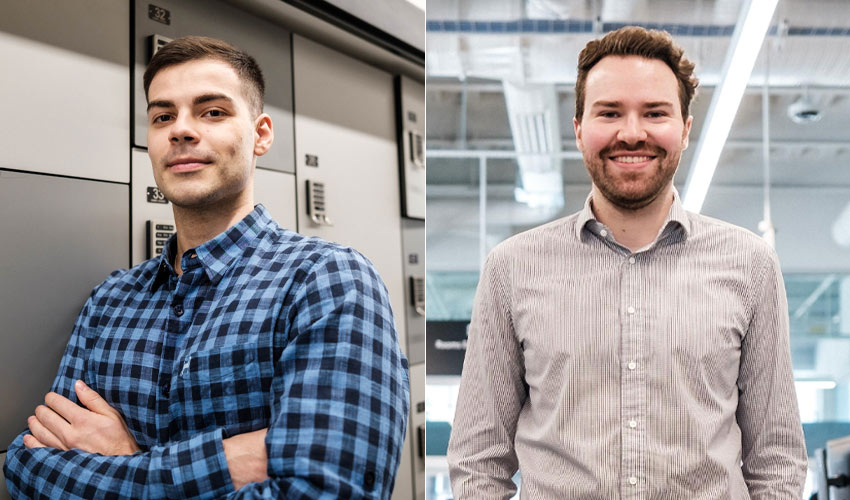 Mount Royal students Esthevan Machado, left, and Eric Bennett have been recognized for their research on the energy cost associated with the Achilles tendon.
---
Mount Royal University fosters high-level undergraduate research, and exemplary student work is being used to push the future forward. Two undergraduate students, Esthevan Machado and Eric Bennett, have been recognized for their research on the energy cost associated with the Achilles tendon.
Machado conducted his initial research at his home institution, the Federal University of Rio Grande do Sul in Brazil. When searching for a project to fulfill the requirements needed for his bachelor's thesis he came across a doctoral student seeking someone to help collect and analyze data. Finding himself in the right place at the right time, Machado would delve deep into the investigation of whether triceps surae's muscle architecture and Achilles tendon parameters are related to metabolic cost in trained long-distance runners.
Once his research was near complete, Machado began searching for a mentor to help him take it across the finish line, ultimately landing on Mount Royal health and physical education assistant professor Dr. Jared Fletcher, PhD.
"I wanted to work abroad, so I started looking for professors who worked with similar subjects to mine. Fortunately, I found Dr. Fletcher and we started our relationship through a simple email," Machado says.
Now a fourth-year physical literacy student at MRU, Machado and Fletcher would eventually co-publish a paper along with six other researchers titled "Triceps Surae Muscle-Tendon Properties as Determinants of the Metabolic Cost in Trained Long-Distance Runners" in the prestigious Frontiers in Physiology journal.
"This was my first paper as a first-time author and I have no words to describe how happy I am with how it turned out," Machado says. "I want to go to graduate school and eventually get my PhD, and this project helped me realize that it's possible for me to accomplish whatever I want."
Machado studied participants who ran on a treadmill for five minutes, finding that his original hypothesis was true. The triceps surae's muscle architecture and Achilles tendon parameters were, in fact, associated with metabolic cost for long-distance runners. Knowing that these variables are related can be used to alter and enhance athletes' running performance and conduct future research down the line.
Fletcher, who provided edits for Machado's work, says, "It's great to see any paper get published, but it's rare for an undergraduate student to publish, especially as a first-time author."
Once making the move to Calgary, Machado began working in Fletcher's lab, which is externally funded by various sources including the Natural Sciences and Engineering Research Council of Canada and houses experimental work conducted to answer questions broadly related to muscle mechanics and energetics.
"We're interested in the relationship between the physiology and the mechanics — what the muscle is doing versus how much energy it's consuming and how much oxygen it's taking," Fletcher explains.
Machado shares that students have almost total access to the lab, which allows them to be independent, while knowing they can turn to Fletcher for help if they need it. Machado is now working on a handful of new projects that are anticipated to be published as well.
A brand-new look at the function of the Achilles tendon
Machado isn't the only physical literacy student who has produced stand-out work in Fletcher's on-campus lab. Third-year student Eric Bennett received the 2022 Dr. Priscilla Clarkson Undergraduate Travel Award through the American College of Sports Medicine for his research into how the length of the Achilles tendon moment arm affects energy cost while running.
After taking exercise physiology with Fletcher, Bennett was eager to get a more hands-on experience after completing all of his labs online due to the pandemic. Last spring he began his research in earnest. Bennett's experiment split participants into two groups: a short Achilles tendon moment arm group and a long Achilles tendon moment arm group — directly comparing the two — something previous literature had yet to do.
"At this stage, the results of the study show that there's not much different between the two groups, but some of the main findings are still statistically significant," Bennett says.
The completed abstract for the project is what earned Bennett his award and he is now working towards completing a full research paper. Bennett shares that receiving the award felt surreal, and that when he first came to Mount Royal he wasn't expecting to succeed.
"I never thought I was cut out for university, so I'm still trying to wrap my head around the fact that an international institution has given me an award," Bennett says.
Bennett echoes Machado's praise, saying that Fletcher is the best mentor he could ask for.
"Research can be overwhelming, and Dr. Fletcher knows we're undergrads and that there's a level of understanding we don't have yet. He doesn't expect us to be perfect because he knows it's our first time doing a lot of things," Bennett says.
While Fletcher's role in the lab is to educate and assist undergraduate researchers, he shares that his students teach him something new every day.
"They go from not knowing how the equipment works or what the research process is to being totally independent in two or three months I joke that as a supervisor I should just stay out of their way or else I'll be the one to mess something up," he says.
For non-researchers, understanding the ins and outs of conducting research is usually limited and comprehending all that goes into undergraduate research is usually unknown. Machado shares that he, too, wasn't too sure what to expect going into his research but quickly learned one important lesson: "We are not alone."
"I always had Fletcher and my classmates behind me, and that support made me feel like I could try whatever I wanted. Research is something that shouldn't scare us, because there's help if you need it along every step of the way."
To learn more about undergraduate research at Mount Royal, get involved in Research and Scholarship Days from April 4 to 8.