High-demand MRU programs get funding boost from province's Alberta at Work Initiative
Business and computer science to add needed seats
Peter Glenn — Mount Royal University | Posted: May 16, 2022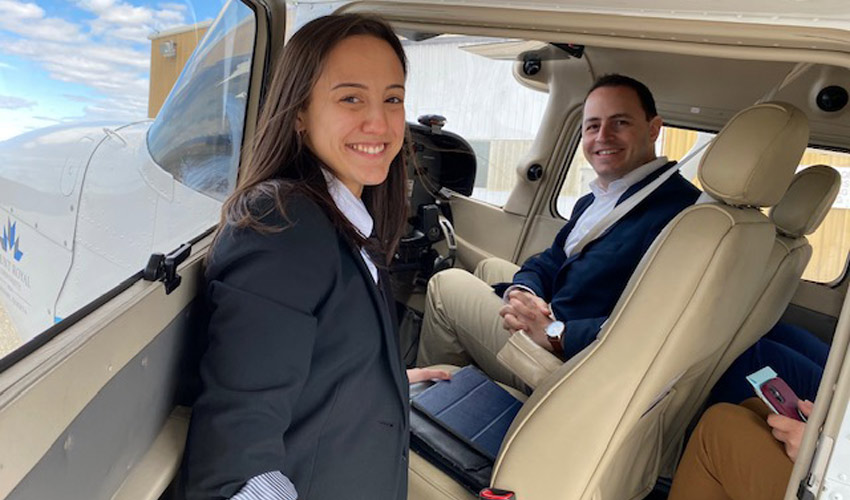 Aviation student Alissa Stirling prepares to take Minister for Advanced Education Demetrios Nicolaides for a flight.
---
Working for Alberta Health Services on its robotic process information initiative, Olga Koldachenko says learning people skills in the co-op placement has augmented and enhanced the education she is gaining through Mount Royal University's high-demand computer science program.
On Monday, during a news conference at the Mount Royal University Aviation hangar at Springbank Airport, the Government of Alberta unveiled further details of its targeted enrolment strategy that is providing $84.6 million to more than 3,000 new seats in Calgary post-secondaries, supporting students studying business, aviation, computer science, engineering and more high-demand programs. A total of $171 million is being invested across the province.
The strategic investment, a key part of the Alberta at Work initiative, focuses on creating more seats in high-demand programs in the post-secondary system to support the labour market of today and tomorrow and provide more opportunities for students to pursue well-paying jobs in growing industries.
"As a student and for future students, I'm grateful for this funding increase," said Koldachenko. "I'm looking to start a career after graduating from Mount Royal University so I appreciate the focus of the Alberta at Work initiative on students. We are the future of this province."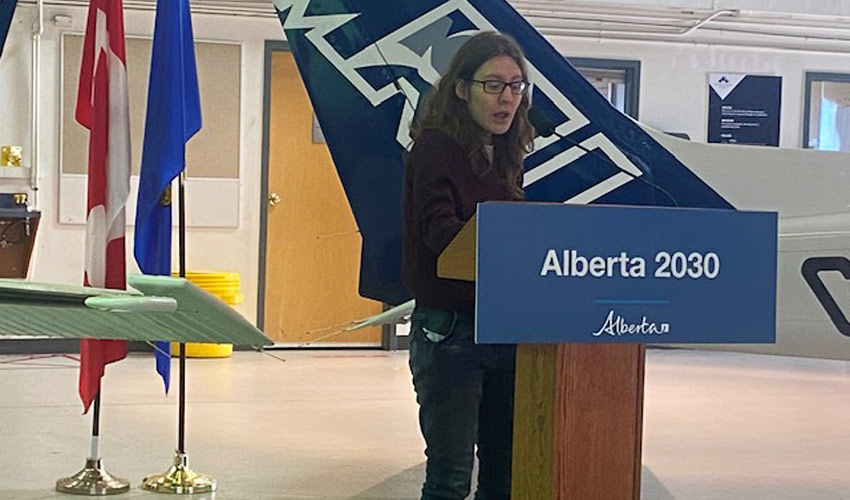 Student Olga Koldachenko addresses assembled university administrators and political leaders at the MRU Springbank hangar.
---
Demetrios Nicolaides, Minister of Advanced Education, told a group that included senior administrators from MRU, University of Calgary, SAIT, Ambrose University, St. Mary's University and Bow Valley College that "Calgary has always been a dynamic city of industry and we are seeing growth from many sectors.
"From aircraft maintenance to film and video production, we are supporting growing demand while providing additional support to core areas like nursing and engineering. This is about helping all Albertans by investing in high-quality learning opportunities that will impact our well-being, our quality of life and our futures."
In the Calgary region, the targeted enrolment expansion program will invest in 28 programs at post-secondaries. Funding totals for each school equalled:
Ambrose University: $198,000

Bow Valley College: $4.6 million

Mount Royal University: $7.9 million

Southern Alberta Institute of Technology: $10.8 million

St. Mary's University: $148,000

University of Calgary: $61 million
"MRU is pleased to receive this funding for targeted enrolment expansion from the Government of Alberta as it will enable us to add new seats in high-demand business and computer science programs," said Dr. Tim Rahilly, PhD, MRU's president and vice-chancellor, prior to the announcement during which MRU was represented by interim Provost Dr. Elizabeth Evans, PhD.
"The Alberta at Work initiative works hand-in-hand with Mount Royal University's emphasis on work-integrated learning, which provides students with more opportunities to learn hands-on from experts in their field and gain valuable work experience that helps them launch their careers."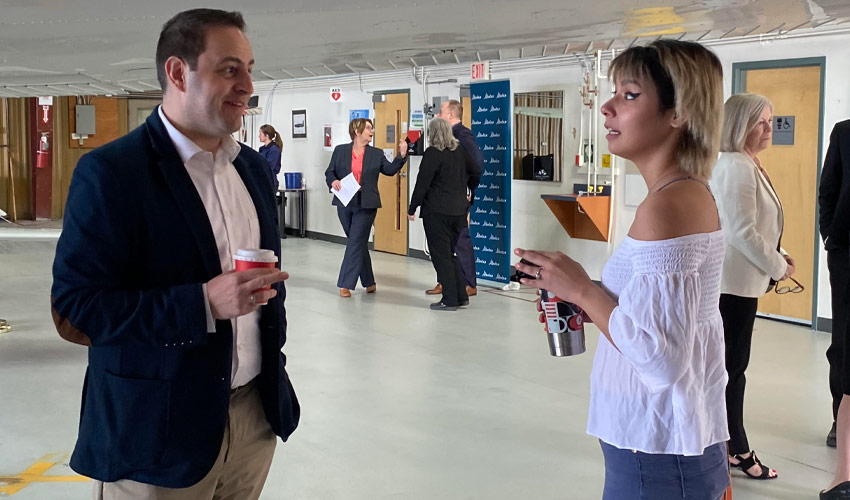 Advanced Education Minister Demetrios Nicolaides speaks with SAMRU VP External Tera Leigh Cardinal following the announcement.
---
Koldachenko agreed, telling the assembled university administrators and political leaders that co-op placements at AHS and at MRU itself – where she brought a student perspective to Equity, Diversity and Inclusion initiatives in the faculty of Science and Technology – have taught her "skills that cannot be learned in a classroom."
Mount Royal received funding for a number of high demand business and science programs:
Bachelor of Science, Computer Science
Additional enrolments:40 students each year (current intake is 60 students per year)

Additional funding: $1.3 million over three years
Bachelor of Computer Information Systems (this is the joint degree of Science and Technology and the Bissett School of Business)
Additional enrolments: 30 students each year (current intake is 100 students per year)

Additional funding: $1 million over three years
Bachelor of Business Administration
Additional enrolments: 82 students per year (current intake is 718 students per year)

Additional funding: $5.6 million over three years.
"Currently we are not able to accommodate the number of qualified applicants to these programs and I know that our post-secondary partners face similar challenges," noted Evans. "These additional seats will give more opportunities to Alberta students to study in areas that are critical to Alberta's future."