MRU honours singer, songwriter, author and actor Jann Arden with Honorary Doctor of Laws June 3
Arden attended theatre arts classes in the early-80s and filmed on campus in 2019
Matthew Fox — Mount Royal University | Posted: May 27, 2022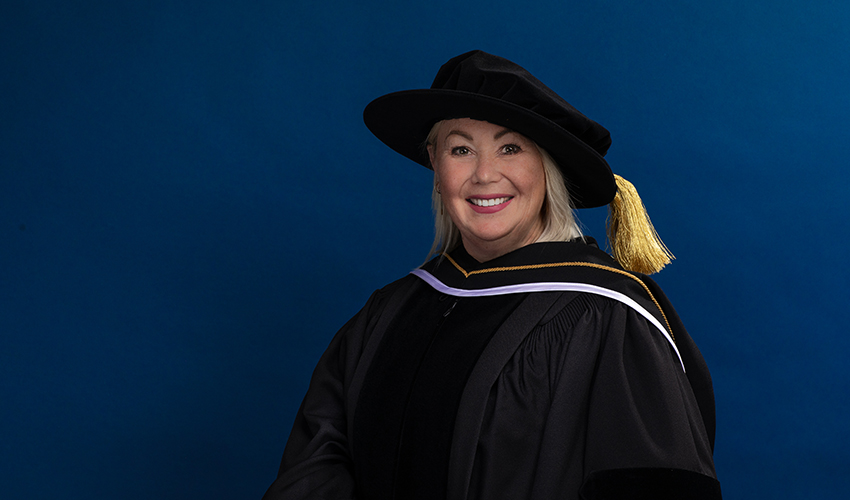 Jann Arden has had 19 top ten singles and garnered eight Juno Awards from 19 nominations, including Solo Artist of the Year in 1994, Songwriter of the Year in 1995 and 2002, and Female Artist of the Year in 1995 and 2001.
---
While driving her moped from her home in Springbank to Mount Royal College to attend classes for a theatre arts program in 1981, Jann Arden couldn't possibly have imagined she would ultimately receive an honorary doctorate by the same institution four decades later.
Mount Royal University bestowed the recognition upon the Canadian Music Hall of Fame member during the afternoon Spring 2022 Convocation ceremony on June 3.
"I was called a 'half-year' because I came in halfway through the year. I think I went for about six months," Arden recalls over the phone from Montreal during the first leg of a Canada-wide tour in support of her fifteenth studio album, Descendant. "I ended up just dropping out, hitching a ride with a friend and moving out to Vancouver to pursue music. I was all over the place with no plan, and when my friend said she had a place I could stay for free, I just went.
"I really didn't stick to any one thing for very long at all."
While Arden admits to having no roadmap as a young adult, persistence and not being afraid of failure are two ingredients key to her recipe for success over a prolific career since she arrived on the Canadian music scene in 1993 with a critically-acclaimed debut album, Time for Mercy.
Since then, Arden has had 19 top ten singles and garnered eight Juno Awards from 19 nominations, including Solo Artist of the Year in 1994, Songwriter of the Year in 1995 and 2002, and Female Artist of the Year in 1995 and 2001. She was the 2020 inductee into the Canadian Music Hall of Fame, a celebration held over until the Juno Awards in 2021 thanks to COVID-19.
"I never planned on a career in music, it's been a combination of luck and stupidity," she says. "Even at my age, I will continue to fail because I like having a purposeful life and I like trying different things."
Some of those "different things" include being an author, actor, broadcaster and podcaster.
Revealing honesty and approachable humour
Arden has written five books, the most recent being a memoir If I Knew Then: Finding Wisdom in Failure and Power in Aging, published in 2020. It followed Arden's 2017 Canadian best-seller, Feeding My Mother: Comfort and Laughter in the Kitchen as a Daughter Lives with her Mom's Memory Loss, which spent 21 consecutive weeks on The Globe and Mail bestseller list.
"It was an offshoot of my career that I didn't expect," Arden says. "It's been very satisfying to speak about my mom and my dad in regards to memory loss and navigating that nightmare. I was so surprised at the response to Feeding My Mother in particular, and how many millions of families were going through some form of that trauma with a loved one."
Arden has also acted, with supporting or guest roles in Corner Gas, Hell on Wheels, Workin' Moms and Wynonna Earp, to name a few. In 2019, a comedy series loosely based on a "fictionalized version" of her own life, JANN, debuted on CTV and has enjoyed three seasons to date. It earned a Best TV Comedy award from the Writers Guild of Canada in 2021.
In October 2019, filming for JANN's second season took place on MRU's campus for seven days, with various Mount Royal locales ultimately appearing in five episodes.
"In this series, Jann uses comedy in progressive ways to combat sexism, racism and homophobia," said Dr. Natalie Meisner, PhD, MRU's director of changemaking, Calgary's 2020-2022 Poet Laureate and a professor of English in her nomination letter. "The show is both accessible and sophisticated, Albertan and Canadian, and just damn good-hearted."
While Arden has enjoyed commercial and critical success in the fickle Canadian music and entertainment industries, she feels her achievements are, in part, a result of not being afraid to fail. "I can't think of an experience that didn't benefit from being resilient and being steadfast. I've learned so much from failing over the years, and I fail much more than I succeed.
"My dad used to say, 'If you're not failing, you're not trying,'" Arden recalls. "That's always stuck with me."
Arden has also taken risks by being outspoken on such issues as literacy, education, aging, caregiving, Alzheimer's and addiction. Currently, a campaign against animal cruelty dominates her social media feeds and fundraising efforts.
"As a true testament to her reach, Jann's influence has extended beyond the entertainment industry alone," says Dr. Brad Mahon, PhD, MRU's dean of the Faculty of Continuing Education. "Through the personal accounts of her struggle with alcoholism, to her openness of caring for her ailing mother, Arden's public vulnerability has created a safe place for many others to share and heal."
Over the course of her prolific and diverse career, Arden was awarded the Queen's Diamond Jubilee Medal (2012) and was invested as a Member of the Order of Canada (2017). She has also been celebrated with a star on Canada's Walk of Fame and a National Achievement Award from the Society of Composers, Authors and Music Publishers of Canada.
It's apparent Arden has lots going through her head when asked about this recognition from MRU. "I'm extremely honoured and touched and I will cherish it my whole life," Arden says. "I feel like a bit of an impostor, to be honest. I work with extraordinary people and have had so much help.
"I've just really enjoyed a creative life."