Answers 'Blowin' in the Wind' for English students at MRU
Peter Glenn — Mount Royal University | Posted: October 19, 2022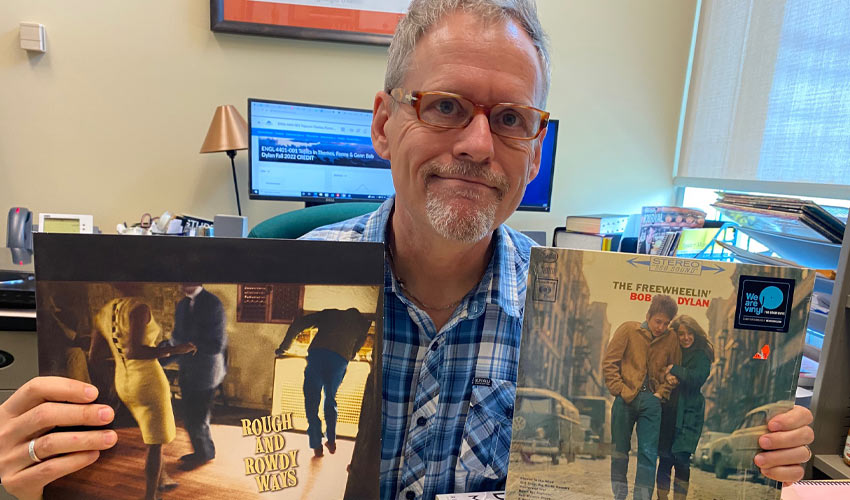 Dr. Rob Boschman, PhD, displays two Bob Dylan albums: Rough And Rowdy Ways and The Freewheelin'.
---
The line it is drawn
The curse it is cast
The slow one now
Will later be fast
As the present now
Will later be past
The order is rapidly fadin'
And the first one now will later be last
For the times they are a-changin'
– Bob Dylan, The Times They Are A-Changin'
Singer-songwriter, counterculture icon and political activist: Bob Dylan is a towering figure in popular culture, but perhaps not the first person who comes to mind as the subject of a university course. For the chair of Mount Royal University's English department Dr. Rob Boschman, PhD, however, Dylan hits the right notes as a suitable subject for study.
The class, ENGL 4401-001: Topics in Themes, Forms, and Genres: The Bob Dylan Song Book: Significance and Impact in American Culture and Politics, is studying an arc of 20 Dylan albums this semester by listening to them on vinyl and delving into Dylan's legacy in the context of American history and culture.
"When people think of Dylan they think of him as a singer and a songwriter, and of course he is that, but he's also a Nobel Prize-winner for literature," notes Boschman, a huge Dylan fan who is teaching the course that began with a class discussion of the last verse of the Dylan classic The Times They Are A-Changin' (See above).
Dylan was 22, around the same age as many students taking his class, when he was one of a number of protest singers standing by Martin Luther King Jr., and sang that song and Blowin' in the Wind prior to King's I Have A Dream speech.
"So here's this kid from Hibbing, Minnesota, Bobby Zimmerman, who becomes Bob Dylan and has this giant impact not just on American culture and history, but on everybody."
The course is diving into Dylan's memoir Chronicles, Volume One and looking at his infamous shift from acoustic folk to electric folk rock (he was roundly booed by many fans), a genre he more or less invented that influenced a generation of singers and bands to come, ranging from the Beatles, Rolling Stones and Jimi Hendrix to Joni Mitchell, Neil Young, The Eagles, Tom Petty, Tracy Chapman, REM, Ed Sheeran and many more.
"I've been teaching American poetry here since the late '90s, so we're going to look at him as a poet, but because it's Dylan, we have to listen. I don't want students to hear these albums on the cloud. I want them to hear it the way it was released," Boschman says.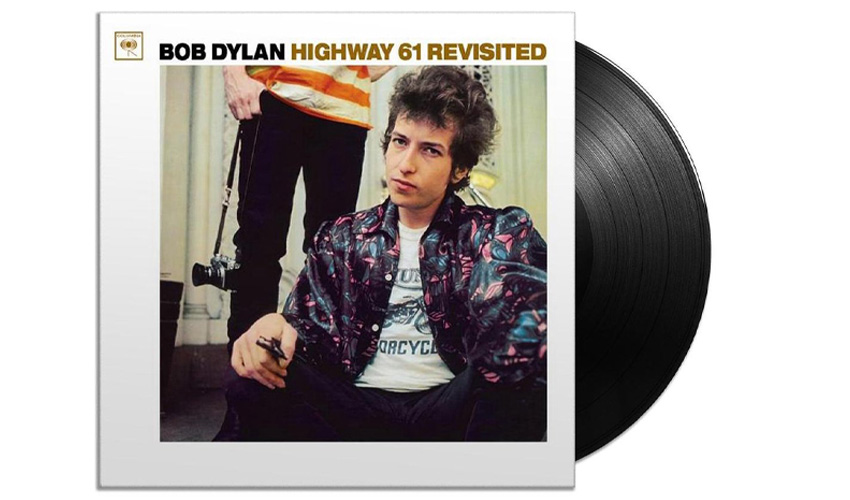 Album art for Bob Dylan's  Highway 61 Revisited.
---
"The biggest thing they're going to get is the experience of taking the album out, reading the back of the album sleeve and then listening to Side A. They don't have that. So the students in the class are going to look at the recording as a physical object, one that you have to clean and drop a needle on, and comes from the interaction of the diamond needle with the acetate etchings, the grooves in the recording. And there's this materiality. It's a tactile experience; not a thing that you do on your phone. There's a process in the handling of an archival document."
During an interview in his office before the start of the fall semester, with Mr. Tambourine Man spinning on a turntable behind his desk, Boschman zeroes in on the seminal albums Bringing it all Back Home and Highway 61 Revisited.
"If you look at 1965, these two albums come out and they're just bombshells. Then you're looking at a creative explosion and then a chameleon-like career since then. Dylan goes through a lot of changes, reemerging from time to time (up to and including 2020's Rough and Rowdy Ways) with a work of art that creates a cultural moment."
Rob Boschmann discusses the release of Like a Rolling Stone in the summer of 1965.
---
The course is also surveying America's folk and blues traditions, especially the living musical legacies rooted in slavery, emancipation, and reconstruction. Boschman's students will explore literary and musical intertextuality, including Dylan's collaborations; writing practices, controversies, and influences; the historical search for civil rights and justice in America; questions of artistic transformation, identity, appropriation, and creation; and issues concerning fame, love, religion and spirituality.
"I've taught Dylan in my American literature courses before and I do touch on pop culture figures in courses," says Boschman. "But this is the first time I've taught a course that is explicitly, uniquely, exclusively one person."
For English major Adelle Zielke, Boschman's enthusiasm for the topic and his use of music and video in class brought a depth she wasn't expecting from a course focusing on an artist associated with older generations.
"It's intense. I thought it would be more on just the poetry," she says, "but he's making it so interesting by tying in history and also the music."
Read more about the Department of English, Languages and Culture at MRU.