Get to know MRU at Open House 2022
Explore campus and Residence, meet your future profs, attend info sessions and more
Katherine Sharples — Mount Royal University | Posted: October 12, 2022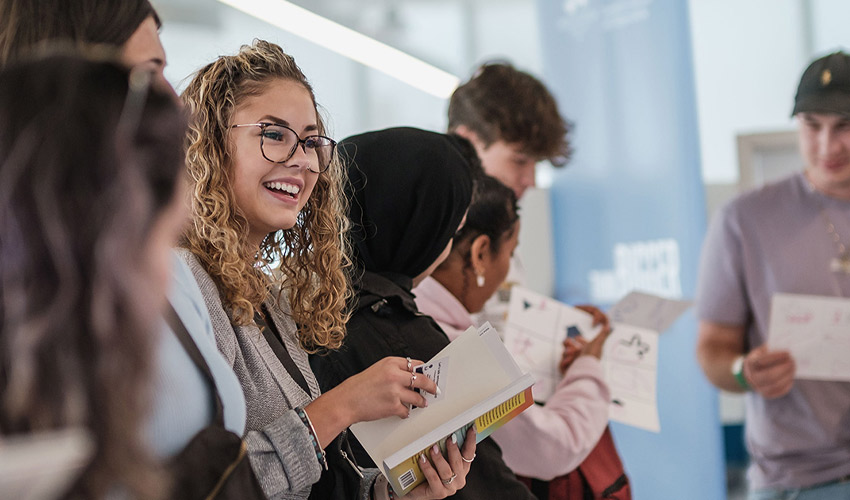 Open House provides prospective students an invaluable experience that can solidify their choices for post-secondary education.
---
Mount Royal University's premier event for prospective students, Open House, will take place on Saturday, Oct. 29 from 9 a.m. to 3 p.m. All are encouraged to stop by and discover what your Mount Royal experience could be. Take part in a mix of campus tours and live panels with MRU faculty, alumni and current students. Start making connections while learning more about MRU's programs, admission requirements, student services and campus life.
"Open House is a really great opportunity to get to know not only more about the academic side of things at Mount Royal, but to also see all the different facilities, to hear more about Recreation, all the different things we offer for students and what it would look like to be part of our community," admissions and recruitment assistant Christine McFarlane says.
How to get the most out of Open House
Prospective students often hear about Mount Royal's many buildings and interesting spaces on campus during high school information sessions or by browsing the website, but have yet to fully experience them in person.
"Open House is a way for students to get all the information they need in one day and it provides them with the opportunity to connect with some of the professors, staff and alumni in the programs they're interested in," national admissions and recruitment specialist Jake Wong says.
An interactive, informative and cost-free event, Open House provides prospective students an invaluable experience that can solidify their choices for post-secondary education.
"Open House is a great way to get a feel for things you may not have otherwise considered, and lead you to something you may not have initially thought of. More than anything, it's an opportunity to learn," McFarlane says.
"Anybody is welcome to attend Open House. All you have to do is register and from there you're welcome to bring any friends, family and supporters to learn about the university with you," Wong says.
Top tips for applying to MRU
After attending Open House and deciding MRU is the university for you, here are a few things to keep in mind during the application process:

Applying during the early admission period from Oct. 1 to Feb. 1 will provide you with the best opportunity for admission into your intended program.

You can apply to two programs with one application at no extra cost. Adding a second program to your application doubles your chances of being admitted to MRU for the fall semester. It's smart to have a backup option to your first choice to ensure you get your money's worth out of the $100 application fee. Both programs you apply for will be evaluated independently from one another.

Meet with an admissions and recruitment specialist to learn about the admissions process and get an admissions plan tailored to you.