Supports for academic success
Resources are available to be your best at MRU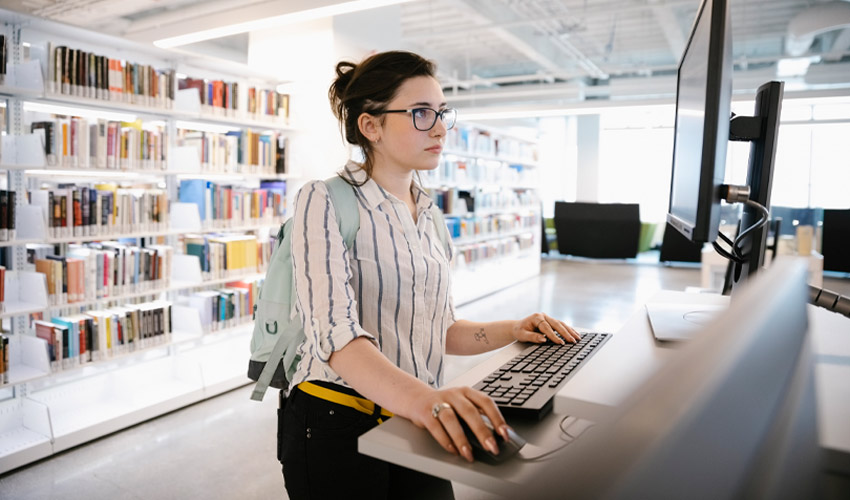 Mount Royal University has resources that can help keep you on track, ease stress and provide opportunities for long-term growth and resilience.
---
Mount Royal cultivates a caring campus community with many resources in place to assist in navigating personal and academic challenges. These systems can help keep students on track, ease stress and provide opportunities for long-term growth and resilience. Bookmark this page today and reference it when necessary.
Critical dates
Missing an important deadline, such as for paying fees or adjusting registration, can result in serious consequences. Stay organized and on top of Mount Royal's critical dates by following the critical dates calendar. The calendar also lists University closures, final exam information and changes to the semester.
One-stop support for all aspects of life
Students struggling with academic or non-academic concerns can connect with Early Support. The Early Support team is equipped to guide students through university life and prevent small issues from turning into big problems. Refer yourself to Early Support to discuss any challenges you might be facing in your personal or academic life.
Academic Advising
The team at Academic Advising Services is ready to help students reach their educational goals. Advisors answer questions about all things related to courses and programs, as well as how to address academic warnings, how to add, drop or withdraw from classes and how to manage deadlines. Academic advisors are available to schedule phone or advising appointments.
Find out who your academic advisor is and connect with them directly for information about the best way to schedule an appointment.
Student Learning Services
Creating integral learning experiences is what the team at Student Learning Services does.
Learning strategists are available to meet with students online to take charge of a variety of tasks, such as managing time, planning a presentation, math strategies, academic reading, exam preparation, organizing ideas, editing techniques and more.
Book an appointment with a Learning Strategist, attend a workshop or access their resources to optimize your learning. 
Tools to navigate online learning
Mount Royal's faculty and staff have prepared a number of tools to assist individuals in getting the most out of their university experience. The University has a dedicated website to help students navigate their learning environment by providing continuous support and numerous resources. For those enrolled in remote courses, check out "Four tips for learning online" from Mount Royal's learning strategist team as well their online resources focused on setting you up for success.
Scholarships and bursaries
Reading Week is a good time to apply for MRU scholarships and bursaries and Alberta scholarships. Only one application is necessary. The deadline is March 1.
Connect with a subject librarian
The Library has a team of subject librarians who provide instruction and guidance for research-based assignments or projects. Students can also access subject librarians to learn research skills and get help with finding the best sources for a research paper. Schedule a virtual appointment or send an email with your research-related questions today.
Equipment booking, including wireless hotspots
Students can borrow a variety of portable pieces of technology from the Library to support their learning needs. Popular tools are wireless hotspots that keep Wi-Fi enabled devices connected at all times. Browse the catalog and submit a request.
Get active at Recreation
Activity has a significant impact on mental and physical well-being. Students needing a little exercise can sweat it out at Recreation for free on campus. Personal training, lessons, certifications, programming, a gym, running track, squash courts and much more are available. 
Access and Inclusion Services
Access and Inclusion Services assists in creating an accessible, equitable and inclusive learning environment that encourages full participation in academic courses for students experiencing disability-related barriers. Students must be registered with Access and Inclusion Services for academic accommodations. Register with the office today.
Withdrawing from a course
In most circumstances, withdrawing from a class is better than receiving an "F." Students are encouraged to connect with their professor or an academic advisor to discuss the consequences of withdrawing versus receiving a failing grade.
Career Services
Career Services offers students the opportunity to achieve their career and employment goals.
Connect with members of the career development team to discuss work experience opportunities, explore career options related to your chosen program of study and find out what program or major to choose to land your dream job.
Career Services can help you get started on your career journey.
Indigenous Mount Royal
The Iniskim Centre provides programs and services to increase the engagement and success of Indigenous students while also raising awareness of Indigenous Peoples and cultures.
In addition to student success programming, the Iniskim Centre offers cultural teachings through the Medicine Trail program, oversees the Indigenous Housing Program and assists with other specialized supports such as the BMO Indigenous Peer Mentorship Program. Online appointments are available. Please contact the program co-ordinator to set up an appointment.
Live well at MRU
Wellness Services offers a variety of health services that improve the chances of academic success. Students have access to mental health services, medical practitioners and the MRU Injury and Prevention Clinic.
Student counsellors can help students who are struggling with personal concerns and assists those facing barriers with their educational and career goals. The team offers online individual counselling, webinars and workshops.