Enhancing the legacy of Alumni Giving
Mount Royal alumnus Doug Dirks donates $50,000 to create a new scholarship for journalism students
Matthew Fox — Mount Royal University | Posted: November 29, 2022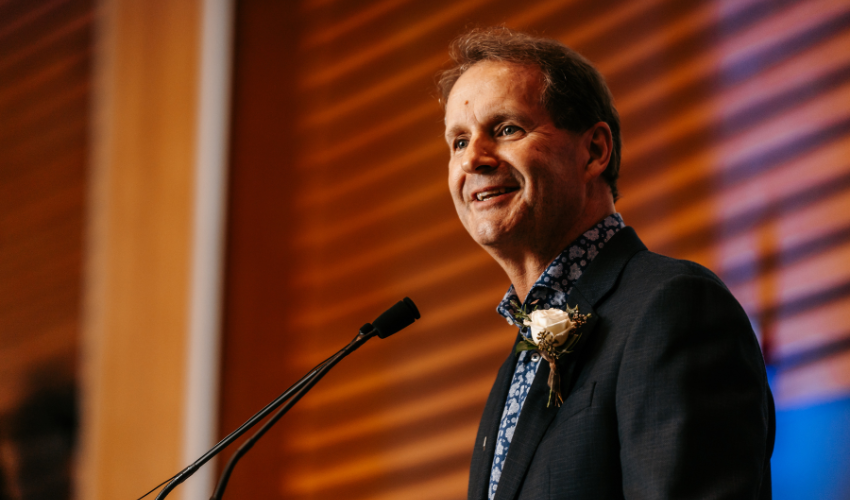 Doug Dirks' approach to philanthropy has evolved and is now grounded in the recognition that every contribution, no matter the size, is meaningful.
---
To suggest Doug Dirks (Sports Administration Diploma, 1983) has seen the growth and maturity of Mount Royal University from a few different perspectives would be an understatement.
"It was such a small school when I started that you got to know your fellow students and faculty really well," says the recently retired CBC broadcaster. "I had a real connection to Mount Royal and made some lifelong friends there."
Now, his name — so familiar to Calgarians after working in the media spotlight for nearly three decades — will endure in MRU's journalism program well beyond his lifetime.
Dirks has made a $50,000 gift to Mount Royal, establishing an endowed scholarship that through the annual Doug Dirks Journalism Award will support a third- or fourth-year student who has demonstrated academic excellence and financial need.
"Journalism has been under attack for years and a functioning democracy needs a strong free press," Dirks says. "If I can lighten the load of a student who is working hard to become a professional journalist, that would be quite gratifying."
Dirks' approach to philanthropy has evolved and is now grounded in the recognition that every contribution, no matter the size, is meaningful. "I'm glad to be in the position now to do something that will have a lasting impact."
"Back when I didn't have any money and was raising a family, I'd wonder how much difference does a small donation make?" he says ahead of Giving Day on Nov. 29. "My answer now is that if everybody donates a small amount, it becomes a large amount. It's the snowball effect."
Looking back on how Dirks' campus connections started, for a semester he was a Cougar on a men's hockey team that was so bad it compelled Mount Royal's administration to disband the squad.
"I had a great time playing for that team briefly, but they were awful," he says, chuckling. "I think they lost 64 in a row, a record at the time."
While earning his diploma, Dirks served as the public address announcer for the Jack Kenyon-coached Cougars men's basketball team and did the play-by-play for broadcasts on Shaw.
After graduation and heading to Montreal to earn an education degree from McGill, Dirks returned to Calgary and the Mount Royal campus to work for Cougar Athletics.
"I was the assistant to Al Bohonus and responsible for marketing the Cougar Athletics teams," Dirks says. "That's what spurred my interest in journalism, because part of my job was to promote the teams and players to the Calgary media. It reminded me how much I enjoyed doing the broadcasting when I was a student at Mount Royal."
Dirks took advantage of his wife, Laura's, job transfer to Toronto in 1987 to enrol in a one-year certificate program in radio broadcasting at Humber College.
"That Mount Royal connection really triggered things," Dirks recalls. "In retrospect, had I not worked in the athletics department I probably wouldn't have gotten the bug that sent me forward into pursuing it as a career."
Fast forward to the 2000s and Dirks was news anchor of CBC Calgary's 6 p.m. television news. He earned a CBC President's Award for his coverage of the Calgary Flames' 2004 Stanley Cup playoff run and was a play-by-play announcer at five Olympic Games.
During that period Dirks served as a member and later as chair of the advisory board for MRU's journalism and digital media program as it transitioned from a two- to a four-year program.
From awards night host to recipient
Around the time he was named the new host of CBC Calgary's afternoon radio show The Homestretch in 2011, Dirks started to emcee MRU's annual Alumni Achievement Award celebrations, something he and his Homestretch colleague and fellow MRU alumna Jenny Howe did, usually as a duo, for more than a decade.
Working for nearly 30 years in one market as a television news anchor, radio host and play-by-play announcer, Dirks' experience positioned him as an acclaimed community storyteller and a humanitarian renowned for volunteering countless hours to such local charities as the Calgary Food Bank, Woods Homes and the Immigrants of Distinction Awards as a master of ceremonies at fundraising events.
In recognition of these many contributions, Dirks received the MRU Alumni Association's 2022 Lifetime Distinguished Achievement Award in October.
Since signing off from The Homestretch for the final time in February, Dirks has stayed engaged as a media trainer, hosting corporate events and calling the action for the chuckwagon races at the Calgary Stampede and equestrian events at Spruce Meadows. "I'm as busy as I want to be and I'm gratified that the phone keeps ringing," he says.
Dirks, whose sister has taught at MRU, will soon be the senior member of a two-generation MRU alumni family; his daughter will graduate next spring with a Bachelor of Communication — Public Relations.
"It's a family tradition that everyone at some point has had some sort of connection to MRU," he says, proudly.