New book helps young journalists navigate freelance landscape
Author Meg Wilcox focuses on Canadian market
Peter Glenn — Mount Royal University | Posted: November 29, 2022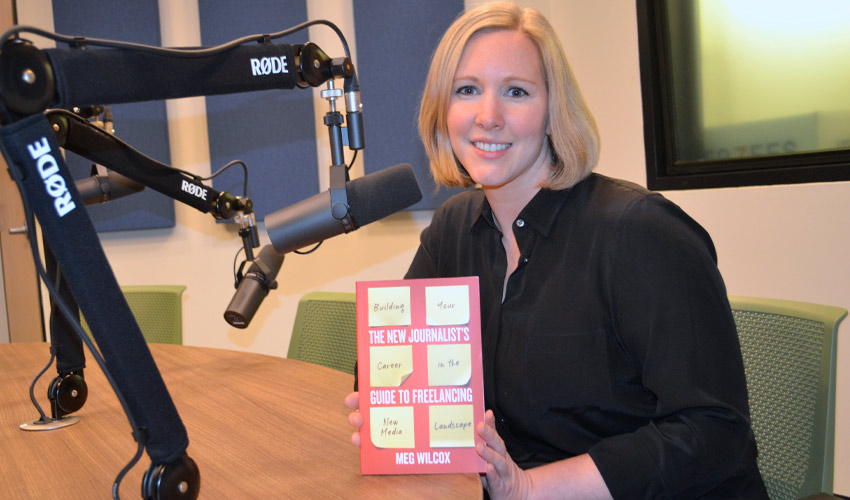 Meg Wilcox, assistant professor of journalism and digital media at Mount Royal University, has written a new book, The New Journalist's Guide to Freelancing for journalism students, recent graduates and those early in their career looking to better understand both the creative and business sides of freelance work.
---
The gig economy (Uber, Skip the Dishes) is in many ways new and evolving, but in media, freelancing (being paid by the story, photo or video) has always had a presence. Breaking into the market and making it worthwhile, however, presents challenges for young journalists.
Meg Wilcox, assistant professor of journalism and digital media at Mount Royal University, has written a new book, The New Journalist's Guide to Freelancing (Broadview Press, 206 pages), for journalism students, recent graduates and those early in their career looking to better understand both the creative and business sides of freelance work in Canada and the U.S.
The book covers developing a personal brand, how to pitch story ideas to different types of publications and media outlets (radio, TV, web and print) and how freelancers can plan for their financial future.
Sally Haney, chair of the Bachelor of Communication — Journalism and Broadcast Media Studies at MRU, says, "I'm thrilled for Meg and excited by this book. Meg has managed to bring together her experiences as a freelancer, a journalism educator and a gifted interviewer. All of it comes together in this practical resource that will be invaluable to our students, our alumni and Canadian freelancers, everywhere."
Built from personal experience
An interest in freelancing began for Wilcox when she was completing her master's in journalism at Carleton University in Ottawa, where she wrote and produced a few freelance print and radio pieces.
"I think we were all considering freelancing to some extent. I graduated in 2010 and it was a pretty uncertain time in the media," she recalls.
"There was no job for me coming out of graduation and my career was freelance until I got to MRU. I worked short contracts or year-long contracts but I never had a full-time job as a journalist. So, for me, it's always been a mix of working contracts with clients, maybe working as a temporary employee in newsrooms, maybe selling freelance pieces and balancing all of that work. That's really where I came from as a journalist."
While there are a lot of books and online resources for freelance writers, Wilcox also wanted to offer a guide that spoke to the Canadian experience.
"Some things like building your networks and pitching story ideas are pretty consistent across the board, but when you actually get to financial planning or understanding RRSPs or figuring out some of your billing, a lot of that is different depending on where you live."
Freelancing provides options, flexibility and control, explains Wilcox. For example, if a journalist wants to follow a beat or have an area of expertise, many news outlets no longer have the luxury of allowing that. But a freelance science reporter can decide to file stories on particular subjects they have an affinity for and experience writing about to Popular Science magazine, for example, or as features for newspapers and websites.
Young journalists can build a portfolio out of school, or can find freelance work between media jobs to continue applying their profession. Others may decide a full-time media job isn't for them, but want to keep working on passion projects and things they are really good at on the side of whatever direction their work life takes.
"What I like about freelancing is it's another tool in your arsenal as a journalist. You can work for yourself or work with clients and build a career that works for you."
Getting your name out there
Building a personal brand is important for anyone venturing out on their own, and freelance writing is no exception as journalists try to make a name and differentiate themselves from others pitching story ideas to harried editors.
"A brand isn't just what you're reporting, although that's part of it. It's part of who you are, too. What are areas of speciality that you want to work on? What are you good at? Editors, meanwhile, want freelancers who are fun to work with, who are smart, who are meeting deadlines, who are really into getting those edits done and who work well with them."
Wilcox says one of the challenges for freelancers is figuring out what a career might look like. Traditionally, a young print journalist might start as an editorial assistant, working their way up to a reporting job and eventually as a columnist or editor. In TV or radio, they may start as chase producers and move to reporting or hosting. But, for freelance, the next step isn't always clear.
"When you're working as a freelancer, there isn't an obvious promotion. Also, as you continue and build a family or have other expenses, you need to figure out when and how you are going to step up your rates, or what jobs you are going to take to fill in those gaps."
Certainly freelancing long term is a challenge, but many people embrace it, particularly in an uncertain employment market where legacy media continues to struggle with business models in an age of digital advertising and outlets that seem to be continually cutting staff counts as media alternatives emerge. If a freelancer is able to build a roster of clients and multiple income streams, losing one is not as catastrophic as being laid off from a full-time job.
Between every chapter, Wilcox includes interviews with freelancers who have taken their careers in some interesting directions.
"We talked about their trajectory and what they learned and what they wished they knew and I try to tie those into the concepts that are in each of the chapters," she says. "What surprised me was how generous freelancers were of their time and to meet and talk with me. I know they're busy and they have a lot on the go."
One of those is MRU alumnus Jeremy Klaszus, who freelanced for a number of publications before starting his own "slow news, pop-up journalism" project, The Sprawl.
As The Sprawl's editor, Klaszus now hires other freelancers for the publication. "It is weird to be on the other side now," he says in the book. "I joke with my freelancers (that) I became the person I used to complain about —the editor who doesn't get back to you quickly."
Wilcox urges students who are interested in trying the freelance writing market to embrace the fact they have a lot to gain and little to lose, and that while they may think of freelancing as a solo endeavor, they can develop a network of connections and supporters. The myth that the freelance world is solo and lonely is simply that.
Her hope is that the book will help young freelance journalists on that journey by giving them resources they need to succeed.
"I think at any point if a student goes into this having an understanding of the decisions they're making and why they're making them, then they're in a better position not to be taken advantage of," she says, referring to the hard reality for anyone engaged in contract employment.
"We want our graduates going into the field understanding who they are and what they're worth, and how they can make decisions that resonate with them, meet their needs and give them a meaningful career as well."
Read more about MRU's journalism and digital media and broadcast media studies programs.