Understanding horse-human connections
Research explores the significance of an animal that has helped advance cultures and societies
Katherine Sharples — Mount Royal University | Posted: January 9, 2023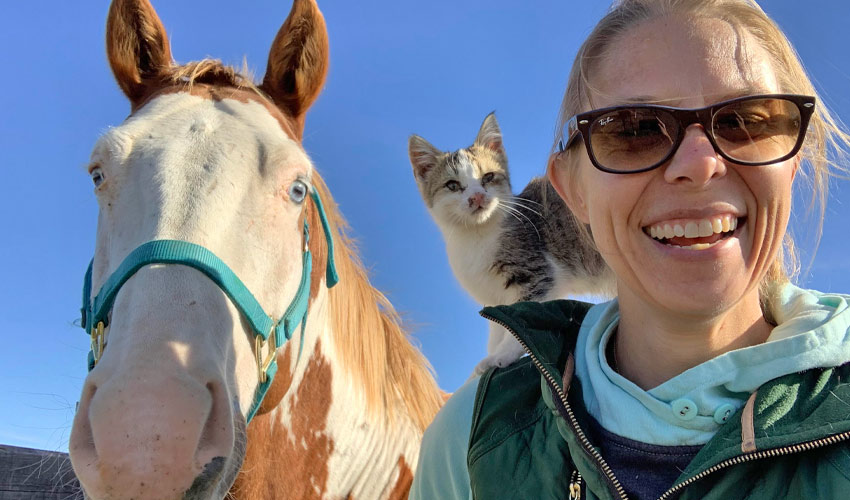 Dr. Carolyn Willekes continues to expand her knowledge through her publications and research collaborations.
---
When Dr. Carolyn Willekes, PhD, isn't in her Mount Royal classroom, she can sometimes be found re-enacting equestrian events at the nearby Military Museums. Last year, the assistant professor of general education and classicist participated in the museums' Summer Skirmish events as part of the Society of Tilt and Lance Cavalry and took home the prize for Mounted Skill at Arms Games twice. The games train people for mounted combat by testing their skills on horseback with different forms of weaponry. Willekes participates using a sword, spear and lance.
"In a medieval context, these games were the training grounds for future knights," Willekes says. "In the periods I focus my research on (ancient Greece and Rome), different forms of skill-at-arms contests were used to maintain the training of their cavalry forces, as competition is a great motivator for practising one's riding and fighting drills."
Willekes researches historic horse-human interactions and her participation in the society helps her learn how past humans worked with and trained prey animals to participate in both war and entertainment. She says that the element of this relationship that always stands out is the partnership that exists between horse and rider.
"It's easy to overlook the existence of an emotional bond, particularly when looking at the history of the war horse, as it can be difficult to wrap our heads around the fact that someone would ride a horse they cared about into war, but this was central to the very existence of cavalry," Willekes says.
She explains that each horse has its own individual personality, as does each rider, and both have to work together to build a level of trust in one another and be successful.
"Not every horse and rider mesh together, and this can create conflict, tension and a lack of trust between them. To ride a horse into war required a deep level of trust and understanding, and so the horse-human bond was really at the heart of it all," Willekes says.
Calgary and Alberta are equestrian hubs, according to Willekes, who says that horses and equestrian cultures are a central component of the city and province in many different ways and from different cultural perspectives.
"The horse is of great significance to First Nations communities in the province. It is fundamentally tied to ranching and rodeo, and to Calgary in particular, since Spruce Meadows is a hub for international show jumping. I think this really exemplifies not only the importance of the horse to this place, but also the diverse ways horses have woven their way into the fabric of society," Willekes says.
Why the horse matters
Understanding the horse-human interaction is important to modern society, Willekes explains. The horse is an introduced species to many parts of the world, and in many cases that introduction occurred as a result of colonialism and conquest. Yet, over and over again the horse is accepted into the community and becomes a part of its cultural identity.
The horse-human connection has allowed the animal to remain integral long after events like the industrial revolution and the mechanization of agriculture, transportation and warfare, which speaks to the ways in which humans connect with the horse on a personal level.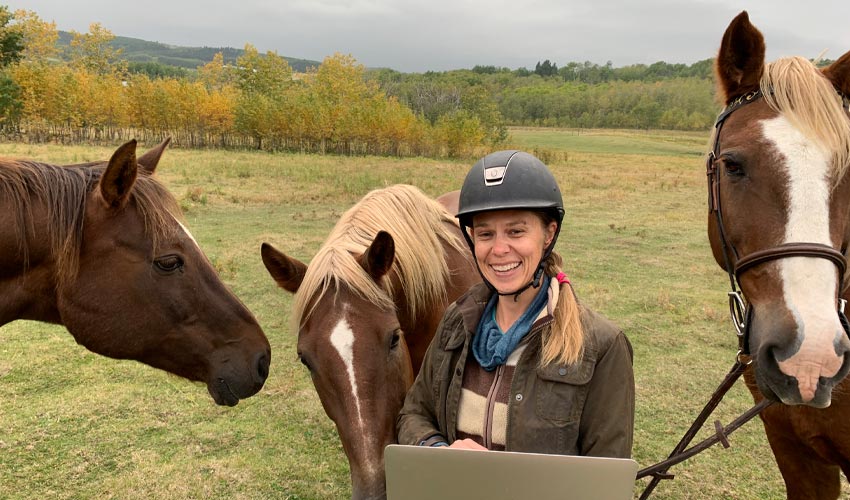 Willekes explains that each horse has its own individual personality, as does each rider, and both have to work together to build a level of trust in one another and be successful.
---
"For many people, their relationship with the horse is a form of therapy and escape from the pressures of society, and in some cases, horses are performing actual therapeutic work — physical, mental and emotional therapy — for people from all walks of life. So, in many ways, though the primary role of the horse seems to have changed, it is just as important as it ever was," Willekes says.
Having ridden for more than 30 years, starting with a childhood love of horses, Willekes fell into studying ancient cavalry in graduate school. She became fascinated with the idea of the war horse; on paper it didn't make any sense to use a prey animal with a strong flight response in battle.
"I found a way to combine my years of experience working with horses and my academic background in ancient history to start exploring the horse-human relationship in past cultures and societies," she says.
Assistant professor of anthropology professor Rebecca Gilmour, PhD, shares why Willekes' scholarship and teaching is so special.
"It crosses cultures and times to explore human relationships with the horse, an animal that has supported so many advancements, population movements and personal connections that form around horses as important resources throughout our history."
Willekes' research also has the potential to influence Gilmour's bioarchaeological work on pathology, impairment and mobility, especially in the Roman Empire. Gilmour explains that the human skeletal system may be affected by riding a horse and injuries sustained may lead to impairment. Bone shapes may alter in response to a lot of riding. Some humans in the past also likely used horses as a type of "mobility aid," helping people move around their world with greater independence.
"This connection between some humans and their horses may even help modern archaeologists and historians bridge the gap between physical impairment and social experiences of disability," Gilmour says.
Willekes continues to expand her knowledge through her publications and research collaborations. She recently presented at an equine studies conference in Spain, and she works with colleagues around the world as the president of the Equine History Collective.
As for her future teachings at MRU?
"I'd love to lecture from horseback, but I think we would need to sort out the logistics of having a horse on campus first!"
General education courses at MRU provide students a well-rounded knowledge base in a variety of areas.