New Conservatory Chamber Ensembles-in-Residence program funded by long-time MRU supporter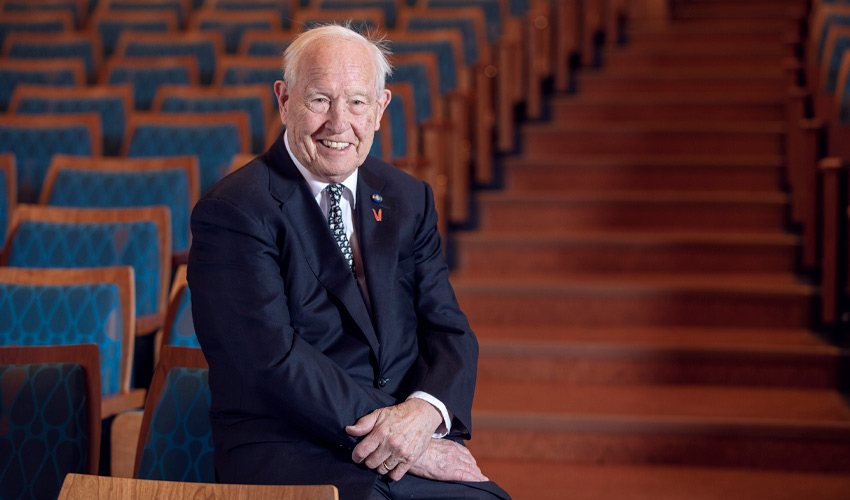 John Lacey's love of the arts was ignited by his late wife, Naomi, who took piano lessons at MRU in the 50s.
---
Dr. John Lacey, PhD, donated the first piece of art he ever purchased — an oil painting depicting Italy's Lake Como — to a good cause.
"I gave it to Cork and Canvas to sell in their auction," the Albertan says. 
It is entirely fitting that the man, who has built quite the art collection since picking up that initial piece back in 1960, would be so self-sacrificing. Indeed, the British-born philanthropist, who established a distinguished career for himself in the petroleum industry, gives to many charitable endeavors, especially in the arts, earning a reputation for his dedication to promoting excellence, fostering collaboration and making a difference.
"Probably 30 years ago, I decided that if I was going to support something it would be for a number of years," he says.
He has now been a long-time volunteer with the Mount Royal University Conservatory and is a former chair of its advisory committee (January 2017 to January 2023), backing initiatives designed to bring out the best in students.
His latest gift to MRU through the Naomi and John Lacey Foundation for the Arts is a three-year $90,000 commitment to fund the Conservatory's new Chamber Ensembles-in-Residence Program, which will expose Advanced Performance Program (APP) and Academy Program students to world-renowned musicians through workshops, masterclasses, side-by-side rehearsals and one-on-one sessions.
For some, residencies will culminate in a performance in the Bella Concert Hall, showcasing students alongside the chamber ensemble-in-residence.
"It's the experience factor, which hopefully fuels the enthusiasm factor and helps teachers to strengthen their teaching," Lacey says, who has been named as a Member of the Order of Canada (CM) and was bestowed an Honorary Bachelor of Arts — Policy Studies at MRU in 2018 and an Honorary Doctor of Laws in 2019 from the University of Calgary.
He also holds several bachelor degrees and has a doctorate in geology and engineering from the University of London.
The noteworthy supporter of the Calgary Philharmonic Orchestra (CPO) says the goal is to invite more collaboration to the Conservatory in a bid to bolster its profile.
"I would like to see it become more academic and the Juilliard (School) of the north," Lacey says, referring to the elite, world-renowned New York centre for performing arts. "The residency is a gimme."
There will be two each year, one with local musicians and another with international artists, designed to inspire and educate budding musicians here on campus.
Lacey's love of the arts was ignited by his late wife, Naomi, who took piano lessons at MRU in the 50s. The couple created the Naomi and John Lacey Virtuoso Programme to bring the world's greatest artists to perform at the CPO.
Now, with the residency program, CPO artists can give master classes at MRU, part of what Lacey sees as a way to benefit students, the musicians and, of course, the audience.
That spirit of collaboration is, perhaps, the essence of the new program.
APP student Bella Swalm says just being part of the Conservatory means "being with people who enjoy doing what you do."
But a recent residency with the New Orford String Quartet took it up a notch.
"Being surrounded by such phenomenal musicians, you kind of experience what a professional life looks like," the violinist says. "We got to participate in chamber groups and one of the members of the quartet would be in the group with you."
Swalm took note of advice gleaned during a workshop on preparing for auditions and soaked up all the possibilities illustrated by the experience including a future where she, too, might be in a chamber group like the New Orford quartet.
Sharon Wei, associate professor of viola at Western University, is in the quartet and gave that workshop.
She, too, loves the residency program.
"Students at Mount Royal are so wonderful and they've got such great teachers," Wei says. "I feel so lucky to work with them."
Laurie Matiation, artistic director of the Academy Program, says the residency creates valuable networking between guest artists and students who may turn to them for help in furthering their musical ambitions.
"One of the students said, 'If you are doing this every year, I'm coming back,'" Matiation says. "That's why we do what we do. We want to inspire the students. They are the future of the arts industry."
Lacey's incredible gift means ramping up the student experience by fine-tuning their performance skills, says Terry Clark, the newly-minted Conservatory director.
"Bringing guest artists in like this offers students different perspectives, different ideas and is just broadening the education they get," he says. "We are hoping this creates a bit of a buzz about the Conservatory and attracts more donors."
Last year, the Mount Royal University Foundation raised more than $7 million to enhance the student experience and executive director, Terry Kellam, says every  gift comes with a commitment to honour the intentions behind it. He sees Lacey's donation as a vote of confidence.
"Support from people like Dr. Lacey, who has such a solid reputation in the community, lends credibility to our efforts," he says. "His most recent donation is yet another example of his belief we are doing good things."
Lacey also supports visual arts by working with Contemporary Calgary and partnering with the National Gallery for the Lacey Prize. His portrait of his late wife, Naomi, by Rich Theroux was gifted to MRU and is on display at Bella Concert Hall.
The next residency, this time with the CPO, will be in Spring 2023.
Did you know?
The Conservatory teaches approximately 2,000 music students, including 110 in the Academy and 20 in the APP. Learn more.