Blue Storm chronicles tempestuous premiership of Jason Kenney
MRU-led project last work from Professor David Taras, PhD
Peter Glenn — Mount Royal University | Posted: March 2, 2023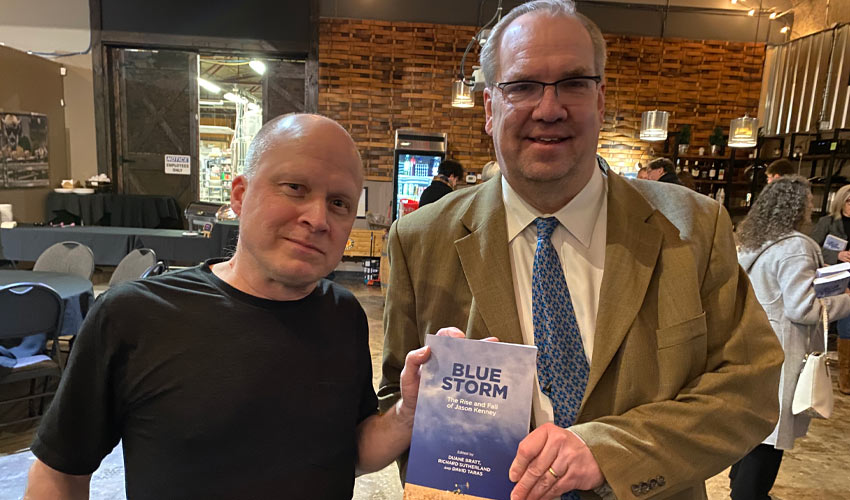 Richard Sutherland, left, and Duane Bratt attend a book launch for Blue Storm: The Rise and Fall of Jason Kenney at Wild Rose Brewery.
---
If Alberta's NDP government blew into power like a Chinook wind in 2015, then conservatives storming back four years later is a compelling story worth analyzing.
In 2019, the United Conservative Party (UCP) under Jason Kenney, who had returned from Ottawa in a blue pickup truck to unite the old Progressive Conservative Party and the Wildrose Party before successfully running for the leadership of the new UCP, restored conservative power in a province that had seen the PCs win every election from 1971 to 2015.
Having documented the rise of the NDP in a collection of essays titled Orange Chinook: Politics in the New Alberta, Mount Royal University political scientists Duane Bratt, PhD, Richard Sutherland, PhD, and David Taras, PhD, were eager to analyze the conservative rebound.
The result, Blue Storm: The Rise and Fall of Jason Kenney (508 pages, UCalgary Press) is the first scholarly analysis of the 2019 election and the first years of the UCP government, with special focus on Jason Kenney's rise to and fall from power, a demise the editors did not anticipate when they began the project in June of 2021.
Blue Storm opens with a deep dive into the election, including the campaign, polling and online politics. It provides insight into internal UCP operations, with chapters on divisions within the party, gender and the UCP, and the symbolism of Kenney's truck. Explorations of oil and gas policy, the Canadian Energy Centre (a.k.a. the War Room), Alberta's budgets, health care, education, the public sector, Alberta's cultural industries (a chapter by Sutherland focuses on the Alberta-shot HBO hit The Last of Us and shifting policy on film production credits resulting in a bright spot for economic diversification), and more provide insight into the actions, motivations and impacts of the UCP in power.
Authors from MRU include Bratt, Sutherland (who, along with Taras, acted as editors); Lori Williams (policy studies); Brad Clark, PhD, (journalism, writing); Brooks Decillia, PhD, Gillian Steward, PhD, and Peter Ryan, PhD, (communications); Doug King (justice studies), and Charles Webber, PhD (education).
Dean of the Faculty of Arts Jennifer Pettit, PhD, supported the book as editor of the faculty's Arts in Action series under which Blue Storm was published through UCalgary Press. Other contributors hail from the University of Calgary, SAIT, Royal Roads University, Carleton University and the University of Alberta, and include journalist and former Edmonton Journal provincial affairs columnist Graham Thompson.
At a book launch event held Feb. 28 at Wild Rose Brewery, Clark, Williams, Sutherland and U of A's Jared Wesley spoke about their chapters. When asked by a student during a Q&A afterwards what overarching themes readers could take away, a consensus formed that politicians of all stripes could benefit from: Albertans on the whole are nuanced, complex and increasingly diverse, proud of their province and their country, pragmatic, demanding of fairness and respect, but not as ideological (either right or left) or angry as political parties seem to think or hope.
The first stage of the Storm
The process of compiling the book began with a two-day online conference of authors organized by Taras and Bratt. The editors wanted to focus on different topics and perspectives than those that had made up Orange Chinook including cultural politics, education and health care.
"Typically health care and education are the biggest spending envelopes for any provincial government. In Orange Chinook we had nothing on that because there was nothing novel to say," Bratt says. "But the UCP were absolutely making changes in those areas."
The project was initiated by Taras, who passed away in 2022. Showing his enormous humility, shortly before he passed away Taras requested he not be noted on the cover as a co-editor because he felt he didn't contribute enough during his illness. That request was acknowledged but respectfully denied, Sutherland and Bratt explain in the book's preface.
"Blue Storm wouldn't have happened without Orange Chinook, and Orange Chinook was David's idea. Prior to getting sick, David helped assemble the authors for Blue Storm. He recruited some of them, and we identified the topics in multiple meetings. It was his last project and the very first book was given to (David's wife) Joan Taras," Bratt says, and the book is dedicated to Taras' memory.
The collaborative structure of Blue Storm continued a long-established method of editing collections that Taras prided himself on.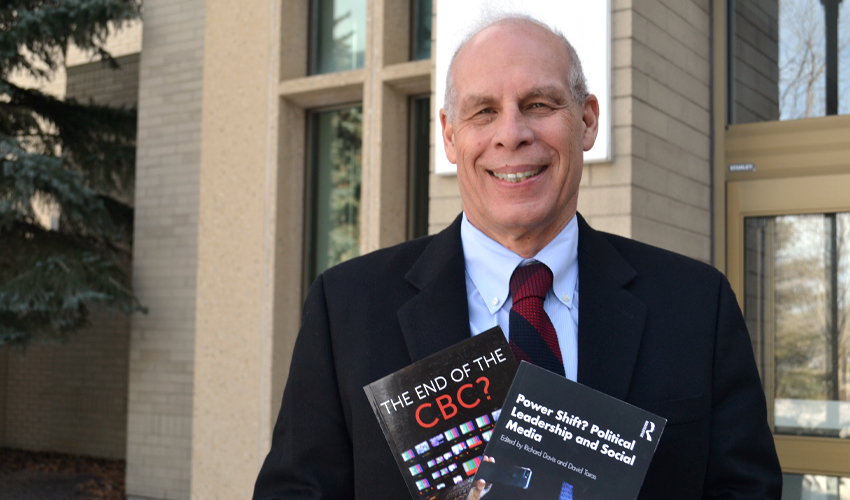 David Taras was the driving force behind Blue Storm and its predecessor, Orange Chinook.
---
"That workshop idea. That's the way David did books," Sutherland says. "I was involved in some of How Canadians Communicate (a multi-volume collection, co-edited by Taras), and that's the way he did those as well: bring the authors together, have a conference, have those interactions and then go forward with the book and it was a really great model."
Blue Storm concludes with a survey of the impacts of COVID-19 in Alberta and a comparison between Jason Kenney and Ontario Premier Doug Ford, another conservative premier but one who ultimately fared much better with his electorate despite the challenges of the pandemic. The editors say they are proud that MRU led the project, another wish of Taras's, and continued his emphasis on bridging communications with political science and beyond with a wide variety of experts from many disciplines. They hope the finished volume will be of value to anyone interested in Alberta politics.
"This was not about being in an ivory tower," says Bratt. "It's rigorous, it went through a peer-review process, it's published by a university press but it's designed to be read by the engaged public, not to be read by five people."
Blue Storm: The Rise and Fall of Jason Kenney is in bookstores now. It is also available in an Open Access digital format published under a CC-BY-NCND 4.0 Creative Commons license.
Read more about Dr. David Taras, PhD's, legacy at Mount Royal.