Convocation 2023: Athletic success grounded in solid support
Compiled by Erin Guiltenane — Mount Royal University | Posted: May 29, 2023 | Lasted updated: June 2, 2023
Nyadholi Thokbuom
Bachelor of Arts — Sociology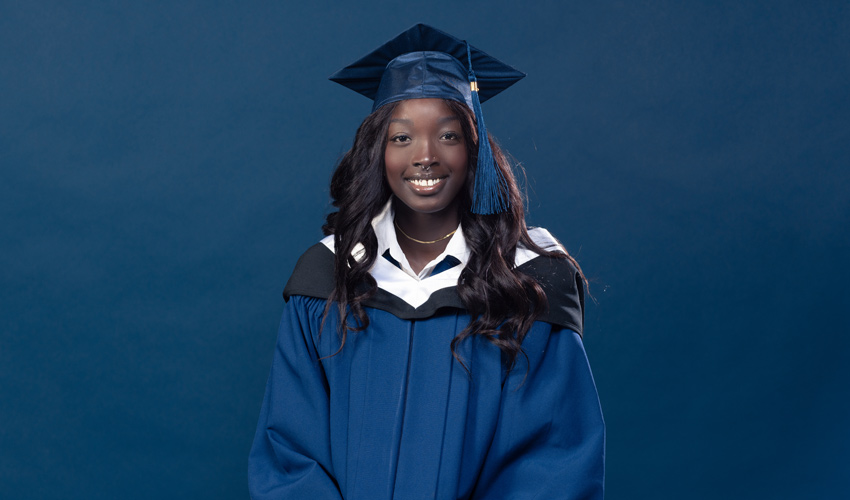 Between her studies, part-time jobs, and rigorous training and game schedule as part of the Cougars women's volleyball team, student-athlete Nyadholi Thokbuom became a master at achieving balance. As a middle blocker, Thokbuom helped lead her team to a second-place finish in the Canada West division's regular season during her final year at MRU, and her consistently strong performances led her to be named to the Canada West First All-Star Team this year. The Cougars' silver-medal result in the playoffs earned them a trip to the U-Sports nationals, where the team finished in fifth place. Thokbuom also has a U Sports silver medal to her name from the 2020/21 season, when they came second in the nation.
Thokbuom graduates with a Bachelor of Arts — Sociology at the 2023 Convocation ceremonies.
What was your most memorable MRU experience?
After spending most of my time on and around campus almost every day for the past five years, there are so many to choose from. I've had the opportunity to come across some amazing people and have wonderful experiences throughout my time here at MRU, but I would have to say the most memorable for me was during the playoffs of the 2021/22 season. Our fellow student athletes, peers, professors and even alumni showed up and showed out for our games with flags, drums and the loudest cheers. It was by far one of the most memorable experiences that I've had. I'll never forget it.
"Whoever said it takes a village was not lying. Use it to your advantage and you will be just fine."

Nyadholi Thokbuom
Was there someone specific who made an impact on you during your studies?
There were many people who impacted my studies, but one standout individual by the name of Ciara Lane (Cougars' athletic services coordinator) made the biggest impact on me. Not only as a student, but as a person. I had a really hard time adjusting when I came in from my Grade 12 year balancing my studies, volleyball schedule and social life. Safe to say that if it wasn't for this gem of a human, Ciara, I would have seriously considered dropping out and taking time away from my sport (which I was close to doing). She had confidence and belief in me that I have never had before when it came to the classroom. It's because of her that I can say that I'm leaving this place with my name on a degree (and thinking about going back for another … in due time). Every student-athlete at MRU reading this knows exactly the kind of human she is, and we are so spoiled to have her all to ourselves.
And to Ciara if you are reading this:
I am forever grateful for you. The human that you are and the support that you give to your student-athletes is unmatched. Your hard work, pure love and care for us is felt deeply and will be felt even after our time with the Cougars. There aren't enough words to express the impact you had on me and so many others. Thank you for letting me cry to you in your office after a tough midterm and embracing me with open arms, for bringing me back down to earth when I thought I could never come back from a challenging first year, for helping me plan out every single semester until my last. I truly never thought I'd make it. Thank you for lifting me up when I didn't know how to do it myself. I think I've got my footing now.
What advice would you give to a new student-athlete about balancing sports and studies?
It's normal to have a hard time occasionally, and it's especially normal to struggle in your first year, or for the first couple. I don't think there is anything quite accurate enough that can properly prepare you for what you're about to get into. Practicing four times a week, lifting two to three times a week, on the road and playing in pre-season and conference games almost every weekend, all the while balancing your studies and finding time to take care of yourself — it doesn't come naturally and you have to work hard.
Ask for help! From anyone. Get to know your teammates, acquaint yourself with your professors early in the semester and share what team you're on, the weeks you'll be away, everything you possibly can. A lot of them are extremely supportive of our athletic programs and will be understanding and accommodating where possible (you might even spot them in the stands at one of your games!).
Get to know your classmates and lean on them when you're on the road. All in all, take advantage of the resources available to you. Most importantly, remember to have the most fun you can. Not everyone gets to continue to play the sport they love with people that will, out of nowhere, become your very best friends.
Being a varsity student athlete in itself is a huge accomplishment that deserves celebration and enjoyment. This lifestyle that we live is a hard one, but so rewarding. Don't spoil the opportunity of a lifetime by thinking you can do it all alone. I tried that … 0 out of 10 would not recommend. Whoever said it takes a village was not lying. Use it to your advantage and you will be just fine.
What was the biggest obstacle you had to overcome during your time in university?
I feel that the natural answer would be the very first COVID shutdown. Women's volleyball had qualified for nationals for the first time in program history, and we were heartbroken when they were cancelled. Months went by and we were excited at the chance to do well in the upcoming season (2020/21), but it was quickly cancelled before we could play. It was by far the biggest mental challenge, trying to stay motivated with at-home workouts, keeping to 'cohorts' to ensure teammates' safety and make sure we didn't shut down our program practices, online school … the list is endless. It was extremely difficult to imagine the light at the end of the tunnel that whole year and it brought up a slew of mental struggles for me, but I'm so glad I was able to see that through.
I was thankful to have had the opportunity to qualify again and make it to the national final (earning a silver), and qualify one more time finishing fifth in the nation just this past season. It's not easy to get to nationals year after year after year, but I think COVID and the obstacles it presented to student athletes during that time put it all into perspective. We fought hard for everything after that.
What do you consider to be your greatest achievement?
In 2021 I decided to take the summer off for the first time because I had some spring courses to fulfill if I were to make it to my projected convocation date. I ended up taking three courses that I didn't expect to be as rigorous as they were. I had no idea what I was getting into. I was also working two part-time jobs all while sticking to my varsity off-season training schedule. Even with the busy schedule I had unknowingly created for myself, I managed to come out of the spring semester with a 3.1 overall GPA — the highest GPA I was able to achieve in my university career.
I've had a few athletic achievements with MRU that I am extremely proud of and grateful for, but this one is by far my most cherished accomplishment of all of them. I never thought it would be possible for me to do something like that, let alone in a completely full spring semester while working two jobs and still completing my off-season training. I was, and still am, extremely proud of myself for doing that.
What are your plans for the future?
As of right now, I plan on playing volleyball professionally. It's such an amazing opportunity to see the world, travel and keep doing what I love while I'm young and still can. I'm really excited!
I will be trying out for the national team again this summer and I'm hoping to help our women qualify for the 2024 Olympics in any capacity that I can. I also hope to go back to school at some point in the future for psychology, so I have that to look forward to after some well-deserved time away from schooling.
I'm super excited for what's to come for me. Being from Calgary, I knew I wanted to do post-secondary here, but I think I'm now ready to leave home and see what's out there. I'm glad I stuck around and ended up where I did.
MRU grads are helping shape the future here in Calgary and across the country. We invite you to join us in celebrating the unique combination of confidence, vulnerability and boldness that goes into the university student experience and read our profiles of exceptional students from the Class of 2023.
A note for soon-to-be MRU alumni! As you prepare to transition from student life, we encourage you to check out our Alumni Hub — custom-built to inform you about the programs, benefits and services available to you as a member of the MRU alumni community.