Convocation 2023: Research creates the right formula
Compiled by Erin Guiltenane — Mount Royal University | Posted: May 29, 2023 | Lasted updated: June 2, 2023
Zafina Budhwani
Bachelor of Science — Chemistry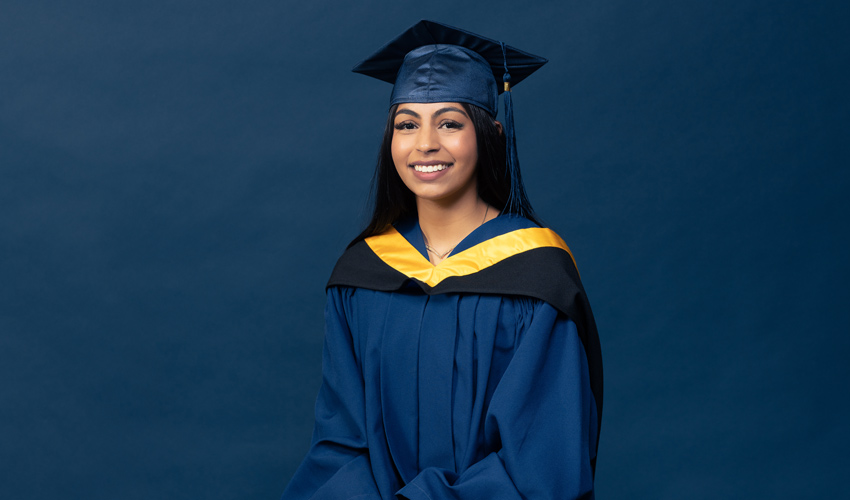 Making the most of research and mentorship opportunities helped Zafina Budhwani grow as a scientist. Budhwani, who also works with youth as an assistant training officer at 52 City of Calgary Royal Canadian Air Cadet Squadron, began carrying out research in both chemistry and green social innovations early in her undergraduate career. She will continue her contributions to science at McGill University in the Master of Science — Human Genetics program.
Zafina is graduating with a Bachelor of Science — Chemistry at MRU's 2023 Convocation ceremonies. She is also this year's 2023 Centennial Gold Medal Recipient for the Faculty of Science and Technology.
What was your most memorable MRU experience?
My most memorable experience at MRU would be working in the labs. I got to know my peers through my course labs, as we worked collaboratively. Additionally, working in Dr. Jeella Acedo's research lab, I made a lot of unforgettable memories with my lab mates as we did experiments, attended lab meetings or even just talked about our days.
Which on-campus groups or programs should more students know about?
MRU is unique since it is a strictly undergraduate institution. However, often overlooked are the research opportunities available to students. Speaking to your professors, advisors and senior students within your program is an excellent way to become aware of these different opportunities.
Was there someone specific who made an impact on you during your studies?
I have been incredibly fortunate to have been mentored academically and professionally by Dr. Jeella Acedo, Dr. Manuel Diaz-Avila, Dr. John Chik, Dr. Nathan Ackroyd and Jhoseling Garcia (laboratory instructor). These individuals have imparted on me the tools and skills to be successful in all my future endeavours. But, above all, I would not have been able to succeed in my studies without the support and encouragement of my family.
Did you receive scholarships and awards? How were they helpful during your studies?
Through my time at MRU, I received the Dr. Paul and Mrs. Apar Sarpal Scholarship in Science, a Mount Royal Entrance Award, the Jason Lang Scholarship and most recently, the Undergraduate Research Dissemination Fund.
Additionally, I was privileged to represent MRU as an Amgen Scholar at the University of Toronto, conducting research for ten weeks.
Most recently, I received the Best Poster Presentation award in the Independent Research category during the Faculty of Science and Technology Research Day. These awards and recognitions have given me confidence in myself and my skills as a student and professional.
"I have seen myself grow up, become excellent in what I do and surpass expectations set forth for me."

Zafina Budhwani
What was the biggest obstacle you had to overcome during your time in university?
My biggest obstacle was online learning during the COVID-19 pandemic. Being enrolled in the chemistry program, I was losing out on hands-on technical lab experience that was crucial to my development as a scientist. Returning to in-person learning, I thought I had to compensate for the lost time, and that's when I got involved in research. Consequently, I have been exposed to various types and fields of research that have allowed me to develop my technical lab skills, giving me strong fundamental lab techniques that will help me in the future.
What do you consider to be your greatest achievement?
My greatest achievement would have to be how I have developed as a student and am now transitioning to a professional. I have seen myself grow up, become excellent in what I do and surpass expectations set forth for me. I have also seen how I have developed a sense of confidence and pride while remaining humble, true to who I am and inspiring to those around me.
I would not have been able to become who I am today, and have the experiences I have had, without the support of my mentors and family.
What are your plans for the future?
I have been accepted to the Master of Science in human genetics program at McGill University for this coming fall. After that, I hope to continue working in scientific research, giving back and being involved in my community. In what capacity this will be is a story yet to be written.
MRU grads are helping shape the future here in Calgary and across the country. We invite you to join us in celebrating the unique combination of confidence, vulnerability and boldness that goes into the university student experience and read our profiles of exceptional students from the Class of 2023.
A note for soon-to-be MRU alumni! As you prepare to transition from student life, we encourage you to check out our Alumni Hub — custom-built to inform you about the programs, benefits and services available to you as a member of the MRU alumni community.