Building a foundation for early literacy
How reading skills affect individual and community alike
Betty Rice — Mount Royal University | Posted: September 5, 2023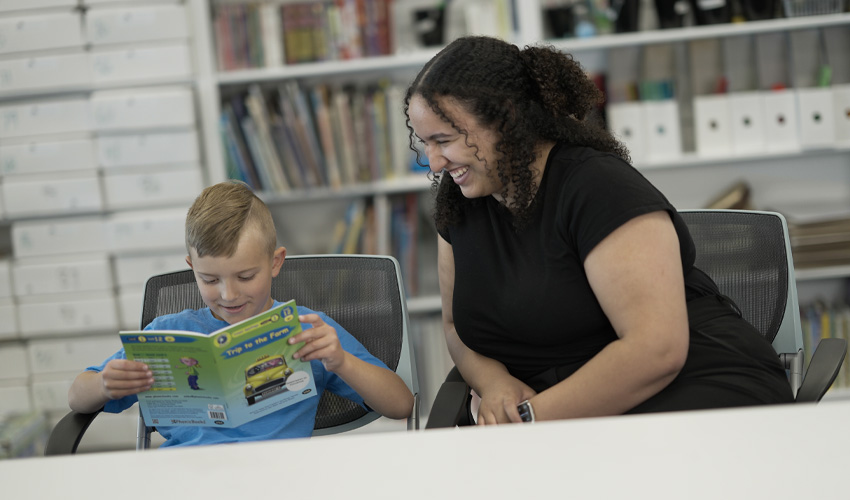 September 8 is International Literacy Day. This global observance provides an opportunity to consider the impact of reading on our everyday lives.
---
It's September, and that means students of all ages will be cracking open the books  after summer break. For many of the youngest learners, the first steps in enjoying books--and whatever is contained within--rests on their ability to read.
September 8 is International Literacy Day. It provides an opportunity to consider the impact of reading on our everyday lives, and to examine the latest information about what's called the "science of reading," research-based discoveries on how literacy skills are developed and nurtured.
"We used to assume that learning to read was like learning to speak," explains Dr. Jodi Nickel, Professor in Mount Royal University's Department of Education. "A toddler's speech improves over time, and the assumption was that reading would be the same--that over time, literacy would increase with exposure."
But research shows previous approaches to teaching reading often didn't provide enough systematic instruction into how words work. "We've really changed the way we're undertaking tutoring, with teacher candidates now doing more explicit teaching of letter sounds and patterns to help students crack the literacy code. Our teacher candidates have been really excited by how much the students improved with this instruction."
Over the years, Mount Royal regularly collaborated with Calgary Reads, pairing teacher candidates in the Bachelor of Education – Elementary program with struggling young readers to provide literacy support through the MRU Reads tutoring program. When Calgary Reads closed their doors in 2022, they launched the Dandelion Story, a legacy project to continue their work through partners including MRU's Department of Education.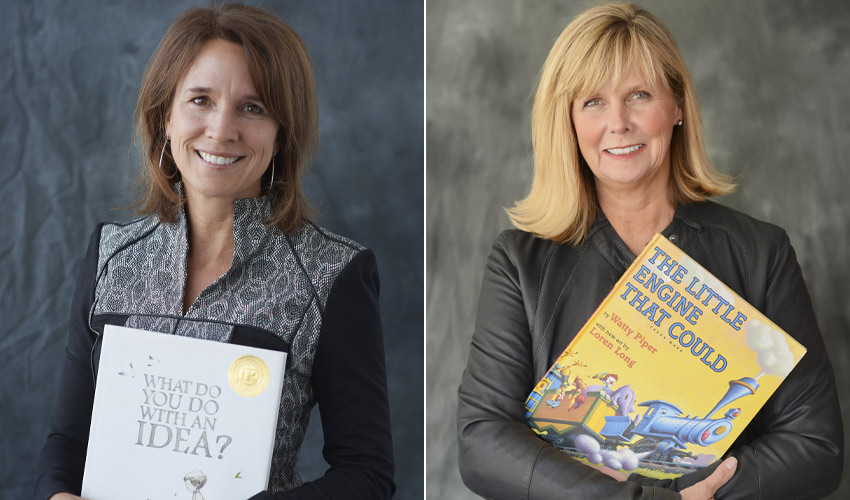 Dr. Jodi Nickel, PhD, left, is a professor in MRU's Department of Education. Steacy Pinney, right, is the changemaker-in-residence at MRU's Trico Changemakers Studio.
---
Steacy Pinney is the former CEO of Calgary Reads and currently Changemaker-in-Residence at MRU's Trico Changemakers Studio. "Over the years, Calgary Reads worked with many universities across Alberta," explains Pinney. "MRU's Education program was the only one that moved beyond offering community service learning opportunities to students to embedding the reading tutor experience into core curriculum. The positive impact on students, both the young children being tutored and those tutoring, has been important to enriching their reading lives."
Early literacy in a post-pandemic world
Earlier this year, the Canada West Foundation produced a report, an in-depth study called The Case for Literacy in Alberta. It provides evidence-based findings to the community and policymakers with recommendations for advancing childhood literacy.
The Canada West report praises MRU Reads because it is a literacy tutoring strategy not found in many Canadian teacher training programs. It's a 20-week program that Nickel says" changes teacher candidates' understanding of the complexity of learning to read. Teacher candidates are taught to organize literacy instruction in a way that enables more young readers to be successful."
"That said," continues Nickel, "there are still pockets of illiteracy, and that's where the Left Unread campaign comes in."
Left Unread is a movement focusing on the importance of building early literacy skills. It's estimated that one in six children in Canada—more than one million young people—struggle with low literacy skills, skills needed to be successful in their education. Lack of literacy goes beyond the classroom and the individual, with impact on health and broader social structures. Connected to Left Unread, Nickel also works locally with the 3 6 9 group, a poverty-reduction initiative led by Vibrant Communities Calgary including the Calgary Public Library, United Way, YWCA, Big Brothers Big Sisters and others.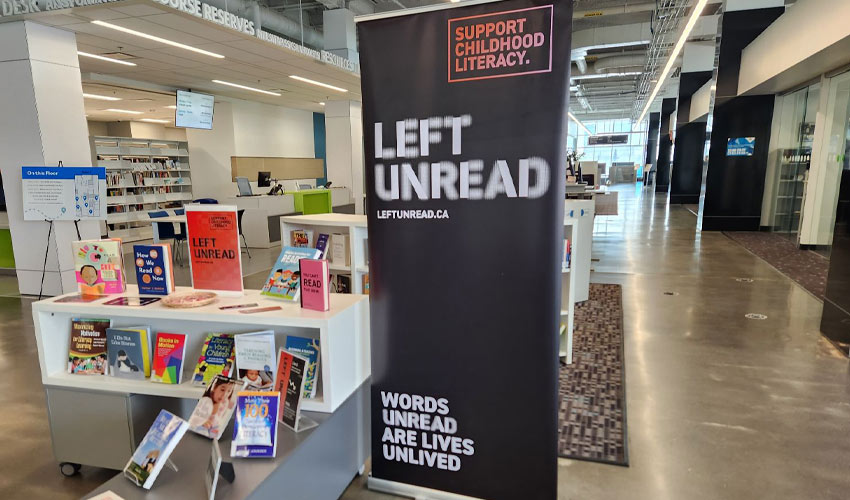 The Left Unread display on the main floor of the Riddell Library & Learning Centre.
---
Says Pinney of the 3 6 9 group, "not everyone realizes that at age three children need to develop the vocabulary they need to be school-ready at age six, and then be able to successfully make the shift at age nine from learning to read to reading to learn so they can succeed in school and in life."
"Ultimately, we know that kids who struggle get discouraged," says Nickel, "and it's our responsibility to make sure that we do everything we can to prepare teachers who can help all children succeed."
Beginning this week, MRU's Riddell Library and Learning Centre will feature a display related to the Left Unread campaign. It will remain on the main floor until September 12, when it will be moved to the third level of the library.