On-the-job experience confirms journalism students' love for the profession
Kelsea Arnett and Lily Dupuis covered Alberta's provincial election in May 2023
Erin Guiltenane — Mount Royal University | Posted: September 5, 2023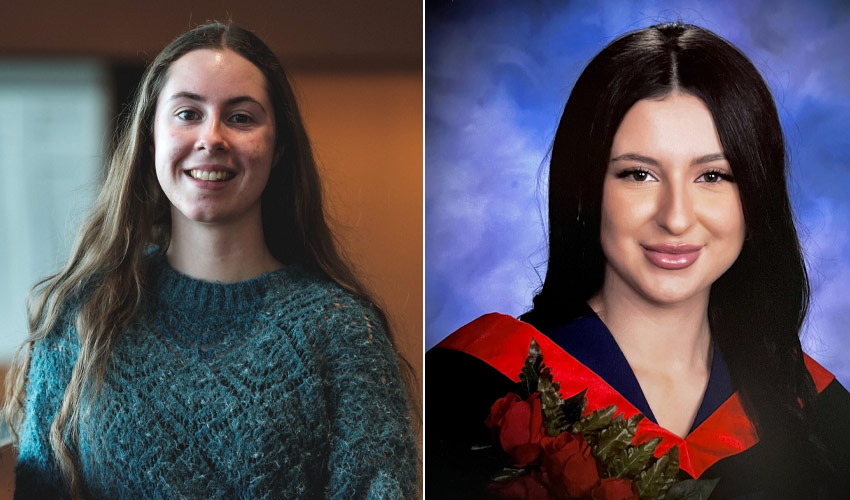 Journalism student Kelsea Arnett, left, and alumna Lily Dupuis were hired by the Canadian Broadcasting Corporation (CBC) to explore Albertans' hopes and concerns during the lead-up to the provincial election in Alberta on May 29.
---
Mount Royal students are not shying away from important topics at the often-complicated intersection of politics and news media.
MRU journalism student Kelsea Arnett and recent grad Lily Dupuis got to experience "boots on the ground" reporting when they were hired by the Canadian Broadcasting Corporation (CBC) to help explore Albertans' hopes and concerns during the lead-up to an interesting and often-contentious provincial election in Alberta on May 29.
While the experience was eye-opening in a number of ways, both students came away with valuable professional experience and the impression that "we're all just trying to do our best."
When assistant professor Dr. Brooks DeCillia, PhD, a journalist and public broadcaster who teaches in MRU's School of Communication Studies, presented to his class the CBC's opportunity for student researchers, Arnett and Dupuis applied. When they both got word that they were going to work for the national news provider, they jumped at the chance to put their journalism education into practice.
"I'd always been interested in doing research," says Arnett. "I want to try everything so I can give myself every possible opportunity."
Arnett authored several stories, primarily tackling the concerns of undecided voters and young people, including first-time voters.
Dupuis, who graduated in June this year, says she has long been interested in the world of journalism. "I've wanted to be a journalist basically my whole life," she says. Although she never envisioned herself in a newsroom, she was excited to jump into a new experience and work for CBC Calgary.
While the two worked both individually and together on projects at the CBC, they arrived at similar conclusions about the journalism profession and their futures within it.
Perhaps unsurprisingly to those who follow politics even at a distance, Alberta politics have been contentious in recent years. Hotly debated issues, from alignment with the federal government to rural healthcare, dominated news cycles ahead of election day, while the words of party leaders, MLAs and candidates were closely scrutinized and criticized.
For the new journalists immersed in a contentious field, the experience was an opportunity – though perhaps a daunting one – to put their skills to the test. When on assignment, both Dupuis and Arnett noticed that a sense of anxiety, rather than hope, dominated the conversation.
While Arnett found that "frustration" rather than apathy to be an oft-cited sentiment among the voters she interviewed, she found that "people seemed resistant, like they were afraid to express their point of view."
A Calgarian who Dupuis interviewed noted how the election felt "Americanized" and dramatic, and expressed disappointment about how Albertans were talking about each other. When approached by Dupuis for an interview, another expressed doubt that the CBC would care about her opinion. Although many shared the same concerns, angry rhetoric about the preferred solutions to those problems led to polarization over important issues, which many people felt stoked skepticism towards news media.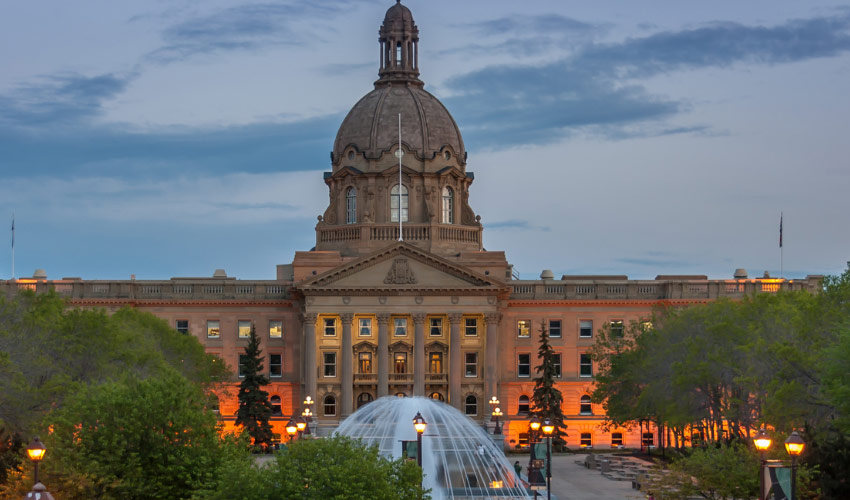 The Alberta legislature in Edmonton.
---
"Kelsea and Lily's reporting added a lot to CBC News' citizen-focused campaign coverage," says DeCillia. "They spent hours and hours patiently listening to real voters across the province about what they cared most about, demonstrating that the news media does really care about public policy and issues and what citizens want from their elected representatives."
"What Kelsea and Lily heard from voters was reflected in CBC News' radio, TV and digital coverage of the election. Their work really added so much to the coverage of the campaign."
Dupuis, who was on-site for the CBC at the United Conservative Party (UCP) headquarters on election night, says, "I felt that many people were going to feel a lot of emotions no matter what the results were, so the waiting period was very intense."
At the end of a long night, the UCP held on to win the mandate to govern Alberta for another term.
Arnett's and Dupuis' pieces for the CBC included an analysis of the concerns of young adults (a group that typically sees low voter turnout), the excitement of first-time voters, the stumbling blocks for undecided voters, a fact-check on campaign promises and a personal reflection on politics after interviewing 100 Albertans.
"MRU's journalism program prepared us well for doing these types of interviews," says Dupuis. "We're taught how to maintain our personal and professional integrity."
Those skills came in handy when, to their surprise, she and Arnett were occasionally asked about their own opinions.
"Many people were hesitant, worried politics have become too polarizing to talk about publicly, let alone on camera. Others spoke eagerly, as if happy to finally get a chance to share their views," Dupuis wrote for the CBC. "… It's made me wonder if the heated nature of today's political debates means we sometimes fail to see people's humanity. My biggest takeaway is that, despite divisions, Albertans really want to find a way to move forward together."
Arnett came to the same conclusion. "People may not be as angry as we think," she says. "Lots of people genuinely care about others and about the future."
When it comes to the future of journalism, Arnett believes the profession should rely on its roots.
"Journalism is a public service, and journalists are here to be a voice for the community, not push a narrative."
Dupuis plans to pursue a career in journalism and aims to amplify the voices of underrepresented communities. "I want to always be thoughtful, kind and a good listener," she says.
In the fall, Arnett will return to Mount Royal for her third year, where she hopes to put the skills she learned into practice.