Innovation starts from the heart
Student Dale Swampy is using his business as a way to give back
May 26, 2022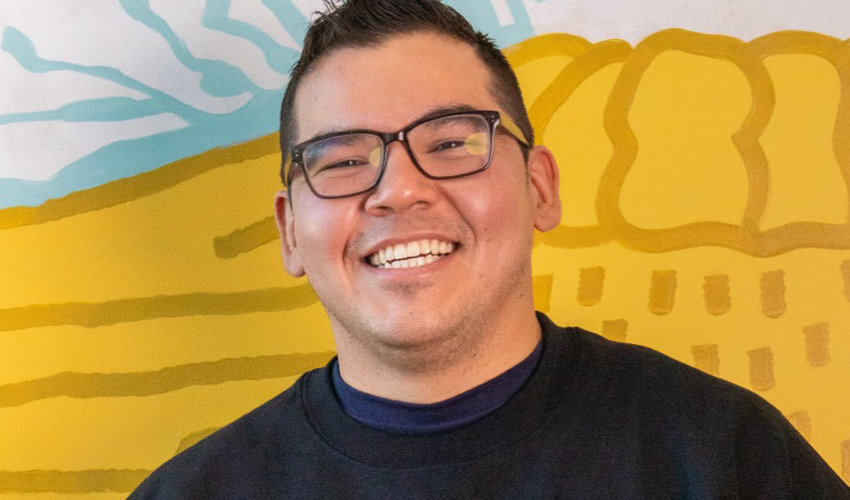 Dale Swampy is a third-year computer information systems student and the founder of Osaw Kihew, which sells unique, Indigenous-made star blankets rooted in deep history.
---
Innovative ideas often resonate most when tied to one's personal history and experience.
This is something Dale Swampy, a Bachelor of Computer Information Systems student at Mount Royal University and the founder of Osaw Kihew, which creates unique, handmade star blankets rooted in the Indigenous experience, can attest to. From the Samson Cree Nation in Maskwacis, Swampy received the name Osaw Kihew, which means "Golden Eagle," at a Sun Dance.
"My goal is to honour the past. I hope to help clarify the history of the star blanket with my business. That's why I see it as a social enterprise," Swampy says.
After the bison were decimated in South Dakota, missionaries began teaching the Lakota how to sew. Eventually the people would accept the missionaries' offering as a way of giving back for the genocide of the bison, Swampy says. Original star blankets were given to hunters returning from a successful chase, or warriors after a victorious battle. They were also bestowed at the start of vision quests and presented at funerals to loved ones on their final journey.
In more modern times, how to make star blankets was taught in residential schools.
"Anyone who knows how to make them was either taught in residential school or by someone who attended one," Swampy says. "As star blankets have been seen as the result of institutionalism, they can be controversial. The mystical, spiritual history behind the star blanket is often overlooked," Swampy says.
Swampy himself learned the craft while in a different kind of institution. He was taught how to sew in prison by another Indigenous inmate who was extremely talented with Indigenous art forms. Swampy also participated in Pathways, an Indigenous program created as a response to one of the 94 calls to action from Canada's Truth and Reconciliation Commission with the goal of reducing the Indigenous inmate population. With the help of Pathways, Swampy was able to elevate his business from selling blankets to family and friends to working with government agencies and large companies.
"The blankets are my way of honouring what happened, of paying respect to everyone who was involved," Swampy says.
Moving forward with principled intention
This year, Swampy's blankets won the attention of jurors at the tenth-annual JMH LaunchPad Pitch Competition, MRU's Institute for Innovation and Entrepreneurship's signature Dragons' Den-style contest that celebrated its tenth anniversary this year. Awarded $10,000 from connectFirst and $15,000 from Grant Design, Swampy is now working closely with Aislinn Grant, Grant Design's founder and an MRU alumna of the Bachelor of Business Administration — General Management major. Grant's company helps businesses build their brand identity, and Swampy has already developed a logo and started a social media ad campaign. Currently, Swampy provides his star blankets in three different sizes, but with Grant's guidance he is looking at branching out to hats, sweaters and shirts.
Working hard to gain knowledge and acceptance of his Osaw Kihew, recently Swampy also received $10,000 from the Trico NU Community Board Alberta Awards for Outstanding Student Social Entrepreneurship. He has also applied for the Amy Willier Memorial Artisan Grant and is looking to enter another competition called the Pow Wow Pitch.
With the funds he has already received, Swampy has invested in a "much better" sewing machine, which he says is helping to improve his products due to its advanced ability to handle the material.
"It's becoming higher quality work," he says. "Sewing is a skill I don't take for granted. I still remember the first blanket I made, because I was literally sweating over the labour." HIs king-size blankets can take him up to two full days to complete.
Hoping to grow Osaw Kihew in a controlled and meaningful manner, Swampy will eventually employ other Indigenous sewers to contribute to the healing with each blanket. There are plans to start to purchase bulk material at wholesale prices and eventually source a larger workspace. While considering adding a couple more designs to his repertoire while still respecting the history of the star blanket, Swampy remains careful to observe the traditions of the recipient's community. For example, the Cree do not use the colour black, while the Blackfoot do.
Support along the way
Trying to find the time and space to produce blankets as a full-time student has been difficult, however Swampy has had the support of MRU's LaunchPad program and the mentorship of MRU faculty and staff members such as Ray DePaul, director of the Institute for Innovation and Entrepreneurship, Diana Grant-Richmond, Sam Begelfor, Dr. Simon Raby, PhD, and Brad Gaetz, at his side the whole way.
"The support I received from the Institute for Innovation and Entrepreneurship's team is immeasurable. They encouraged and pushed me to think bigger, and anything I hear from them I consider gold. I feel honoured to have them as teachers, mentors and friends," Swampy says.
Watch Dale Swampy present at the 2022 JMH LaunchPad pitch competition.
---
Swampy also took part in MRU's Innovation Sprint, which pairs students with companies that are experiencing roadblocks to their growth. He ended up working with Fresh Routes, a social enterprise that brings fresh and nutritious food to the people who need it most. Swampy and his peers were able to come up with a problem statement canvas that placed them in the customer's position, identify barriers preventing people from acquiring healthy food and provide market research through speaking with some of Fresh Routes' clients. This valuable feedback resulted in an internship, which then  turned into additional employment.
"I'm grateful for all of those involved in this process. I will always keep the Institute for Innovation and Entrepreneurship on my team for support and guidance," Swampy says.