English education helps nurse from Colombia pursue master's degree
Sebastian Beltran Medina finds personal and professional growth at MRU
November 21, 2022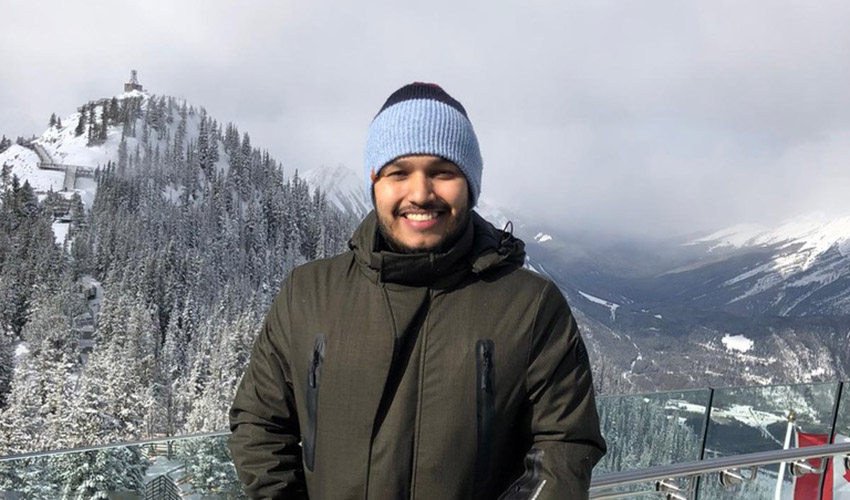 Sebastian Beltran Medina, a registered nurse from Colombia, enrolled in Mount Royal's LEAP program as a way to grow both personally and professionally.
---
Sebastian Beltran Medina, a registered nurse (RN) from Colombia, moved to Canada in 2020 in pursuit of new experiences and higher education in the health-care field. 

"I wanted to know more about new cultures and have better opportunities to grow personally and professionally," he says.

Beltran Medina already has an impressive career behind him, including four years of nursing administration experience and nine years as an RN in areas such as the emergency room, intensive care unit and pediatrics. Wanting to grow his professional knowledge in a new country, Beltran Medina knew he would need to improve his English skills from a recognized institution with a high quality of educational standards. He ultimately decided on Mount Royal's Language Education for Academic Purposes (LEAP) program.

"I heard about the LEAP program from a friend who took it some years ago and they recommended it to build academic English knowledge," he says.

With four different levels of instruction, LEAP helps students develop the English language skills necessary for success in academic and career settings. The program is certified by Languages Canada, taught by Teaching English as a Second Language (TESL) certified instructors and focuses on a range of language skills, including speaking, reading, listening, writing, grammar, fluency and pronunciation.
"The LEAP program was amazing. I learned a lot from my teachers and classmates and greatly noticed the improvement of my English skills from the beginning to the end of the program," Beltran Medina says. He shares that while completing LEAP 4, the highest level of the program, he read a novel in English for the first time — a memorable milestone in his learning journey.
"The LEAP program was amazing. I learned a lot from my teachers and classmates and greatly noticed the improvement of my English skills...."

Sebastian Beltran Medina
For Beltran Medina, the teaching strategies used in LEAP, including constructive feedback and learning by doing, helped him gain confidence in his English skills in different settings. He says he would recommend LEAP "without doubt" to other students who are also looking to improve their English language skills.

"The program is well structured; the instructors and administrative staff are excellent and helpful," he says. "Students will have the opportunity to learn not only from the teachers, but also from their peers. All the strategies, facilities and educational materials are adequate to acquire the best English knowledge."

After graduating from LEAP in the spring of 2022, Beltran Medina applied and was successfully admitted into the Master of Health Service Management program at the University of Lethbridge. He started the program this fall, bringing him one step closer to his next goal. 

"I am so proud of myself for this opportunity," Beltran Medina says. "I am very committed to my studies as always and hope to get a great job in this field after graduation."