7 fun facts about Mount Royal University
Discover the mid-size university in Calgary, Alberta that puts student success first
Posted: December 2, 2022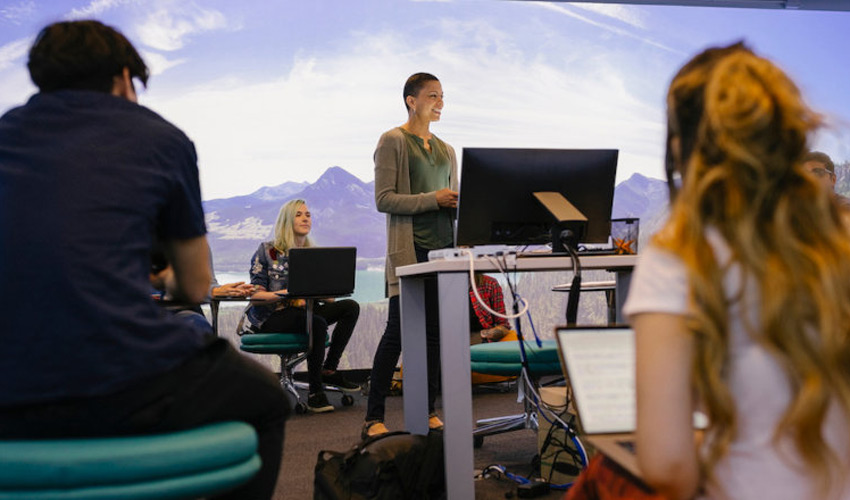 The 360-degree Immersion Studio.
---
Mount Royal University (MRU) is an undergraduate university located in the heart of Calgary, Alberta, Canada. Offerings include degree programs in the arts and sciences, health and social services, education, communications and business as well as diplomas in aviation and social work. But the true Mount Royal experience goes far beyond a list of programs.
Here's seven fun facts to help you get to know MRU a little better.
1. Research is part of the MRU undergraduate experience
Mount Royal offers research as part of the classroom experience, not as something a professor does in a lab down the hall. Undergraduate students can participate in research early in their studies, giving them a solid foundation for future employment and graduate studies. Guided by professors, MRU students are also encouraged to publish their work and attend conferences to showcase their findings alongside peers in their field.
2. The average MRU class size is 32 students.
Smaller class sizes at Mount Royal give students the opportunity to get to know their professors and work closely with their peers. This personalized learning experience helps students to truly feel like they are more than just a number.
3. You will find much more than just books at the MRU library.
The Riddell Library and Learning Centre at Mount Royal is a transformational learning and research environment that brings together students, expert faculty and staff, and a wide range of technology and resources. The space includes a 360° Immersion Studio, 3D printers, laser cutters, treadmill workstations, interactive visualization walls and a fireplace lounge to help keep students inspired to learn, create and share.
4. MRU Recreation offers a variety of ways to get moving (and it's free for students).
Full- and part-time students have access to Mount Royal Recreation which includes a fully-equipped fitness centre, courts for beach volleyball, tennis and squash, a 40-foot climbing wall and bouldering cave, a salt-water aquatic pool, intramural sports leagues and personal trainers. With this many options, it's easy for Mount Royal students to find their fit.
5. MRU is a designated Changemaker Campus.
Ashoka U Changemaker Campuses operate in socially and environmentally conscious ways to address local and global challenges. Mount Royal was awarded this designation in 2017 and continues to be dedicated to working towards a better future.
6. MRU encourages students to give back to the community.
Mount Royal awards a Community Service Learning (CSL) citation to students who complete three courses that employ community service learning for a minimum of nine credits. Annually, one quarter of MRU students participate in CSL projects with hundreds of partner organizations, totalling more than 300,000 hours of community service.
7. If you don't get into your desired program right away, MRU's alternative entrance options could be for you.
If you are missing admission requirements or don't meet the competitive admission average for your dream program you can still get your university experience started with MRU's alternative entrance programs. For example, the University Entrance Option program allows you to complete missing high school courses, boost existing grades, begin taking university level courses and connect with peers all at the same time, helping you adjust to university life while also strengthening your future application.