Indigenous twin motivational speakers find their voice
MRU students Jody and Judy Bear share messages of resilience, healing
Ado Nkemka — Mount Royal University | Posted: December 9, 2022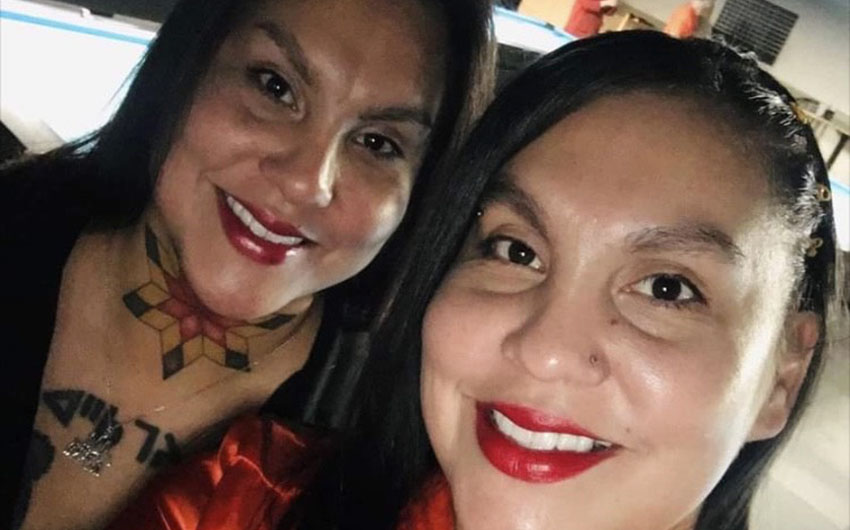 Learning, teaching and public speaking have all played a part in Judy and Jody Bear's journey to healing and helping others.
---
In May 2021, Canadian media outlets announced the remains of 215 Indigenous children had been uncovered at a former residential school in Kamloops, B.C. After preliminary findings, the Tk'emlúps te Secwépemc First Nation released an update that their ground-penetrating radar survey had shown about 200 potential burial sites. This event, and the ongoing uncovering of additional unmarked graves throughout Canada, propelled Mount Royal University students and twins, Judy and Jody Bear, into public speaking to discuss the Indigenous residential school system, Indigenous day schools, the foster-care system as well as their family lives.

Through delving into the history of Indigenous peoples of Canada, the Bear sisters are called to share how their personal experiences fit within the collective experience of withstanding cultural genocide since the arrival of settlers in the 16th century. They also want to make it clear that the damage done by colonial forces aren't offences of a distant past.

Currently fourth-year students of the Bachelor of Child Studies — Child and Youth Care Counsellor major, the twins share their message of healing from intergenerational trauma and ultimate resilience during formal settings such as the Sitting in Truth event by The alliedFutures Project, which centred around reconciliation and decolonization, and the Indigenous Resilience talk at MRU's Iniskim Centre. They also share these messages "informally" through everyday interactions with those in their community.

Overcoming intergenerational trauma, addiction and foster care
Jody and Judy's parents were residential school survivors and their father struggled with alcohol addiction. Despite being forced into a system designed to isolate them from family and culture, their parents spoke fluent Plains Cree. "Both parents' families were knowledgeable in Indigenous practices, which was passed down to them," Judy says.

While battling ovarian cancer, their mother expressed that while she couldn't rid herself of the pain she was experiencing, she could help her children through culture. "We learned about Sun Dance (an annual sacred ceremony held in the Prairies by many First Nations), we learned about how to ground ourselves through singing, praying, dancing," Judy says.

After their mother passed when they were 13 years old, the twins ended up in foster care. Despite their parents having close to 20 siblings combined, the twins remained in the system and went through 20 different homes before exiting at 18 years old. Left angry, they turned to substance abuse. For Judy, becoming a single mother helped her find sobriety. In January, she will reach an 18-year milestone of being drug- and alcohol-free. Jody is also 14 years sober.

Judy explains that being drug- and alcohol-free "also means the Red Road in First Nations values and beliefs." The phrase signifies moving away from things that can be damaging and instead taking a path of wellness.
"I am a dreamer for change who will continue to prosper and lead the way so the next generation knows that change is possible."

Judy Bear
Completing and sharing ground-breaking research
In 2017, Jody and Judy's uncle passed away from AIDS. Jody promised him that she would come up with an Indigenous oral teaching of HIV, which the twins worked on for seven years. Drawing from both Indigenous and western epistemology in their research, they break down HIV using a balloon to explain concepts such as viral load. The sisters teach their findings interactively in order to answer their audience's questions. They discussed their research in 2022 as part of MRU's Journey to Indigenization.

"The balloon method uses the elements of air or water for participants to interact fundamentally and begin the process of psychosomatic tactical teachings," Judy explains.

On Dec. 15, 2022, they will be signing a partnership between their program, ahkameyimok saving lives: Indigenous hiv oral program, and the Saskatchewan Infectious Disease Care Network in order to teach new audiences. Jody says this multi-dimensional and universal method can be used to teach ailments like diabetes, sexually transmitted infections and hepatitis C, in a way that is accessible.
Learning, teaching and public speaking as recovery

Having entered the Bachelor of Child Studies as licensed practical nurses, Jody says that the program has given them more insight into the mental and emotional manifestations of childhood trauma. It has also helped them learn more about trauma-informed care and the impact of adverse childhood experiences on a person's life trajectory. The program has gifted them an increased level of self-awareness in order to understand situational triggers.
They understand how their own adverse childhood experiences reflect the intergenerational trauma passed down to them by parents who mirrored what they experienced in residential schools. Now, the Bear twins connect with their community as motivational speakers and as formal and informal teachers. They find that people are drawn to them for their knowledge. "But it wasn't always like that growing up," Jody says.
Another welcome change they're experiencing is in the classroom. The child studies program is undergoing decolonization, which affects classroom seating arrangements and honours Indigenous oral tradition. This looks like sitting in a circle as opposed to rows during class discussion and allowing oral submissions for assignments. "For us, this is totally different," Jody says.
Breaking the cycle and achieving dreams
The twins have come a long way. It took them a while to reach a point where they could speak out about their life experiences. Jody says, "We're balanced to the point where me and her (Judy) just talk about it so openly that our voice doesn't even crack. So we're balanced, we're healed."
In breaking the cycle of intergenerational trauma, the twins share the insights from their education, both in nursing and MRU's child and youth care program, with their families. They have 12 children combined, including three biological children each, adopted children, youth who have asked for guidance to further their futures after aging out of the foster care system and children in kinship care.
In the summer of 2022, the Bear sisters submitted their transcript to the University of Calgary's Indigenous Health Program and were notified that they qualified in GPA standing. They've decided to pursue medical studies, which is an emotional transition.
"I never thought I would make it this far. When I was eight years old, I said I wanted to be a doctor when I grew up. Here I am," Judy says.
"Overcoming adversity was a challenge, but it can be accomplished with a positive mindset. I am a dreamer for change who will continue to prosper and lead the way so the next generation knows that change is possible."